West Lake, East China, China
Also known as:  Qiantang Lake,Outer West Lake, West Inner Lake, North Inner Lake, Little South Lake, Yue Lake
Welcome to the ultimate guide for history, statistics, local fun facts and the best things to do at West Lake.
If you're considering West Lake vacation rentals, we've made it super easy to explore accommodations and nearby hotels using the interactive map below. Simply click on a listing to compare similar properties, best rates and availability for your dates. Or keep scrolling to read our West Lake guide!
West Lake visitor and community guide
One of the most beautiful engineered environments in China is West Lake. Originally a spring-fed bay on the Qiantang River, the lake was formed about 2000 years ago when silting dammed off the lake from the river itself. A series of improvements for irrigation purposes and for aesthetic value over hundreds of years enlarged the lake and made it the inspiring landscape it has become today. During the Tang Dynasty, dikes were built to keep the lake from drying up and provide irrigation water. The influence of the Buddhist religion and the Buddhist principle of 'nature as paintings' inspired successive leaders to add features to improve views and enhance the tranquil experience for lake visitors.
In search of this perfection, the lake was steadily enlarged, causeways built with many picturesque bridges, islands constructed, and the observer's eye directed to carefully selected views. The lake now covers over 1,600 acres and is divided by causeways into five lakes: Outer West Lake, West Inner Lake, North Inner Lake, Little South Lake and Yue Lake. The lake with its many temples, historic buildings, and mountainous horizon on three sides is so attractive that it was designated a World Heritage Cultural Site in 2011.
West Lake forms the western border of the City of Hangzhou, becoming both a focal point and center of culture. The lake includes two causeways, three islands, numerous temples, pavilions, pagodas, gardens and ornamental trees, all of which are encompassed within the National West Lake Scenic Area. This is a fitting designation for an area that has inspired water landscapes and garden design throughout China, Japan, Korea and India for centuries.
Ten 'scenic views' are named in lake descriptions, including Three Pools Mirroring the Moon, Evening Bell Ringing at Nanping Hill, Twin Peaks Piercing Clouds, Sunset Glow Over Leifeng Pagoda, Viewing Fish at Flower Harbor, Listening to Orioles Singing in the Willows, Melting Snow on the Broken Bridge, Autumn Moon over the Calm Lake, Lotus in the Breeze at Crooked Courtyard, and Spring Dawn on the Su Causeway. The views describe the beauty found at West Lake during all seasons: lotus blooming in summer, plum trees blossoming in winter, and snow covering the hills, wharves and temples around the shoreline. Walking paths encircle the lake, so visitors can experience sunrises and sunsets.
Hangzhou residents regularly visit the lake, often in the evening to watch a short musical fountain display at dusk and to stroll the lakefront paths. Small boats offer cruises, with the boats built in different historical styles. These boatmen also take passengers out for fishing trips; restaurants near the shore will prepare the catch of crabs and small fish for dinner. First-time visitors may be overwhelmed by the number of museums and garden spots vying for their attention. At least four museums displaying artifacts from China's ancient culture are located along the shoreline. The China National Silk Museum graces the lakefront, providing examples of past and current practices in the manufacture of silk, the history of the Silk Road, and housing several silk shops nearby where visitors can buy silks and finished silk garments.
Also found on the shore of West Lake is the National Tea Museum. Tea was developed in China over several thousand years and is imbued with a rich culture of tea ceremonies and practices. Besides the history of tea, experts on-site demonstrate different tea ceremonies, rituals and protocols and provide visitors with a cup of traditionally-brewed tea. The Southern Song Dynasty Guan Kiln Museum near the south shore is the first museum in China dedicated solely to displaying ceramic wares and the history of such ceramic works in China. Part of the museum features the archeological ruins of one of China's earliest ceramics factories.
Atlso at West Lake is the Hangzhou Botanical Garden with over 320 acres of beautifully landscaped gardens set amid parklands. The Gardens are also a research station where plant studies are conducted and over 150 varieties of bamboo are on display. If visitors still feel the need for more museums, the Traditional Chinese Medicine Museum is located in Hangzhou a short distance away. Traditional medicine practitioners here even operate a clinic using traditional Chinese medicine, and a restaurant on-site prepares special dietary meals using prescribed herbs and cooking methods.
The Xixi Wetland Park is about three miles away from West Lake. Visitors take motorized boats to various points where they can disembark and take photographs or walk paved paths and boardwalks past lotus ponds, tall reeds, and thickets of peach blossom trees. The nearly 3000-acre nature reserve serves as a pristine haven for wildlife, a cool respite on a hot summer day, and shelters more than 80 kinds of birds, including aigrettes, cuckoos, warblers, and magpies.
The park has become more famous after being featured in the popular Chinese film, "If You Are The One". Visitors can re-create a scene from the movie by being served tea in a row boat. Boatmen also take tourists net fishing. Both West Lake and Xixi Wetland Park showcase China's growing efforts at environmental conservation. West Lake has been dredged several times in the past, and now efforts are geared toward preventing the silting problems before they occur. The World Heritage Cultural Site of over 8200 acres has a buffer zone encompassing nearly 18,000 acres, assuring the 'nature as pictures' views won't be spoiled by encroachment.
Hangzhou is a vibrant city filled with both traditional Chinese culture and modern amenities. Literally hundreds of hotels are available as lodgings. Most first-time visitors schedule a guest house or inn through a knowledgeable travel agent. To see everything Hangzhou has to offer would take several days. There are traditional Chinese theaters, plenty of nightclubs, and a wide variety of shopping venues with goods produced both locally and from around the world. Hangzhou has its own distinctive cuisine, known throughout the epicurean world. There are any number of restaurants serving Hangzhou specialties, and several 'food streets' throughout the city sell food from venders or in tiny cafes. Visitors can get around by bus, taxi, ferry and a limited subway system, but many travel via bicycle. Most tours of China's East Coast include a stop at Hangzhou and West Lake, but to actually enjoy all this unique area has to offer, one needs to spend several days. This is definitely a 'bucket-list' destination.
Custom West Lake house decor
Read our full review of these personalized lake house signs.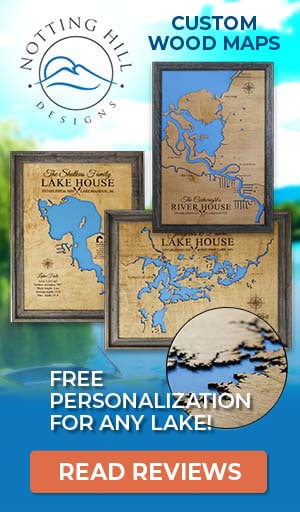 Things to do at West Lake
Vacation Rentals
Fishing
Boating
Biking
Wildlife Viewing
Birding
Museum
Ruins
Shopping
---
Best hotels and vacation rentals at West Lake
The West Lake map shown above is a simple and stress-free way to search for trip accommodations. But if you want to take a deeper dive to find the ideal waterfront home, cabin, condo, hotel or resort, visit our favorite lodging partners by clicking the buttons below.
Note: These are affiliate links so we may earn a small commission if you book through them. While there is no extra cost to you, it helps provide resources to keep our site running (thank you)! You can read our full disclosure policy here.
---
West Lake photo gallery
New photos coming soon!
West Lake statistics & helpful links
We strive to keep the information on LakeLubbers as accurate as possible. However, if you've found something in this article that needs updating, we'd certainly love to hear from you! Please fill out our Content Correction form.
Advertise your West Lake vacation rental
LakeLubbers will soon offer homeowners and property managers the opportunity to to showcase their vacation rentals to the thousands of lake lovers searching our site daily for accommodations. If you'd like additional details, please contact our advertising team here.
Looking for the West Lake forum?
LakeLubbers previously offered visitors the ability to create accounts and participate in lake forums. When we overhauled the site's content management system in 2021 we had to disable those features. We're evaluating options and welcome your comments and feedback here.
We also encourage you to join our lake-lovin' community on Facebook and Instagram!
Spread the word! Share our West Lake article with your fellow Lake Lubbers!