Heavenly Lake, Northwest China, China
Also known as:  Tian Chi, Heavenly Pond, Heavenly Pool, Pearl of Heaven
Welcome to the ultimate guide for history, statistics, local fun facts and the best things to do at Heavenly Lake.
If you're considering Heavenly Lake vacation rentals, we've made it super easy to explore accommodations and nearby hotels using the interactive map below. Simply click on a listing to compare similar properties, best rates and availability for your dates. Or keep scrolling to read our Heavenly Lake guide!
Heavenly Lake visitor and community guide
One of the most beautiful spots in northwest China's Xinjiang Province, Heavenly Lake-Tian Chi-is aptly named. A natural lake high in the Heavenly Mountains, the pristine waters lie in the shadow of Bogeda Feng Peak. Long a revered spot by Buddhist monks at the temple on the lake, the beautiful scenery invites thousands of visitors to join the native herding population at the lakeside each summer. Remote though the location is, regular tour bus service arrives from Urumqi's People's Park many times a day. Fed by snow melt from the surrounding peaks, Heavenly Lake's turquoise waters reflect a background of stunning beauty and serenity.
Several lakes in the vast Chinese territory share the Heavenly Lake name. They are found as distant from the Heavenly Mountains as the North Korean border and in the former country of Tibet. This Heavenly Lake is located about 65 miles east of Xinjiang's capital city of Urumqi. Most visitors take one of the regular tour buses to the entrance of the park that surrounds the lake. Even those who drive will find that they must park at the entrance and walk to the lakeshore. Small electric vehicles can be procured for the final distance if one is unable to handle the hike. As is common with popular Chinese tourism sites, the main area of the lakeshore is developed with food sellers, souvenir peddlers and even a small mall. Brightly painted tour boats ferry visitors around the vast lake to see the sights, including rushing waterfalls and soaring green peaks. Cable cars offer a bird's-eye view of the lake and its surroundings. Wooden walkways provide an easy walking surface whenever the water isn't extremely high. The surrounding area within the Heavenly Lake Scenic Area is great for sure-footed hiking.
A traditional grazing area for Kazakh tribesmen, they camp along the shoreline during the summer, tending their herds and flocks in the narrow valleys. Many have made it a major part of their livelihood to offer food and yurt lodging to visitors. Because the buses run daily from dawn to dusk, many adventurers arrive here prepared to do some backpacking and hiking. The yurt lodgings are often gaily painted and furnished with colorful tapestries and traditional rugs. Many even have a small coal stove to take the chill off the frosty nights encountered most of the year. Traditional foods, often delightfully spiced, can be enjoyed for a small sum. After the crowds leave in the evening, more adventurous travelers can enjoy a quiet evening near the scenic lake with the sounds of the Kazakh's flocks bleating softly in the distance.
Visitors bent on trekking the surrounding mountains have a choice either to follow the steep footpaths worn by the herders and their livestock or rent a horse and ride the long trail around the lake. Golden eagles swoop overhead and small native mammals and birds share the lakeshore. By getting away from the main park entrance before the tourist buses arrive, there are plenty of places to enjoy a picnic lunch or explore the rocky overlooks along the trails. The Queen Mother of the Western Heaven Temple can be visited for a small fee. Many hikers spend several days near the lake, with overnight accommodations in one of the yurts. By September, the weather cools considerably and snow flurries often fill the air. Before long, the Kazakh families will pack up their yurts and move to lower elevations with their flocks for the winter. Few visitors venture here in winter as snow can become very deep and travel into these mountains difficult. Heavenly Lake sleeps silently under its blanket of white until spring.
The entire area near Heavenly Lake was named the UNESCO Bogeda Biosphere Reserve in 1990 because the area contains several endangered and rare plant and animal species, including over 300 medicinal plants. Tourism from foreign visitors is new to the Urumqi region. Here the traditional population of Tajiks, Kyrgiks, Kazakis and Urgurs have faced challenges as the Chinese government has encouraged Han Chinese to move here from the overcrowded cities farther east. Language, religion and customs of the groups are sometimes at odds, and an uneasy peace hangs over the area much of the time. Still, the people are generally friendly to outsiders, ever curious about Europeans and Americans as an unknown curiosity. The mix of ethnicities gives Urumqi a vast number of attractions to please any first-time visitor. Traditional markets, handicraft kiosks, multi-ethnic street food, multiple restaurants and cafes, ethnic dance and song exhibitions, horse racing, and unusual ethnic traditional events such as 'sheep snatching' likely won't be seen anywhere else in China. Numerous ethnic traditional festivals enlighten multi-day celebrations with song, dance and feasting.
Visitors to Urumqi won't want to miss the Xinjiang Regional Museum. Open daily except Mondays, the museum exhibits over 50,000 items of cultural significance to past and present populations. Of particular interest is the collection of mummified remains preserved by the natural environment dating back thousands of years. Several picturesque mosques in the city are worth seeing, with the Tartar Mosque allowing visitors with special permission. And the International Bazaar is the perfect place to shop for art objects, handicrafts and goods such as leather goods, rugs and tapestries.
Urumqi holds a number of modern hotels, guest stays and inns along with hostels and more native-style lodgings. Other lodging facilities are located along the road to Heavenly Lake. And if yurts aren't in the stars for you, many visitors camp in the surrounding hills, although apparently without official permission. So bring your sense of adventure to Heavenly Lake.
*Lake statistics are from unofficial sources so should be considered estimates.
Custom Heavenly Lake house decor
Read our full review of these personalized lake house signs.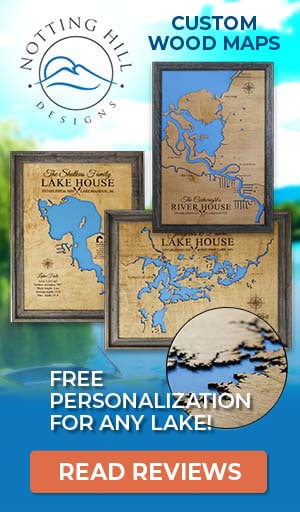 Things to do at Heavenly Lake
Vacation Rentals
Boating
Camping
Picnicking
Hiking
Horseback Riding
Waterfall
Birding
Museum
---
Best hotels and vacation rentals at Heavenly Lake
The Heavenly Lake map shown above is a simple and stress-free way to search for trip accommodations. But if you want to take a deeper dive to find the ideal waterfront home, cabin, condo, hotel or resort, visit our favorite lodging partners by clicking the buttons below.
Note: These are affiliate links so we may earn a small commission if you book through them. While there is no extra cost to you, it helps provide resources to keep our site running (thank you)! You can read our full disclosure policy here.
---
Heavenly Lake photo gallery
New photos coming soon!
Heavenly Lake statistics & helpful links
We strive to keep the information on LakeLubbers as accurate as possible. However, if you've found something in this article that needs updating, we'd certainly love to hear from you! Please fill out our Content Correction form.
Advertise your Heavenly Lake vacation rental
LakeLubbers will soon offer homeowners and property managers the opportunity to to showcase their vacation rentals to the thousands of lake lovers searching our site daily for accommodations. If you'd like additional details, please contact our advertising team here.
Looking for the Heavenly Lake forum?
LakeLubbers previously offered visitors the ability to create accounts and participate in lake forums. When we overhauled the site's content management system in 2021 we had to disable those features. We're evaluating options and welcome your comments and feedback here.
We also encourage you to join our lake-lovin' community on Facebook and Instagram!
Spread the word! Share our Heavenly Lake article with your fellow Lake Lubbers!