Kanas Lake, Northwest China, China
Also known as:  Hanas Lake, Kanasi Lake
Welcome to the ultimate guide for history, statistics, local fun facts and the best things to do at Kanas Lake.
If you're considering Kanas Lake vacation rentals, we've made it super easy to explore accommodations and nearby hotels using the interactive map below. Simply click on a listing to compare similar properties, best rates and availability for your dates. Or keep scrolling to read our Kanas Lake guide!
Kanas Lake visitor and community guide
One of the most interesting and beautiful tourist destinations in China's far northwest region is Kanas Lake. Located in the Altay Mountains, the glacially-carved lake forms a kidney-shaped gem along the glacier-fed Kanas River. At 4,396 feet elevation, the surroundings are alpine with spectacular scenery. Heavily wooded, the entire lake lies within the 216,217-acre Kanas Lake Geopark with the immediate area considered a nature refuge. Over 1,000 local Tuvans and Kazakhs inhabit this area of China that borders Russia, Mongolia and Kazakhstan. These semi-nomadic herdsmen maintain a way of life, religion and customs they have continued for hundreds of years.
The water in Kanas Lake originates from the Kanas Glacier, 78 miles upstream. Partly because of glacial rock 'flour' carried by the river, Kanas Lake is well-known for the changing hues of the water. All shades of blue and green, sometimes a milky white, can be seen at the lake depending on the season, the weather and the angle of the sunlight. Early morning rainstorms, mists and fog enshroud the surrounding hills at various times, with the sunlight creating an other-worldly atmosphere. This is only one of the reasons the Mongolian word Kanas was assigned to the lake; the word means "rich and beautiful, mysterious and enigmatic". Another reason is no doubt the long tradition of the 'lake monster' inhabiting the deep and cold waters.
Although the local people often depend on fish to supplement their diet, certain tribes in the area refuse to approach Kanas Lake because of the 'lake monster'. Recent tourist videos suggest that the 'monster' may be a species of carnivorous Siberian salmon that can reach six feet long.
Others insist that the monster is simply a myth invented to increase tourism to the area. Speculation simply adds another layer of excitement to the beautiful lake and is something tourists taking the boat tour always watch for. There doesn't appear to have been much scientific study of Kanas Lake to date. Depth soundings have revealed that the lake reaches over 600 feet in depth. Considering the lake's age, roughly estimated at 200,000 years and the average depth of nearly 400 feet, it is entirely possible that undiscovered species could inhabit the depths.
The Chinese government has been heavily promoting Kanas Lake as a tourism destination. Paying the entrance fee at the gate includes bus travel within the park and is the only way to travel other than walking or horseback. The park buses cover most of the more popular spots within the Geopark, but entrance to some popular attractions isn't included in the ticket price. Kanas Lake is at the northern end of the park, within sight of Friendship Peak designating the border between China and Russia/Mongolia. Tours can be arranged for either one day or two. Those planning to do much hiking will usually choose one of the more flexible options. As this is a border area, a permit is required for foreign visitors to travel here.
Bus tours usually go to local scenic spots such as Moon Bay, Crouching Dragon Bay and Immortal Bay-favored stopping points along the Kanas River and not on the lake itself. The Fishing Pavilion is a spot where tourists usually opt to pay an extra fee to reach; atop a mountain, the Fishing Pavilion offers fantastic views of Kanas Lake and the surrounding landscape. One can either reach the top by bus or walk the stairs-a rather breathtaking jaunt. At the lakeside itself, hostels run by local families can provide communal lodgings, and many local street-side restaurants offer a variety of Chinese dishes with a few Mongolian favorites adding variety.
There are a wide range of walking paths and hiking trails within the Geopark. Officially there is no camping within the park, but some tour groups appear to have made arrangements with park officials. The area within the Geopark is the only place in China where southern Siberian species of plants and animals can naturally be found. Because of the elevation, weather can be unpredictable. Even mid-summer nights can get quite cold at Kanas Lake. All visitors are advised to come prepared with a heavy jacket. Although many of the nearby tribesmen follow a nomadic seasonal lifestyle, living here only in certain seasons in their yurts, others have become full-blown entrepreneurs catering to the tourist trade. Some of their offerings include guides for hiking, orienteering, paragliding, rock climbing, rafting, and camping. Hemu Village is an interesting place for the adventurous to stay overnight and use as a base for trekking the nearby mountain pathways.
In consideration of the local environment, the nearly one million visitors here a year are causing Chinese officials to explore moving all tourist accommodations away from the lakeside, likely to Hemu Village about 20 miles away. The nearest rated hotel is outside of the park area. Reaching Kanas Lake from the nearest large city is a 12-hour bus trip, so this is an amazing number of visitors for such a remote location. Altay City is 153 miles away over rough roads. The best time to visit Kanas Lake is between June and September, although October can provide a colorful backdrop to the lake with a golden screen of changing foliage. Many travel agents can arrange for tours to Kanas Lake. Experienced travelers may wish to make their own arrangements but should be sure to secure adequate lodgings-and take plenty of warm clothing. Visitors should also expect that everything will cost extra in this remote location.
Travelers familiar with other parts of China will be surprised to find Kanas Lake so unlike most of this populous nation. Those who treasure scenic nature and unique cultural experience will find Kanas Lake filled with photographic opportunities and rare glimpses into ancient cultures little changed in hundreds of years. Kanas Lake is definitely 'bucket-list' material.
Custom Kanas Lake house decor
Read our full review of these personalized lake house signs.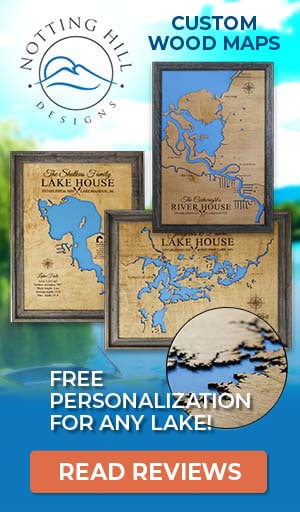 Things to do at Kanas Lake
Vacation Rentals
Fishing
Boating
Camping
Hiking
Rock Climbing
Horseback Riding
Fish species found at Kanas Lake
---
Best hotels and vacation rentals at Kanas Lake
The Kanas Lake map shown above is a simple and stress-free way to search for trip accommodations. But if you want to take a deeper dive to find the ideal waterfront home, cabin, condo, hotel or resort, visit our favorite lodging partners by clicking the buttons below.
Note: These are affiliate links so we may earn a small commission if you book through them. While there is no extra cost to you, it helps provide resources to keep our site running (thank you)! You can read our full disclosure policy here.
---
Kanas Lake photo gallery
New photos coming soon!
Kanas Lake statistics & helpful links
We strive to keep the information on LakeLubbers as accurate as possible. However, if you've found something in this article that needs updating, we'd certainly love to hear from you! Please fill out our Content Correction form.
Advertise your Kanas Lake vacation rental
LakeLubbers will soon offer homeowners and property managers the opportunity to to showcase their vacation rentals to the thousands of lake lovers searching our site daily for accommodations. If you'd like additional details, please contact our advertising team here.
Looking for the Kanas Lake forum?
LakeLubbers previously offered visitors the ability to create accounts and participate in lake forums. When we overhauled the site's content management system in 2021 we had to disable those features. We're evaluating options and welcome your comments and feedback here.
We also encourage you to join our lake-lovin' community on Facebook and Instagram!
Spread the word! Share our Kanas Lake article with your fellow Lake Lubbers!