Walter F. George Lake, Alabama & Georgia, USA
Also known as:  Eufaula Lake, Walter F. George Reservoir, Lake Chattahoochee
Welcome to the ultimate guide for history, statistics, local fun facts and the best things to do at Walter F. George Lake.
If you're considering Walter F. George Lake vacation rentals, we've made it super easy to explore accommodations and nearby hotels using the interactive map below. Simply click on a listing to compare similar properties, best rates and availability for your dates. Or keep scrolling to read our Walter F. George Lake guide!
Walter F. George Lake visitor and community guide
Walter F. George Lake straddles 85 miles of the Georgia/Alabama border along the Chattahoochee River. Visitors will see varying names for the lake depending on which road they arrive on or which map they use. Some will see Lake Eufaula, others will see Walter F. George Reservoir. The U.S. Army Corp of Engineers (USACE), who built and continues to maintain the lake's dam, designated it as Walter F. George Lake. Whatever the name used, you definitely can't miss the lake once in the vicinity. With a surface of over 45,000 acres and 640 miles of shoreline, Walter F. George Lake is a recreation and fisherman's paradise on a grand scale.
Each year, nearly 4 million visitors to Walter F. George Lake enjoy a wide variety of activities. With the lake's large size and year-round favorable climate, visitors can enjoy fishing, sailing, water skiing, canoeing, swimming, and anything else that can be done on the water. In addition to picnicking and camping, the area is also well known for hunting the plentiful deer, small game and birds of the area. Dotting both sides of the lake are several parks, campgrounds, marinas, and a wildlife refuge. Boating is very popular as well, as the waters are navigable to the Intracoastal Waterway.
The Walter F. George Dam was completed in 1963 and named after an influential Georgia senator who chaired the Foreign Relations Committee and had quite a bit of influence on foreign and economic policy during his tenure from 1922 until his death in 1957. In addition to the various names it is known by today, several other names were proposed over the years including Lake Winston Churchill, Lake Alaga (a combination of Alabama and Georgia), Lake Screamer, and Lake Roanoke. Lake Eufaula is the name commonly used today by most visitors from Alabama in honor of the Creek Indians who lived throughout the Chattahoochee Valley of Alabama and Georgia before they were driven out to Oklahoma in the 1830's. Oklahoma did take the name for a lake near the town of Eufaula, OK where the Eufaula tribe of the Creek Indians settled.
During the 60's and 70's, Walter F. George Lake was known as the "Bass Fishing Capital of the World" and is still regarded as so by many. The most popular are the largemouth bass, but anglers will also find spotted bass as well as hybrid striped bass and white bass, which are concentrated in the spring. Other species include black crappie, blue catfish and channel catfish. Fishing licenses from both Alabama and Georgia are recognized at the lake. Access to the lake is available via boat ramps, marinas, piers and private docks off vacation rental properties dotting the shores up and down the lake on both sides.
Walter F. George Lake is a very well planned lake having kept the public in mind in its development. The USACE provides a detailed map showing the numerous parks, campgrounds and marinas lining the lake, which provide camping, picnicking, hiking, golfing, wildlife viewing, and bird watching opportunities as well as access to the lake for boaters and fisherman. On the Georgia side, both the George T. Bagby State Park and Cotton Hill Park offer developed hiking trails that include interpretive markers. East Bank Park is great for families with little ones, as it includes a playground, beach area, large picnic pavilion and basketball courts as well as a boat ramp and public fishing pier.
On the Alabama side, parks and campgrounds abound as well, including an 11,000 acre wildlife refuge on the undeveloped northern shores of Walter F. George Lake. The Eufaula National Wildlife Refuge provides hiking, fishing, hunting and wildlife viewing opportunities. Lakepoint State Park borders the refuge with camping accommodations, a golf course, a marina and boat access. For a complete list of the additional parks, campgrounds and marinas around the lake in both Georgia and Alabama, see the internet resources below for the USACE Park Locator.
Visitors looking for a fascinating day trip can head 14 miles southeast of Walter F. George Lake to Kolomoki Mounds Historic Park. This park gives visitors a one-of-a-kind opportunity to view ceremonial and burial mounds built between 250-950 A.D. by the Swift Creek and Weeden Island Indians. A museum situated in a partially excavated mound provides visitors with information about this rich history. The park also provides plenty of camping, fishing, hiking, picnicking and boating opportunities as well.
Lakefront and lakeview vacation rentals are plentiful at Walter F. George Lake in every price range from cabins and condos to mansions that come with a pontoon boat. The closest international airport is in Atlanta, about 150 miles away. The City of Eufaula is situated on the Alabama banks of the Walter F. George Lake in case you are looking for restaurants, shopping centers, or want to check out some of the 700 structures listed on the National Register of Historic Places including pre-Civil War mansions. The city also caters to retirees looking to relocate or for a second home. Real estate on the shores of the lake is available, including land to build your own home or to buy an existing home.
So whether you are looking for a vacation spot in Alabama's River Heritage Region or Georgia's Plantation Trace Region, Walter F. George Lake is an excellent choice as a destination of grand proportions with a wide range of activities and interesting places that you and your family can explore just for a day or for a weekend or more.
Custom Walter F. George Lake house decor
Read our full review of these personalized lake house signs.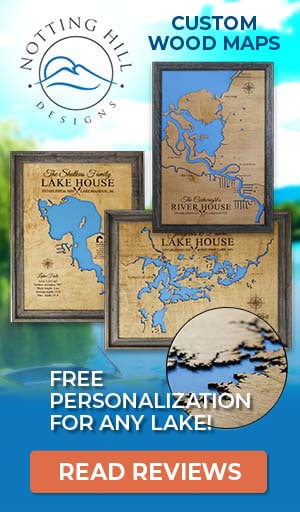 Things to do at Walter F. George Lake
Vacation Rentals
Fishing
Boating
Sailing
Swimming
Beach
Canoeing
Water Skiing
Golf
Camping
Campground
Picnicking
Cabin Rentals
Hiking
Hunting
Wildlife Viewing
Birding
National Wildlife Refuge
State Park
Museum
Playground
Shopping
Fish species found at Walter F. George Lake
Bass
Black Bass
Black Crappie
Blue Catfish
Catfish
Channel Catfish
Crappie
Largemouth Bass
Spotted Bass
Striped Bass
White Bass
---
Best hotels and vacation rentals at Walter F. George Lake
The Walter F. George Lake map shown above is a simple and stress-free way to search for trip accommodations. But if you want to take a deeper dive to find the ideal waterfront home, cabin, condo, hotel or resort, visit our favorite lodging partners by clicking the buttons below.
Note: These are affiliate links so we may earn a small commission if you book through them. While there is no extra cost to you, it helps provide resources to keep our site running (thank you)! You can read our full disclosure policy here.
---
Walter F. George Lake photo gallery
New photos coming soon!
Walter F. George Lake statistics & helpful links
We strive to keep the information on LakeLubbers as accurate as possible. However, if you've found something in this article that needs updating, we'd certainly love to hear from you! Please fill out our Content Correction form.
Advertise your Walter F. George Lake vacation rental
LakeLubbers will soon offer homeowners and property managers the opportunity to to showcase their vacation rentals to the thousands of lake lovers searching our site daily for accommodations. If you'd like additional details, please contact our advertising team here.
Looking for the Walter F. George Lake forum?
LakeLubbers previously offered visitors the ability to create accounts and participate in lake forums. When we overhauled the site's content management system in 2021 we had to disable those features. We're evaluating options and welcome your comments and feedback here.
We also encourage you to join our lake-lovin' community on Facebook and Instagram!
Spread the word! Share our Walter F. George Lake article with your fellow Lake Lubbers!