Pickwick Lake, Alabama, Mississippi & Tennessee USA
Also known as:  Pickwick Reservoir
Welcome to the ultimate guide for history, statistics, local fun facts and the best things to do at Pickwick Lake.
If you're considering Pickwick Lake vacation rentals, we've made it super easy to explore accommodations and nearby hotels using the interactive map below. Simply click on a listing to compare similar properties, best rates and availability for your dates. Or keep scrolling to read our Pickwick Lake guide!
Pickwick Lake visitor and community guide
Pickwick Lake is a 43,100-acre reservoir created by the Tennessee Valley Authority (TVA) with construction of Pickwick Landing Dam across the Tennessee River. Construction of Pickwick Lake reservoir took four years to complete, from 1934 to 1938. Pickwick Reservoir stretches out over 53 miles, from Pickwick Landing Dam in Tennessee, into Mississippi, ending at the Wilson Dam in Alabama. Although Pickwick Lake's primary purposes are navigation, flood control, and hydropower generation, it also provides recreational opportunities for residents and visitors alike. Pickwick Reservoir's shoreline is dotted with upscale residential development.
The origin of the Pickwick name dates back to the mid-1800s when the first local postmaster, a fan of Charles Dickens, named the post office "Pickwick", in honor of the Pickwick Papers. Today, Pickwick Lake boasts more than 496 miles of shoreline, including about 85 miles of island shoreline. Normal summer pool is 414 feet above sea level. The TVA draws down the water level to about 410 feet in winter, in anticipation of snow melt and rain in the spring.
If you're an avid angler, Pickwick Lake is an ideal vacation destination. Fishing largely centers on largemouth bass, smallmouth bass, and catfish. Prize-winning specimens of each have been taken here. Crappie and sauger also grow to impressive size.
Anglers aren't the only ones who take advantage of Pickwick Lake. Boaters love the open waters and use Pickwick Reservoir's numerous boat ramps to launch their boats. Boat rentals, including ski boats, pontoon boats, houseboats, and jet skis, are available at marinas around Pickwick Lake. At 43,100 acres, Pickwick Reservoir offers countless nooks and crannies to be explored. Don't hesitate to take advantage of long, warm afternoons in the Alabama and Tennessee sun.
Water skiing and tubing will get your blood flowing and your adrenaline pumping. Ski, jump some wakes, and let the breeze in your hair exhilarate you before you enjoy Pickwick Reservoir's cool waters. If water skiing isn't your game, tie a tube to the back of your boat and bump along the lake's small waves, enjoying one of the most fun, yet simple, water sports that exists.
Locks at either end of Pickwick Lake handle boat traffic. The Tennessee-Tombigbee Waterway (called the Tenn-Tom) begins at Pickwick Lake, providing boating and sailing enthusiasts with a 234-mile waterway to the Mississippi River and the Gulf of Mexico.
For camping enthusiasts, the TVA operates the Pickwick Dam Tailwater Campground near Counce, Tennessee. This self-service campground offers 95 campsites, about 70% with water and electric hookups, plus restrooms with heated showers, a boat ramp, and tailwater bank fishing.
Pickwick Lake State Park is located south of the Pickwick Dam in Tennessee. This 1,400-acre park offers a marina, golf course, fishing, swimming, picnicking, and a 2.8 mile hiking trail to enjoy the local flora and fauna. Park accommodations include a conference center, an inn with restaurant, cabins, and camping.
The National Park Service operates the Shiloh National Military Park in Shiloh, Tennessee, 15 miles from Pickwick Lake State Park. Shiloh includes the Civil War battlefield, the Shiloh National Cemetery, and the Shiloh Indian Mound.
After a day exploring Pickwick Lake and the surrounding area, slow your pace to enjoy sapphire skies, emerald green scenery, and the sun setting on the horizon. Pickwick Lake provides unadulterated relaxation.
Custom Pickwick Lake house decor
Read our full review of these personalized lake house signs.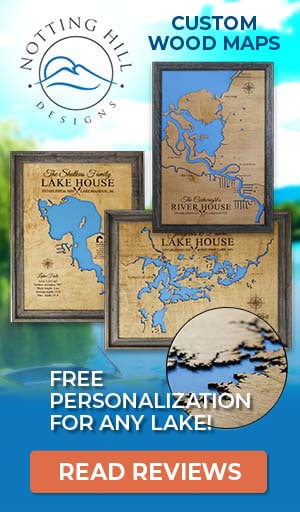 Things to do at Pickwick Lake
Vacation Rentals
Fishing
Boating
Sailing
Swimming
Jet Skiing
Water Skiing
Tubing
Golf
Camping
Campground
Picnicking
Cabin Rentals
Hiking
State Park
National Park
Fish species found at Pickwick Lake
Bass
Black Bass
Catfish
Crappie
Largemouth Bass
Perch
Sauger
Smallmouth Bass
---
Best hotels and vacation rentals at Pickwick Lake
The Pickwick Lake map shown above is a simple and stress-free way to search for trip accommodations. But if you want to take a deeper dive to find the ideal waterfront home, cabin, condo, hotel or resort, visit our favorite lodging partners by clicking the buttons below.
Note: These are affiliate links so we may earn a small commission if you book through them. While there is no extra cost to you, it helps provide resources to keep our site running (thank you)! You can read our full disclosure policy here.
---
Pickwick Lake photo gallery
New photos coming soon!
Pickwick Lake statistics & helpful links
We strive to keep the information on LakeLubbers as accurate as possible. However, if you've found something in this article that needs updating, we'd certainly love to hear from you! Please fill out our Content Correction form.
Advertise your Pickwick Lake vacation rental
LakeLubbers will soon offer homeowners and property managers the opportunity to to showcase their vacation rentals to the thousands of lake lovers searching our site daily for accommodations. If you'd like additional details, please contact our advertising team here.
Looking for the Pickwick Lake forum?
LakeLubbers previously offered visitors the ability to create accounts and participate in lake forums. When we overhauled the site's content management system in 2021 we had to disable those features. We're evaluating options and welcome your comments and feedback here.
We also encourage you to join our lake-lovin' community on Facebook and Instagram!
Spread the word! Share our Pickwick Lake article with your fellow Lake Lubbers!