Utah Lake, Utah, USA
Welcome to the ultimate guide for history, statistics, local fun facts and the best things to do at Utah Lake.
If you're considering Utah Lake vacation rentals, we've made it super easy to explore accommodations and nearby hotels using the interactive map below. Simply click on a listing to compare similar properties, best rates and availability for your dates. Or keep scrolling to read our Utah Lake guide!
Utah Lake visitor and community guide
Utah Lake is located in north-central Utah's Mountainland region with the major cities of Provo and Orem on the eastern shore. It is the largest freshwater natural lake in Utah. Utah Lake has the picturesque Wasatch Mountains to the east and the Lake Mountains to the west. With its extensive shoreline, climate and an area of nearly 100,000 acres, Utah Lake is a utopia for the Utah residents and visitors who seek out its recreational opportunities. Boating is THE major drawing card. Fishing, boating, water sports, and camping are just some on the recreational possibilities. Open year round, many Provo and Orem residents come to escape the cities and relax with boating activities. With historic downtown Provo, Brigham Young University (museums), Timpanogos Cave National Monument, Bridal Veil Falls, Hutchings Museum of Natural History and Sundance Ski Resort nearby, Utah Lake is an ideal location to head out for a day's sightseeing and play.
Prehistoric Lake Bonneville inundated much of Utah, gradually disappearing, and Utah Lake was formed by its remnants. As large as Utah Lake is, it is in a decidedly arid area, receiving only 15 rainfall inches annually. Utah Lake's major sources are the Provo River, Hobble Creek, American Fork River and the Spanish Fork River. Its outlet is the Jordan River flowing north to the Great Salt Lake. American Indian peoples were the first humans to use the lake and plains, roaming through the Great Basin valleys. These were followed by the Piutes, Utes and Shosone living in and around the area. Fur trappers were followed by Mormon explorers and, in 1849, Provo became the first permanent settlement on the shore.
Resident leaders in the area (particularly interested in boating) filed an application in 1933 for the Civilian Conservation Corps' help in developing facilities for boat launching, which resulted in a completed marina. Finally, Provo City began building camp and picnic facilities along the shore. This eventually became Utah Lake State Park with facilities covering camping, a visitor center, boat rentals, day use/picnicking, boatslips, food service, swimming and RV hookups. In addition, Saratoga Resort, near the Jordan River outlet offers fine resort amenities. Wet and dry periods are common on Utah Lake and, in 1992, the lake fell by nine feet.
In recent years, Utah Lake has suffered from a combination of factors that have generated the perception of pollution and declining water quality. Several inflowing streams have been channelized and have been used for irrigation purposes for nearly 100 years. Evaporation accounts for 42% of the water loss of the lake, which leaves the lake slightly saline. The lake bottom consists of somewhat loosely compacted silt. As the depth is so shallow on this huge expanse of lake, winds often roil the bottom, causing the lake to look muddy and reducing water clarity when there is no vegetation to hold it in place. The thriving fishery on the lake began to decline in the late 1800s, likely due to increased irrigation and drought contributing to increased salinity; many native fish cannot survive in highly saline water.
The government planted a large number of carp in the lake in the late 1890s as a future food source. Carp, although they can survive in saline water, also disturb the bottom vegetation while feeding. Utah Lake vegetation is loosely rooted in the sediment at the bottom and easily dislodged. A prolonged drought in the 1930s caused a major increase in the salinity of the lake and killed the majority of the native fish; at one point, the entire lake was only about a foot deep. Carp, however, are notorious for being able to survive under such conditions. Reduced water flowing in from the streams used for irrigation, and interference with access to the streams via water control structures reduced spawning habitat for the native fishes but proved ideal for the non-native carp. Destruction of much of the lakeshore's natural plant life further reduced spawning habitat. The stocking of walleye and other predatory game fish further endangered the smaller fry of native fish. This imbalance in the natural habitat eventually passed the tipping point, and the native fishery never recovered. The remaining carp, with no real predators, became the dominant fish and have stripped most of the vegetation from the lake bed.
Recent studies generated by the State of Utah Division of Water Quality have clarified the situation somewhat: the lake is somewhat over the desired limit for phosphorus, no doubt due to agricultural run-off. This allows algae blooms in late summer when the water is warmest. It is also somewhat over the desired limit for dissolved solids, mostly the silt being delivered via the channelized streams. It is not, however, highly polluted as some believe: both situations are correctable. Carp now make up about 75% of the fish in the lake, although the native species are still present. The endangered June sucker, once plentiful in the lake, struggles to survive, mostly due to reduced habitat. Because the unique ecology of Utah Lake makes the bottom vegetation so important to the lake's overall health, the majority of the carp must be removed and the natural inflow from the streams corrected. This will take some time, but there is strong local support for restoring Utah Lake to its former good health. The Utah Lake Commission has produced an explanatory website with many photographs from the days when Utah Lake supported large commercial fisheries and many lakeside resorts. Those glory days will likely never be completely duplicated, but the lake's clear waters and natural fishery can be revived. It will just take time and a whole lot of carp removal.
Utah Lake is still a well-known a 'fishing hole'. Bullhead catfish, channel catfish, black crappie, largemouth bass, walleye and white bass are found in the most likely spots. Fishing is open year round except for posted areas. Also, there are more than 50 geocaches situated nearby for new 'finds'. One has been placed by State Park personnel. Many are relatively easy to find, log and add to your total.
All in all, Utah Lake is a spectacular setting to enjoy all of the wealth of outdoor activities and sightseeing. A trip to Utah Lake will agreeably fill your memory book.
Custom Utah Lake house decor
Read our full review of these personalized lake house signs.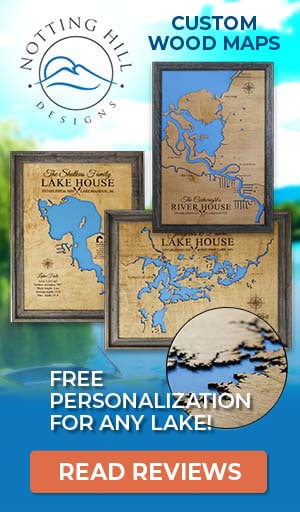 Things to do at Utah Lake
Vacation Rentals
Fishing
Boating
Swimming
Camping
Picnicking
State Park
Museum
Fish species found at Utah Lake
Bass
Black Bass
Black Crappie
Bullhead Catfish
Carp
Catfish
Channel Catfish
Crappie
Largemouth Bass
Perch
Sucker
Walleye
White Bass
---
Best hotels and vacation rentals at Utah Lake
The Utah Lake map shown above is a simple and stress-free way to search for trip accommodations. But if you want to take a deeper dive to find the ideal waterfront home, cabin, condo, hotel or resort, visit our favorite lodging partners by clicking the buttons below.
Note: These are affiliate links so we may earn a small commission if you book through them. While there is no extra cost to you, it helps provide resources to keep our site running (thank you)! You can read our full disclosure policy here.
---
Utah Lake photo gallery
New photos coming soon!
Utah Lake statistics & helpful links
We strive to keep the information on LakeLubbers as accurate as possible. However, if you've found something in this article that needs updating, we'd certainly love to hear from you! Please fill out our Content Correction form.
Advertise your Utah Lake vacation rental
LakeLubbers will soon offer homeowners and property managers the opportunity to to showcase their vacation rentals to the thousands of lake lovers searching our site daily for accommodations. If you'd like additional details, please contact our advertising team here.
Looking for the Utah Lake forum?
LakeLubbers previously offered visitors the ability to create accounts and participate in lake forums. When we overhauled the site's content management system in 2021 we had to disable those features. We're evaluating options and welcome your comments and feedback here.
We also encourage you to join our lake-lovin' community on Facebook and Instagram!
Spread the word! Share our Utah Lake article with your fellow Lake Lubbers!