Tuttle Creek Lake, Kansas, USA
Also known as:  Tuttle Creek Reservoir
Welcome to the ultimate guide for history, statistics, local fun facts and the best things to do at Tuttle Creek Lake.
If you're considering Tuttle Creek Lake vacation rentals, we've made it super easy to explore accommodations and nearby hotels using the interactive map below. Simply click on a listing to compare similar properties, best rates and availability for your dates. Or keep scrolling to read our Tuttle Creek Lake guide!
Tuttle Creek Lake visitor and community guide
When construction of Tuttle Creek Dam began in 1952, the premise was that Tuttle Creek Lake would be a "dry dam" passing water on through to the river below the dam, except in flood situations. No water conservation or any other uses were envisioned. A prolonged drought in 1952 and 1953, combined with the need for more flow on the Kansas River, and a desire for recreational development, prompted Congress to remove the "dry dam" restriction in 1957. Today, Tuttle Creek Lake is a 12,500-acre flood control and recreational lake making it the second largest lake in Kansas.
Nestled in the scenic Flint Hills, Tuttle Creek Lake boasts 100 miles of shoreline for fishing, boating, camping, picnicking, and a variety of outdoor sports. Eleven parks – six managed by the Army Corps of Engineers, four by the Kansas Department of Wildlife and Parks, and one by Pottawatomie County – offer a wide range of facilities such as camping, utility hookups, beaches, flush toilets, boat ramps, volleyball courts, horse shoe pits, and picnic shelters. Also available for lake visitors is a full service marina, nature trails, hiking, equestrian, and off road vehicle trails, and a shooting range. Over 16,000 acres of land surrounding the lake have been improved to benefit wildlife, and provide excellent hunting and wildlife viewing opportunities.
Whether you prefer power, paddle or sail, Tuttle Creek Lake is a boater's paradise. The size of the lake (14 miles long) combined with the prevailing winds make Tuttle Creek Lake one of the best sailing lakes in Kansas. Power boaters will enjoy the main body of the lake on calm days for water skiing, tubing, and pleasure boating. On windy days, many of the coves and the face of Tuttle Creek Dam offer protection from rough water. Canoeists and kayakers will find River Pond below the dam a perfect place for paddling. The state park offers canoe, kayak, and paddleboat rentals. Boaters should be aware that there are hazardous boating areas in the lake. Submerged objects are common in Tuttle Creek Cove, and between this cove and the dam. Lake levels fluctuate almost daily, so stumps sticking out of the water on one visit may be underwater on the next.
Swimming is allowed in almost all areas of Tuttle Creek Lake. Dangerous areas or high boat traffic areas are indicated buy warning buoys. There are two designated swimming beaches at Tuttle Creek Cove Park and River Pond State Park. Each area has a large sand beach and buoyed swimming area. A mile-long natural sand beach along the east side of the lake is best accessed by boat or on foot. Visitors will enjoy the gently sloping shoreline and lots of room for sandcastles and sunbathing.
Anglers will appreciate the variety of sport fish in Tuttle Creek Lake. Largemouth bass, saugeye, crappie, white bass, walleye, trout, blue catfish, channel catfish, flathead catfish, green sunfish, and bluegill can be caught from the open water or shore. Several fishing docks are located around the lake. Fishing tournaments take place at various times throughout the year. Fish caught in the majority of Kansas lakes and streams are safe to eat, but refer to the safe consumption link at the bottom of this page for more information.
The scenic wilderness around Tuttle Creek Lake offers miles of hiking, bicycling, off-road vehicle trails. The Randolph Equestrian Trail offers 13 miles of scenic beauty for horseback riding. It is also open to hikers. All trails around the lake offer excellent views of wildlife and the beautiful Flint hills. Bald eagles, and great blue herons are always a treat for bird watchers and photographers. The River Pond Area offers a quarter mile easy access self-guided nature trail with ten stops. An observation deck offers a spectacular view and the chance to see many species of wildlife. This trail is perfect for a family outing. Hunters will find the woods full of white-tailed deer, turkey, quail, pheasants and other game animals. There are special handicapped hunting areas that allow the use of vehicles.
For non-campers visiting Tuttle Creek Lake, the nearby town of Manhattan (the Little Apple) offers rustic and modern vacation rentals of all kinds. Manhattan is home to Fort Riley Amy Base, and Kansas State University and the KSU Wildcat football team. "Wildcat Weekend" home games draw thousands of fans. The downtown area is an interesting place to sightsee, shop, and grab a bite to eat. Just a short drive from Manhattan is the Konza Prairie, a 8,600-acre Nature Conservancy Preserve that features beautiful landscapes and a hiking trail open to the public. Manhattan is also the starting point of a gorgeous scenic byway which stretches for 47.2 miles across the Flint Hills. An hour east sits the state capital of Topeka, and two hours east will land you in Kansas City, the largest city in Missouri and home to the Kansas City Chiefs.
Whether your passion is fishing, hunting, boating or simply camping near the water, Tuttle Creek Lake and the surrounding picturesque Flint Hills has much to offer the outdoor enthusiast.
Custom Tuttle Creek Lake house decor
Read our full review of these personalized lake house signs.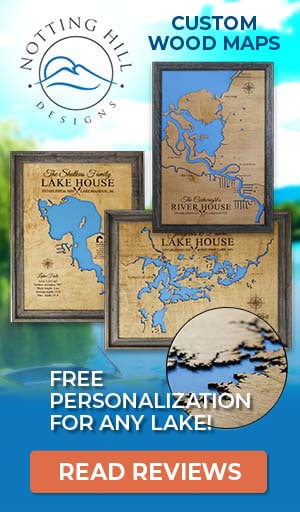 Things to do at Tuttle Creek Lake
Vacation Rentals
Fishing
Fishing Tournaments
Boating
Sailing
Swimming
Beach
Canoeing
Kayaking
Water Skiing
Tubing
Camping
Picnicking
Hiking
Biking
Horseback Riding
Hunting
Wildlife Viewing
Birding
State Park
Fish species found at Tuttle Creek Lake
Bass
Black Bass
Blue Catfish
Bluegill
Catfish
Channel Catfish
Crappie
Flathead Catfish
Largemouth Bass
Perch
Saugeye Perch
Sunfish
Trout
Walleye
White Bass
---
Best hotels and vacation rentals at Tuttle Creek Lake
The Tuttle Creek Lake map shown above is a simple and stress-free way to search for trip accommodations. But if you want to take a deeper dive to find the ideal waterfront home, cabin, condo, hotel or resort, visit our favorite lodging partners by clicking the buttons below.
Note: These are affiliate links so we may earn a small commission if you book through them. While there is no extra cost to you, it helps provide resources to keep our site running (thank you)! You can read our full disclosure policy here.
---
Tuttle Creek Lake photo gallery
New photos coming soon!
Tuttle Creek Lake statistics & helpful links
We strive to keep the information on LakeLubbers as accurate as possible. However, if you've found something in this article that needs updating, we'd certainly love to hear from you! Please fill out our Content Correction form.
Advertise your Tuttle Creek Lake vacation rental
LakeLubbers will soon offer homeowners and property managers the opportunity to to showcase their vacation rentals to the thousands of lake lovers searching our site daily for accommodations. If you'd like additional details, please contact our advertising team here.
Looking for the Tuttle Creek Lake forum?
LakeLubbers previously offered visitors the ability to create accounts and participate in lake forums. When we overhauled the site's content management system in 2021 we had to disable those features. We're evaluating options and welcome your comments and feedback here.
We also encourage you to join our lake-lovin' community on Facebook and Instagram!
Spread the word! Share our Tuttle Creek Lake article with your fellow Lake Lubbers!