Clinton Lake, Kansas, USA
Lake Locations:
USA - Midwest - Kansas - Northeast -
Also known as:  Clinton Reservoir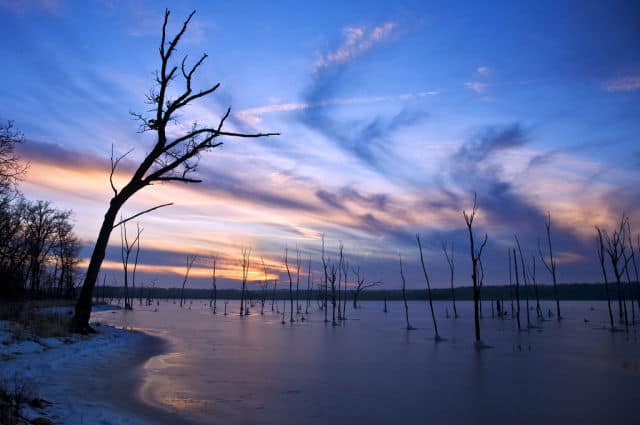 Clinton Lake is a 7,000-acre reservoir located in northeastern Kansas, just south of Interstate 70 near Lawrence (between Topeka and Kansas City). Congress authorized the construction of Clinton Reservoir in 1962 with initial construction starting in 1971 to control flooding on the Wakarusa and Kansas Rivers. Managed by the U.S. Army Corps of Engineers, the lake was filled slowly over a three year period from 1977 to 1980 to allow the native grass to remain on most of the upper lake bed. Two thirds of the native vegetation remains as fish habitat, creating an ideal environment for fish.
Clinton State Park on the shores of Clinton Lake provides camping, hiking, mountain biking, bird watching, and cross-country skiing. The park provides utility hookups, a full-service marina, an archery range, restrooms, drinking water, and a playground. Nearly 500 campsites and 240 RV sites with water and electricity are available. Fifteen of the campsites can be reserved with the remaining sites being on a first-come basis. The State Park hosts the four-day Wakarusa Music and Camping Festival in early June.
Five campgrounds at Clinton Lake are managed by the Corps of Engineers including Rockhaven Park, Woodridge Park, and Bloomington East Park with three campgrounds (Cedar Ridge, Walnut, and Hickory). Shower buildings, playgrounds, and sanitary dumps are provided in the more developed campgrounds. Full electric hookups are available at Cedar Ridge, Walnut, and Hickory. The Walnut and Hickory campgrounds share an amphitheater where evening programs are presented on most Saturdays from May through September.
Rockhaven Park is the only campground on Clinton Lake that allows guests to camp with their horses or mules. There are no hookups and only two vault toilets for 50 campsites. The main trailhead for the South Shore or Rockhaven Trail is located in Rockhaven Park. Primitive camping is available at Woodridge Park and is free of charge and open all year. You can camp all along a 4.5 mile trail as it travels through fields and along the shoreline of Clinton Lake. Group camp facilities are at Bloomington West Group Camp and at Ash and Elm Group Camps.
Wildlife at Clinton Lake includes deer (which are open for hunting on more than 11,000 acres), quail, cottontail rabbit, squirrel, and mourning dove. The fall migration includes Canada and snow geese, mallard, teal, migrating ducks, and in recent years bald eagles. White and black crappie, white bass, striped bass, northern pike, walleye, channel cat, flathead catfish, and bull head thrive in Clinton Lake, which consists of fish habitats such as mudflats, drop-offs, river channels, rocks, and trees.
Clinton Lake Marina offers 16 boat ramps, eight courtesy docks, retail sales, equipment rental, a floating restaurant, and a launching area for windsurfers and jet skis. Bow hunting is allowed on the south side of Clinton Lake and is managed by the Corps of Engineers.
If hiking is your passion, then head to Clinton Lake where there are over 50 miles of trails. The North Shore Trail has over 21 miles of hiking and biking trails that begin in Overlook Park and end at the Coon Creek arm of the lake. The 4.5 mile George Latham Trail is located in Woodridge Park and offers overnight camping along the trail. The longest trail at 30 miles is the South Shore or Rockhaven Trail. It allows horseback riding and hiking and is accessed at both Rockhaven Park or in the Rock Creek area. Take one of the two self-guided trails at the U.S. Army Corp of Engineers Information Center to learn about the flora and fauna. The Backwoods Trail is 5/8 of a mile and the Discovery Trail is Ã,½ mile. The most recent trail at Clinton Lake is the South Lawrence Trafficway Hike/Bike Path that runs parallel to the new K-10 bypass road. The 8.5 mile path heads from Highway 59 south of Lawrence to Douglas County 438.
Local attractions include the Territorial Capitol Museum at Lane University and Constitution Hall State Historic Site. The Museum, which was first constructed as the capitol of the State of Kansas, is now operated by the Lecompton Historical Society. It contains three floors of artifacts and period furnishings. Constitution Hall was built in 1856 to house the official Kansas Territorial government. The building is the oldest wood-frame government building remaining and contains two floors of pre-Civil War exhibits.
While Clinton Lake was initially built to control flooding and provide water to the City of Lawrence, it is now considered an outdoor haven for campers, anglers, hikers, bikers and hunters.
Things to do at Clinton Lake KS
Vacation Rentals
Fishing
Boating
Jet Skiing
Camping
Campground
Hiking
Biking
Cross-Country Skiing
Horseback Riding
Hunting
Wildlife Viewing
Birding
State Park
Museum
Playground
Fish species found at Clinton Lake KS
Bass
Black Crappie
Catfish
Crappie
Flathead Catfish
Northern Pike
Perch
Pike
Striped Bass
Walleye
White Bass
---
Clinton Lake KS Photo Gallery
Clinton Lake KS Statistics & Helpful Links
Spread the word! Share our Clinton Lake KS article with your fellow Lake Lubbers!