Tripp Pond, Maine, USA
Lake Locations:
USA - New England - Maine - Lakes & Mountains -
Also known as:  Tripp Lake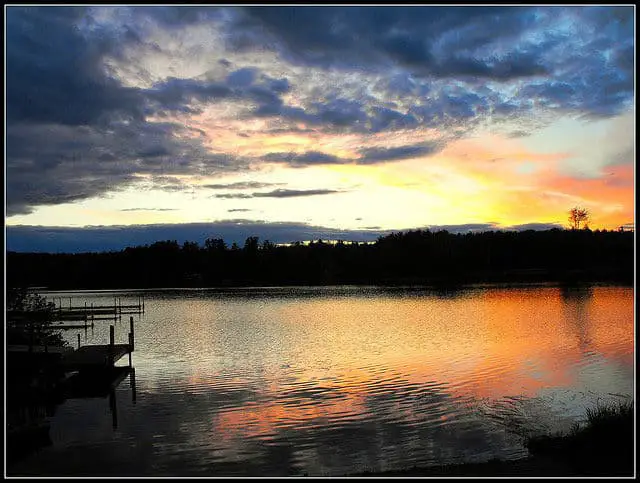 Well-loved Tripp Pond, sometimes called Tripp Lake, holds a prominent place in the recreation plans around Poland, Maine. Located in the Lakes and Mountains region of western Maine, the area holds some of the most exclusive and expensive traditional children's summer camps in the United States. Only one camp still exists on 735-acre Tripp Pond: a girls-only summer camp that has drawn generations of young girls to the clean, clear waters. Campers and visitors alike come to Tripp Pond for fishing, swimming, paddle-sports, sun and sand.
Three miles long and relatively narrow, Tripp Pond offers up eight miles of heavily-wooded shoreline. Loons swim the shallows in less-populated areas, and bald eagles nest nearby. Although homes and cottages dot the shoreline, vast stretches are still wild, quiet and inviting to egrets, great blue herons, black ducks, wood ducks and Canada geese. In order to maintain the quiet atmosphere, local residents banned personal watercraft (jet skis), but the waters are still available for water skiing, tubing, sailing, canoeing and kayaking. The only public beach is at the picnic area on Route 11, but there is no designated swimming area. Most lakefront owners have private docks and their own swim areas. A small public boat launch for trailered boats is located on the south end of the lake, while the town-owned picnic area off Route 11 allows for carry-in and car-top boats. Many property owners enjoy pontooning the lake to visit friends and keep an eye on the local wildlife. The local Tripp Lake Improvement Association works with officials to monitor water quality and engage in clean-up and lake education.
Tripp Pond is managed as a warm-water fishery. Efforts have been made in the past to introduce trout with little long-term success, but largemouth bass thrive in the lake. Fishermen come hoping to catch smallmouth bass, white perch, yellow perch, chain pickerel and several strains of sunfish. Winter fishing is just as productive with the same species caught. Parking at the picnic area is available for winter walk-in fishermen. All anglers must be properly licensed and obey all fishing regulations. Catch-and-release is strongly encouraged. Ice skaters also use the public access to enjoy the smooth ice of the lake.
A commercial RV camping resort is located on the west shore of the lake. Visitors can also take advantage of one of several private property rentals offered regularly along the shore. Some of these are very modern and new, while others are rustic and possibly historic, reminiscent of old Maine camps of the mid-20th century. One luxury bed & breakfast offers lodgings on the east shore and is often featured in travel publications. More campgrounds are found in the area, including near Range Ponds State Park with a swimming beach and hiking area. Tripp Pond is the perfect place for a laid-back waterfront vacation, a campfire and s'mores. And there's plenty to do near the lake during the day for those who wish to explore.
The area near Tripp Lake is rich in hiking opportunities. Within a mile of Tripp Pond, Poland Town Forest offers three different loops featuring well-maintained trails, bog bridges and natural scenery among rocks and large hemlock trees. Traveling the crest of the ridge between Tripp Pond and Middle Range Pond, this is an excellent chance to view moose, deer, mink, beaver or northern owls along with stunning forest vistas. Some of the trails are open for cross-country skiing and snowshoeing. Also available nearby are Bragdon Hill Conservation Area and Cornwell Nature Preserve. Quiet side roads are perfect for cycling and mountain biking.
The area holds a variety of cultural and historic sites to visit. Less than 10 miles away, the Sabbath Day Lake Shaker Village Museum is located near one of the few existing Shaker settlements. Historic Poland Springs, home of the famed mineral water, is located near Range Ponds State Park. The Maine State Building, built for the 1893 Chicago World's Fair, was dismantled and rebuilt here; it is now maintained by the Poland Spring Preservation Society as a museum and art gallery. The Public Theatre in Lewiston was voted the Best Theatre In Maine by readers of Down East Magazine and offers several performance each season along with educational programs and young people's theater classes. Also in Lewiston, the Bates Dance Festival features performances in contemporary dance.
Real estate is available on and near Tripp Pond. A wealth of nearby lakes makes the entire region an extraordinary vacationland, one that can be reached within an afternoon from both Boston and New York City. Property prices vary widely, with mid-range real estate values more common. Although Tripp Pond feels remote, services and shopping are available in Poland and Naples. The area is rich with farm markets and pick-your-own orchards. Busy Lewiston is only 15 miles away. So pack the bait and tackle, pick up some marshmallows and head on out to Tripp Pond.
Things to do at Tripp Pond
Vacation Rentals
Fishing
Boating
Sailing
Swimming
Beach
Canoeing
Kayaking
Water Skiing
Tubing
Camping
Campground
Picnicking
Hiking
Ice Skating
Biking
Cross-Country Skiing
Wildlife Viewing
Birding
State Park
Museum
Shopping
Fish species found at Tripp Pond
Bass
Black Bass
Chain Pickerel
Largemouth Bass
Perch
Pickerel
Pike
Smallmouth Bass
Sunfish
Trout
White Perch
Yellow Perch
---
Tripp Pond Statistics & Helpful Links
Spread the word! Share our Tripp Pond article with your fellow Lake Lubbers!