Elk Lake, Michigan, USA
Lake Locations:
USA - Midwest - Michigan - Northwest -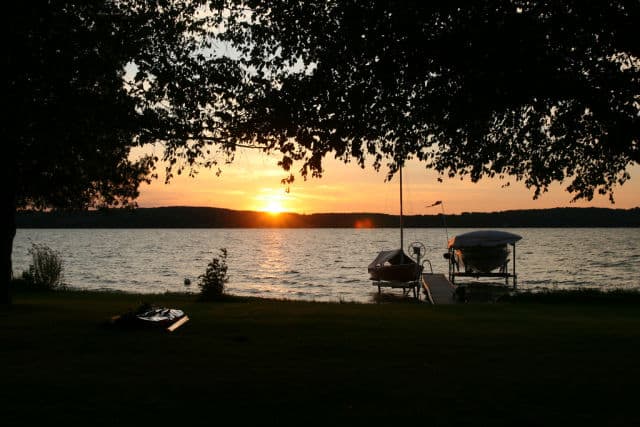 A visit to Elk Lake is a fisherman's dream come true. The huge lake is nearly 200 ft deep in some areas and is actually deep enough to offer lake trout fishing winter and summer. Further, it's affordable and versatile enough to keep the entire crew happy. Elk Lake is the tail-end of the 14 lakes and rivers in the Elk River Chain of Lakes. A mile or so up the Elk River and you will find yourself in Grand Traverse Bay. Elk Lake is not an extension of the Bay, but a glacial lake gouged into the river valley and sports its own ecology and fish populations. It is the third largest inland lake in Michigan-only Houghton and Torch Lakes are larger. About eight miles long and up to four miles wide, there is plenty of space for all types of fishing and other water sports.
The area was first home to Native Americans known as the Anishinabek, believed to be of the Chippewa group of tribes. Elk Lake was originally named Meguzee Lake, a Native American name meaning Eagle, in honor of the chief who signed the Treaty of 1821 and Treaty of 1826. Its main settlement, Elk Rapids, was originally named Stevens when platted in 1852. After a set of elk horns was found in the river rapids, the town, the river and the lake were all re-named Elk. And Elk it has been since 1858.
Although Elk Lake is one of the lesser-known lakes, the fish it gives up are famous among anglers. In the past few years, the Michigan Department of Natural Resources (DNR) has planted over 117,000 rainbow and brown trout in Elk Lake. These are usually caught using the time-honored trick of hanging a lantern over the bow of the boat at night in 30 to 50 ft of water and tempting them with small jigs tipped with wrigglers. In addition, lake trout lurk in the deep hole in the long central basin of the lake. The flesh of these lakers is of a deep orange hue and said to be much tastier than those caught in the Great Lakes. This is one of the few locations where one can catch lake trout through the ice, far safer here than braving the sometimes thin and unreliable ice of the Bay.
Those wishing for pan fish often target the perch and smallmouth bass that inhabit the waters. In the past few years, several record fish, including muskies over 50 inches, and smallmouth bass over 21 inches in length have been taken from Elk Lake. Rock bass, muskellunge, ciscoes, and whitefish can also be caught. Since the boater can enter shallower Skegemog Lake from the short channel at the southeast corner of the lake, a day of fishing can provide for varied conditions and prey without ever having to take the boat out of the water.
For the non-fisher-folk of the family, other water sports abound, such as waterskiing, wakeboarding, tubing, kayaking, sailing, and, in winter, ice-boating. As Elk Rapids is the only village of any true size, the village acts as headquarters for visitors and tourists. A lake marina is located here, with other launch facilities at the many tourist resorts and cottages available for rent in the area. Nearly every type of watercraft is available for rental. Another free public launch is located at the Whitewater Township Park south of town. Given the close proximity of Elk Rapids to Traverse City (20 miles south) and Charlevoix nearly the same distance north, Elk Lake lodging can be found at bargain rates compared to these more expensive resort areas.
Elk Rapids sits at the small spit of land between Elk Lake and the east arm of Grand Traverse Bay. Highway 31 is the most convenient way to access Elk River, unless you come by boat, either one of the beautiful sailing yachts on Lake Michigan or a small watercraft through the chain of lakes. Elk Rapids has much to offer visitors even if they aren't there for the lake fishing or sport. The new municipal harbor can accommodate all kinds of larger boats; there are several waterfront parks and a municipal golf course fronting either Elk Lake or the bay. One of the oldest resort cottage complexes actually fronts both the lake and the bay. And, where else could you camp at an RV park within walking distance of the village, across the road from the golf course and with beach front access to the bay?
Elk Rapids and Elk Lake are old-school vacationland Michigan. Some cottages have been in the same family for over 80 years. New condos have sprung up and there are always occasional lakefront properties for sale along the nearly 26 miles of shoreline. Elk Rapids has worked diligently to provide for visitor amenities, and activities are in abundance particularly in the summer months. On Wednesday nights, River Street hosts free movies, live entertainment and a variety of food and activities for both adults and children. Special events include the Harbor Days festival and annual boat show. Most amenities are open year round and available for visitors coming to take advantage of fall color tours, hiking trails, nature paths, winter skiing, snowmobiling, ice fishing and local special events. The municipal golf course with a spectacular view is available to serve landlubbers who haven't yet developed their sea-legs.
For an affordable fishing or waterfront vacation, pack up family and friends and head up US 31 to Elk Rapids. At less than 350 miles from Chicago and only 250 miles from Detroit, this is a do-able destination for a week's vacation.
Things to do at Elk Lake
Vacation Rentals
Fishing
Ice Fishing
Boating
Sailing
Swimming
Beach
Kayaking
Water Skiing
Wakeboarding
Tubing
Golf
Camping
Hiking
Snowmobiling
Wildlife Viewing
Birding
Fish species found at Elk Lake
Bass
Black Bass
Brown Trout
Cisco
Lake Trout
Muskellunge
Perch
Pike
Smallmouth Bass
Sunfish
Trout
Whitefish
---
Elk Lake Statistics & Helpful Links
At LakeLubbers.com, we strive to keep our information as accurate and up-to-date as possible, but if you've found something in this article that needs updating, we'd certainly love to hear from you!
Please let us know about it on our Content Correction form.
Spread the word! Share our Elk Lake article with your fellow Lake Lubbers!