Toledo Bend Reservoir, Louisiana & Texas, USA
Lake Locations:
USA - South - Louisiana - Crossroads - Southwest - Texas - Piney Woods -
Also known as:  Toledo Bend Lake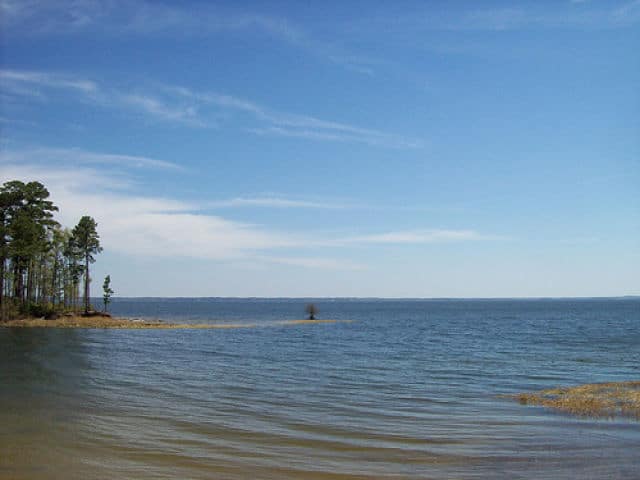 A grand experience is assured in visiting Toledo Bend Reservoir, renowned as the largest man-made aquatic body in the southern United States. Cradled on the Sabine River between Texas and Louisiana, the lake meanders along for 65 miles and occupies a refreshing 1200 miles of shoreline. This extravagant length of shallow bayous and coves boasts a wondrous collage of sunny wildflowers, lakeside cottages, and vibrant birds.
The Toledo Bend Project began as a joint endeavor between the Sabine River Authorities of Texas and Louisiana in April 1964. Spread across three bordering counties, Shelby, Newton, and Sabine, the reservoir initiated water impoundment in October 1966. Construction of the dam was intended to curb the disastrous effects of flooding by the Sabine River. Nonetheless, Toledo Bend Reservoir has primarily served as a source of municipal water supply, hydroelectric power generation, and, most notably, a myriad of recreational activities.
The massive size of Toledo Bend Reservoir courts an equally large number of visitors, and for good reason. The welcoming waters of the beautiful lake invite adventurers for a swim or boating exploration. Of course, waterskiing is also a popular choice. However, it comes as no surprise that a lake branded as one of America's five best for bass fishing is an angler's paradise. Everyone will be astonished by the remarkable 300 pounds of fish per acre. Year-round, fishing enthusiasts can prowl Toledo Bend Lake for largemouth bass, catfish, and crappie. During the spring, anglers are likely to spot freshly spawned channel, blue, and flathead catfish, white bass, and sunfish. Fishing competitions, such as the Toledo Bend or Livingston Tournaments, add to the excitement of an already thrilling sport.
If the over 180,000 acres of rippling lake water aren't enough, hikers at Toledo Bend Reservoir are in for a treat. The 28-mile Trail Between the Lakes is a nature-lover's dream, sprawling through the Sabine National Forest. Vigilant eyes will catch glimpses of deer, red-cockaded woodpeckers, and other wildlife. As though that were not enough, other attractive and convenient trails include Stockers Hill and Canyon Rim, both offering splendidly picturesque scenery.
Hiking is not the only physical endeavor for landlubbers at Toledo Bend Lake, as camping and RV sites, nightclubs, and restaurants line the lively shoreline. For golfers, Cypress Bend Golf Course is a championship 18-hole course that delivers a breathtaking view of the lake while the clubs are swinging. Lakeside cottages, resorts, rental houses, and marinas further populate the shoreline, ceding well-deserved relaxation to sun-bathed residents.
What may be most striking of all is the reserved beauty of Toledo Bend Reservoir. Wildflowers blanket the area; monolithic pines and shade trees crowd the blue Southern skies. Bird watchers will appreciate the flocks of egrets, pelicans, geese, ducks, and bald eagles that make the lake their home. Remarkably, there have even been reported sightings of the ivory-billed woodpecker in the area, a bird once believed extinct. Toledo Bend Lake is also home to armadillos, raccoons, beavers, foxes, and white tail deer. Toting a moderate climate and an annual rainfall of 50 inches, the reservoir is the perfect hot spot for year-round recreation.
Located 24 miles northeast of Jasper, Texas, Toledo Bend Lake is a must-see for all vacationers dreaming of a lake that has it all. But be warned. Anywhere Italian and Mexican food, fishing, and gorgeous scenery meet is a place folks usually refrain from leaving.
Things to do at Toledo Bend Reservoir
Vacation Rentals
Fishing
Boating
Swimming
Water Skiing
Golf
Camping
Hiking
Wildlife Viewing
Birding
National Forest
Fish species found at Toledo Bend Reservoir
Bass
Black Bass
Catfish
Crappie
Flathead Catfish
Largemouth Bass
Sunfish
White Bass
---
Toledo Bend Reservoir Photo Gallery
Toledo Bend Reservoir Statistics & Helpful Links
Spread the word! Share our Toledo Bend Reservoir article with your fellow Lake Lubbers!