Lake Kincaid, Louisiana, USA
Lake Locations:
USA - South - Louisiana - Crossroads -
Also known as:  Kincaid Reservoir or Kincaid Lake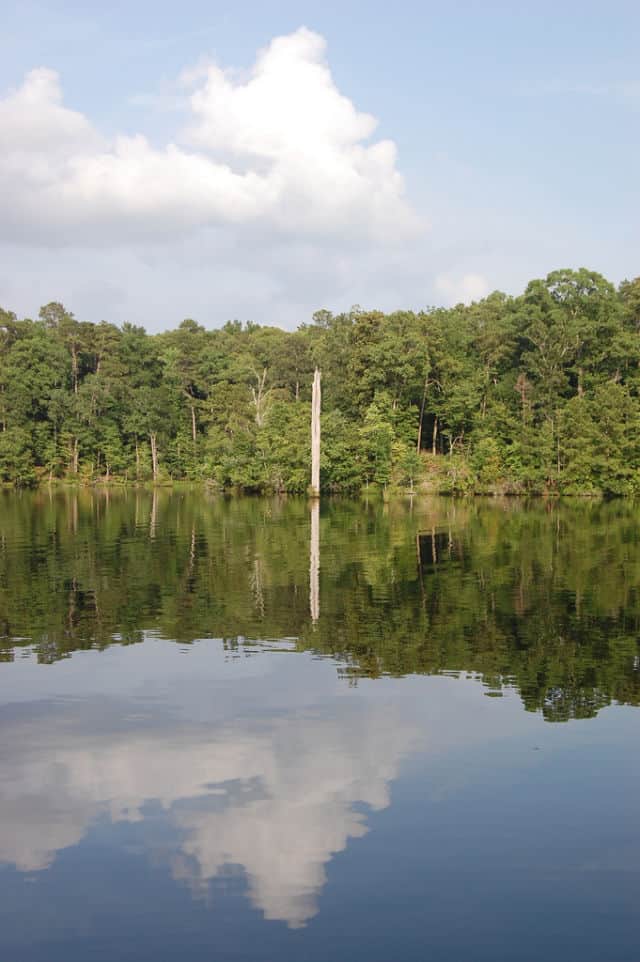 In the Crossroads region of Louisiana, the bayous, wetlands, pine-covered hills and farms meet. So too do the diversity of Cajun, Anglo, French, Creole, African, Native American, and Spanish influences melt together, making here a dynamic region. Kincaid Reservoir lies among over 600,000 acres of native forest in the Kisatchie National Forest.
The earthen dam, built in 1972, is less than 10 miles west of Alexandria. The lake was constructed for the purposes of irrigation and recreation. Today, patrons enjoy camping, fishing, swimming, water skiing, picnicking, hiking and bicycling on and around the reservoir. Kincaid Lake is stocked with sun perch, bass and catfish and the many tree stumps in the lake, remnants of the forest basin that thrived before it was filled with water, provide shelter for fish. The water is clear, a welcome deviant from Lousiana's more popular swamp waters.
Well marked "channels" provide direction to boats on Lake Kincaid, and there are three boat launches from which water activities can be accessed. Campgrounds are well serviced and modern. Trails around the lake provide plenty of opportunities to get exercise, view wildlife, and to simply connect with nature. The trails, great for hiking, also attract a lot of bikers providing challenges to every skill level.
The Kisatchie National Forest, the only national forest in Louisiana, provides superb opportunities for recreation around Lake Kincaid. Aside from camping, picnicking, swimming, boating, and hiking, there are further opportunities for hunting, horseback riding, off-highway vehicles, sightseeing, mountain biking and road biking. Two of the many trails, the Wild Azalea Trail and Sugar Cane Trail, are national recreation trails, prized for the exceptional scenic beauty they offer.
Without venturing far from Lake Kincaid, the Crossroads region will give you a view into one of the most fascinating parts of Louisiana. There are many stories to be told here. The numerous plantations give insight into the old life of Louisiana's slaves and their masters; Native American reservations and sites pull you intriguingly into the world of America's first people. History lessons from the remnants of the Louisiana Purchase and the battle trenches of the Civil War await any eager learner. The Louisiana Country Music Hall of Fame will tell you about the Irish and Scottish settlers who came to the region and planted musical roots that contribute to Louisiana's unique musical heritage. Grand architecture and fascinating tidbits of Southern lifestyle will add color to your visit.
Real estate options are available near Lake Kincaid, but you will find a greater array in the nearby towns. Settling in this part of Louisiana should not be hard; not if you can find appreciation in the richness of culture here in the backdrop of the South's natural beauty and lazy bayou feeling. But if a visit to the Kisatchie National Forest and Lake Kincaid is all that is on your agenda, you won't be disappointed. There is simply so much to do and you and your family can take your time as you play the hours away.
Things to do at Lake Kincaid
Vacation Rentals
Fishing
Boating
Swimming
Water Skiing
Camping
Campground
Picnicking
Hiking
Biking
Horseback Riding
Hunting
Wildlife Viewing
National Forest
Fish species found at Lake Kincaid
---
Lake Kincaid Photo Gallery
Lake Kincaid Statistics & Helpful Links
Spread the word! Share our Lake Kincaid article with your fellow Lake Lubbers!