Black River Lake and Cocodrie Lake, Louisiana, USA
Lake Locations:
USA - South - Louisiana - Crossroads -
Also known as:  Cocodrie Lake Complex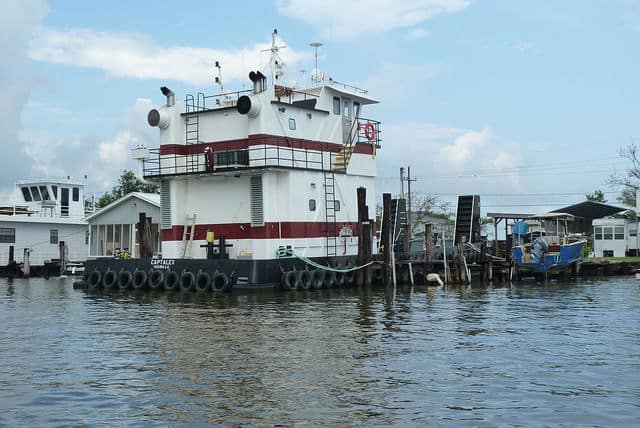 The Cocodrie Lake Complex, consisting of Black River Lake and Cocodrie Lake, is one of those places that could only exist in the delta lands of the mighty Mississippi. Changes in the flow of the Mississippi and its tributaries created a large number of oxbow lakes, bayous and lowlands prone to flooding along the many rivers and streams in the area. The water's meanderings and human attempts to deal with its ravages have led to the creation of many unusual water features and off-the-beaten-track destinations that delight lovers of nature. Of the two, Cocodrie Lake is more the 'natural' lake, while Black River Lake is the remnants of the old path of the Black River before the United States Army Corps of Engineers built levees to alleviate periodic flooding. In doing so, they closed off a loop of the Black River from its main course.
The two lakes are a part of the same much-altered waterway. Both act to absorb the excess water for the majority of Concordia Parish and parts of two other parishes. Cocodrie Lake is an oxbow lake isolated when the Mississippi River changed course hundreds of years in the past. It is connected to Cocodrie Bayou via Bayou Cross Cocodrie. The new Black River Lake, created when flood control levees cut this portion off from the main Black River channel in 1952, is connected to Cocodrie Lake via Workinger Bayou. Due to extensive changes made to the natural overflow of the Black River, Tensas River, Red River and the Mississippi to control flooding, these bayous and lakes now receive excess water from a large area of central Louisiana. Water levels for both are maintained somewhat by the Cocodrie Bayou Dam. However, because the complex must absorb the majority of run-off from more populated areas, water levels vary as much as 10 feet on a regular basis. Recent studies which explored the cost of providing an outflow to Black River to alleviate the situation so far have proven cost-prohibitive; high water and periodic flooding remain a fact of daily life to the many camp owners and residents along the river.
High water doesn't deter those who enjoy water recreation and waterfront living along the banks of Black River Lake. Between the two lakes, over 600 'camps' or residences share their daily life with the ever-changing water. Most live along Black River Lake, while far fewer live at Cocodrie Lake. Black River Lake holds 1000 acres in a narrow ribbon of 40-foot deep channel spread in a semi-circle over 15 miles. The lake is popular locally for water skiing, personal watercraft and swimming from private piers. The long expanse of water of sufficient depth to enjoy water sports makes properties on Black River Lake especially attractive. No public beaches or parks exist along the lake, but a small marina offers a boat launch near the inlet from Workinger Bayou.
Cocodrie Lake averages six feet and covers 742 acres over a wider area. Formed in a rough horseshoe, Cocodrie Lake nearly surrounds a peninsula of higher ground called Horseshoe Island. Much of the lake's margins are lowland bayou, while farm land occupies most of the farmable acreage.
The tiny unincorporated village of Monterey located at the curve of the Black River Lake loop offers such amenities as groceries and a gas station. Boat gas and food can be accessed from the water at the marina. Two small commercial marinas are in operation on Cocodrie Lake, serving primarily fishermen. A couple of unofficial boat launch sites also allow for launching fishing boats. Little information has been published to indicate the navigability of the channel between the two lakes which likely depends on current water levels. Sporting favorites include bass, catfish and crappie. Florida-strain largemouth bass have been stocked irregularly in the lakes in the past. Along with these sporting favorites, channel catfish, flathead catfish, striped bass, and panfish are also caught.
Because the area is somewhat remote, few forms of lodgings are available on the two lakes. Occasionally private vacation rentals are advertised, but most visitors find lodgings elsewhere. Alexandria, an hour to the west, is well supplied with lodging choices, as is Natchez about 30 miles away. Both have multiple large hotels, small motels, guest cottages and bed & breakfasts. Alexandria also offers the Alexandria Zoo which specializes in animals that live in the swamps and bayous so common to Louisiana. Also available are boat tours on the Red River, the Kent Plantation House, and several arts and entertainment venues. Those who want to get away from the city and into the unique environment surrounding Black River Lake and Cocodrie Lake will find several wildlife refuges and nature/hiking trails near the lake complex.
Northeast of Cocodrie Lake, the Bayou Cocodrie Wildlife Refuge encompasses over 14,600 acres of this unique environment. The Cypress Creek Boardwalk trail begins near the gate to the refuge, while the Observation Tower Trail begins near Boat Ramp Road. Part of the 13 miles of primitive trails in the refuge, both trails are open when hunting is not in season. There are educational exhibits, interpretive signage and guided ecology tours available as well as children's activities and bird watching events. Other wildlife management units in the area include Dewey Wills Wildlife Management Area and Red River State Wildlife Area. There are always opportunities to view and photograph area wildlife and enjoy the varied environments created by the bayous and small lakes in the area.
If you visit the Crossroads Region of Louisiana, don't miss a visit to Black River Lake and Cocodrie Lake. Pick up a Louisiana fishing license and try for one of those elusive Florida largemouth bass, or launch your canoe for a quiet paddle along the shoreline to see the local wildlife and enjoy the beautiful bayous.
Things to do at Black River Lake and Cocodrie Lake
Vacation Rentals
Fishing
Boating
Swimming
Beach
Canoeing
Water Skiing
Camping
Hiking
Hunting
Wildlife Viewing
Birding
Fish species found at Black River Lake and Cocodrie Lake
Bass
Black Bass
Catfish
Channel Catfish
Crappie
Flathead Catfish
Largemouth Bass
Striped Bass
---
Black River Lake and Cocodrie Lake Photo Gallery
Black River Lake and Cocodrie Lake Statistics & Helpful Links
At LakeLubbers.com, we strive to keep our information as accurate and up-to-date as possible, but if you've found something in this article that needs updating, we'd certainly love to hear from you!
Please let us know about it on our Content Correction form.
Spread the word! Share our Black River Lake and Cocodrie Lake article with your fellow Lake Lubbers!