The Hideout at Lake Ariel, Pennsylvania, USA
Lake Locations:
USA - Mid-Atlantic - Pennsylvania - Northeastern Mountains -
Also known as:  Roamingwood Lake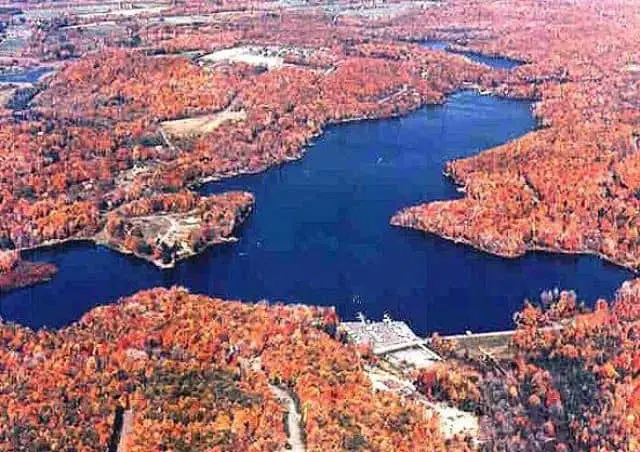 For anyone who was sorry to see summer camp end, the Hideout in Lake Ariel could be the answer. Tucked away in the Pocono Mountains of Pennsylvania, The Hideout is a four-season recreation community with a club or activity for everyone.
The Hideout is a gated community with good security. The only people allowed in the community are homeowners, their guests, and renters. With about 3,000 homes in the community, there are plenty of vacation rentals, and visitors to the Hideout tend to return, some for several generations. The property is managed by the Hideout Property Owners Association (POA). The real estate for sale includes residential development and building lots.
A planned residential community in Lake Ariel, the Hideout has paved roads and a water and sewer system. The breakfast buffet and dinner dances are held at the club house and lodge, and the tiki bar is a casual place to relax. There is a campground with space to store RV's and a dog park for four-legged residents.
The amenities at the Hideout are extensive and include both indoor and outdoor tennis courts, a fitness center and swimming pool. There is a golf course for the spring through fall, and there are several golf tournaments each year. In the winter there is a ski hill with a lift, lodge, and tubing run. Woodworkers will enjoy the woodcraft building, and there is also a craft center. In the summer there are camps for kids, but there are several clubs for adults year-round. The woodworking club is very active, and there is a quilting and garden club as well.
There are six lakes in the Hideout. Deerfield Lake is 16 acres, and Brooks Lake is eight acres. Both lakes are reserved for fishing and non power boats. Only electric trolling motors are allowed. Fishing in the Hideout is voluntary catch and release, and there is a youth fishing derby every year. Created by the Roamingwood Dam, 225-acre Roamingwood Lake is the largest lake in the Hideout. It has a marina and plenty of water for power boats, jet skis, and wave runners. There is also water skiing, sail boating and sandy beaches for swimming. Windemere Lake and Hidden Lake are both one acre and Big Springs Pond is three acres.
The Hideout is in the town of Lake Ariel. Lake Ariel has various accommodations, restaurants and shopping. It is also less than 20 miles from Scranton. The Poconos have a long resort tradition with thousands of acres of water and wilderness to explore. There are 250 acres of woodland in the Hideout alone for wildlife viewing and bird watching. In addition to the lakes and water sports, there are several ski resorts and golf courses nearby. For race fans, the NASCAR Pocono Raceway is just a few miles away.
Both families with young children and retirees have made the Hideout in Lake Ariel their vacation destination and for many it is also their home. The clubs and amenities mean residents can be as involved as they would like to be. The acres of woodland and beautiful water, however, offer peace and serenity in this beautiful mountain community.
Things to do at The Hideout at Lake Ariel
Fishing
Boating
Sailing
Swimming
Swimming Pool
Beach
Jet Skiing
Water Skiing
Tubing
Golf
Tennis
Camping
Campground
Wildlife Viewing
Birding
NASCAR
Shopping
---
The Hideout at Lake Ariel Photo Gallery
The Hideout at Lake Ariel Statistics & Helpful Links
Spread the word! Share our The Hideout at Lake Ariel article with your fellow Lake Lubbers!