Sylvan Lake, Alberta, Canada
Lake Locations: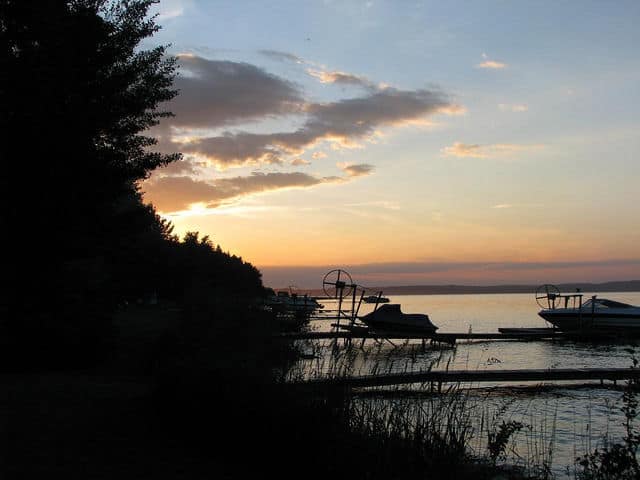 Sylvan Lake is located midway between Alberta's two largest cities, Calgary and Edmonton, and 12 miles northwest of Red Deer. This natural lake covers 10,576 acres with 21 miles of shoreline. Sylvan Lake offers many scenic vistas: sandy beaches, wetland margins, and 70-foot limestone bluffs. The growing town of Sylvan Lake on the southern shore touts its idyllic location, while trying to meet the challenge of providing services to the increasing number of residents and visitors.
Sylvan Lake offers a wealth of water fun. Two Provincial Parks offer access near the shore, and the Town of Sylvan Lake's Centennial Park provides picnic areas, a boardwalk and park benches for quiet contemplation. Several public beaches offer swimming, and two public boat launches give access to smaller boats. A privately-owned marina provides launch facilities for larger boats, rental slips, and other boating amenities. Boating fans enjoy water skiing, wakeboarding, sailing, canoing and kayaking.
'Summer Villages' are a specific legal municipality in Alberta, where seasonal residents are allowed to vote in area-specific elections during the summer. Sylvan Lake hosts five 'summer villages' along with some of the most expensive waterfront housing prices in Alberta. The residents are serious about the continued good health of their lake, with homeowner associations at the summer villages taking an active part in the Sylvan Lake Watershed Steward Society. Sailing is a long-enjoyed sport here, with the Sylvan Lake Sailing Club sponsoring sailboat races every summer Wednesday night. Fishermen enjoy Sylvan Lake year round, catching northern pike, walleye, yellow perch, white suckers and burbot. In winter, they share the ice with snowmobilers, while ice skaters enjoy the two maintained rinks off-shore from Centennial Park.
Small Sylvan Lake Provincial Park offers the most popular public beach area. A mile of sand-and-grass beach is considered one of Canada's ten best beaches, drawing hundreds of thousands of visitors each year. Changing rooms, picnic areas, a concession stand and playground round out the facilities at the small park. Near the east shore of the lake, Jarvis Bay Provincial Park offers modern spaces for camping, including RVs. Several trails allow for hiking, but there is no direct access to the lake itself here. The trails are popular during the winter months for snowshoeing and cross-country skiing. The provincial government also owns a small 33-acre section at the northwest corner of the lake that is an ideal spot for bird watching and nature exploration. At least one private campground offers space for camping fans, while a few weekly and seasonal rentals can be found. Several large hotels join resort hotels to provide lodgings to suit special interests.
The Town of Sylvan Lake has grown by leaps and bounds in the past few years. The town provides amenities that attract full-time residents, such as numerous parks, excellent schools and several walking trails running through the city. The abandoned rail bed of the former Canadian Pacific right-of-way creates the CP Pathway, perfect for leisurely strolls. A skate park, dog park and aquatic center are especially attractive to young families, while a popular water slide facility on the outskirts of town draws fun lovers of all ages. The town also produces several festivals each year that attract a wide variety of visitors, such as the Jazz at the Lake Festival, Winterfest, Dragon Boat Festival and 1913 Days in honor of the town's founding.
Deeper than many prairie lakes, Sylvan Lake gains its waters from several small inflowing streams, rainfall and groundwater. Most water loss is due to evaporation. Its only outflow is little Sylvan Creek which empties into Cygnet Lake. After crossing shallow Cygnet Lake, excess water eventually flows into the Red Deer River. Water levels fluctuate according to rainfall, but almost never more than three feet. Water has flowed out into Sylvan Creek only three times in the past 20 years.
Recently, drinking water has been a concern in the town of Sylvan Lake. Demand due to population growth will soon exceed the capacity of municipal wells. Water for additional infrastructure is a concern that municipal leaders must address for future growth. Meanwhile Sylvan Lake is open for business. So, pack the swim suit, the fishing rods, and hook up to the boat. Plenty of water-based enjoyment awaits your family here.
Things to do at Sylvan Lake
Vacation Rentals
Fishing
Boating
Sailing
Swimming
Beach
Kayaking
Water Skiing
Wakeboarding
Camping
Campground
Picnicking
Hiking
Ice Skating
Cross-Country Skiing
Wildlife Viewing
Birding
Provincial Park
Playground
Fish species found at Sylvan Lake
Burbot
Northern Pike
Perch
Pike
Sucker
Walleye
Yellow Perch
---
Sylvan Lake Photo Gallery
Sylvan Lake Statistics & Helpful Links
Spread the word! Share our Sylvan Lake article with your fellow Lake Lubbers!