Swift Creek Lake, Virginia, USA
Lake Locations:
USA - South - Virginia - Central Virginia -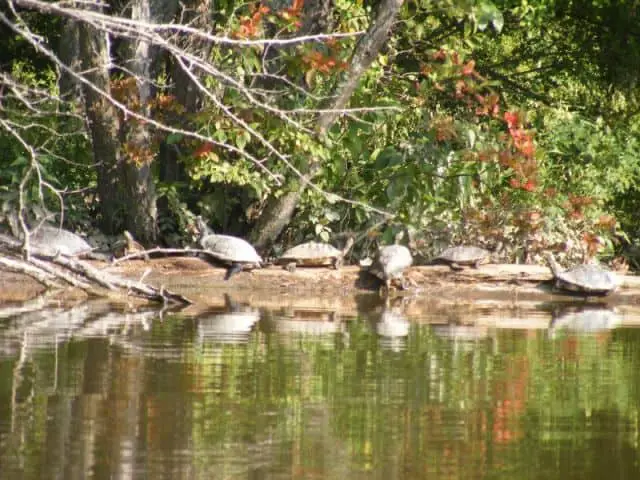 Just 20 miles from Richmond, Virginia in Chesterfield County, Swift Creek Lake offers a respite for weary city dwellers and plenty of fish and wildlife for anglers and hunters. Pocahontas State Park surrounds Swift Creek Lake. The park, built by the Civilian Conservation Corps, was the first recreation park in the Richmond, Petersburg, and Hopewell area. The park was named after Pocahontas, Chief Powhatan's daughter. Chief Powhatan was the leader of the Powhatan Confederacy of the Algonquin Nation. In 1946 the National Park Service donated the park to the Virginia State Park system. The 7,950-acre Pocahontas State Park was the largest state park at that time.
There are two lakes in the state park: Swift Creek Lake and Bear Lake. Beaver Lake is smaller than 107-acre Swift Creek Lake. Swift Creek Lake is an impoundment of Swift Creek. Open from dawn until dusk, the lake is a great place to fish. It doesn't get a lot of fishing pressure, and it has healthy populations of bluegill, black crappie, redear sunfish, and large mouth bass to challenge anglers. No gas powered boats are permitted on Swift Creek Lake, but electric motors are allowed. During the summer visitors can rent canoes, kayaks, row boats, and paddle boats from the state park.
In addition to boating and fishing on Swift Creek Lake, visitors to Pocahontas State Park can bike or hike on one of the parks many trails. There is also a nine mile long bridle trail, but guest must bring their own horses. The wildlife is plentiful, and hunting is allowed in season in designated areas. Ammenities include picnic facilities and a swimming pool, and overnight accommodations range from camping with tent and RV sites to cabins including a group cabin. The group cabins have access to a dining hall, meeting center and amphitheater for reunions, retreats, and meetings. Pocahontas State Park also has a visitor center, gift shop and camp store to supply minor provisions for guests.
Visitors to Swift Creek Lake who love history may enjoy the Civilian Conservation Corps (CCC) Museum. The museum is housed in an original CCC building built when Pocahontas State Park was created. Two days after his inauguration President Franklin Delanor Roosevelt held cabinet meetings to establish the CCC as a way to combat the crippling unemployment facing the country. Originally intended to employ 500,000 young people, the CCC employed over three million men over the course of nine years. Ranging in age from 18 to 25 the Corps was drawn from young unemployed, unmarried people whose families were on relief. Of the $30 they were paid monthly $25 were sent back home to support their families. They enlisted for a minimum of six months with the option to serve for up to two years. The Civilian Conservation Corps was responsible for planting two billion trees and restoring 4,000 historic sites. They built 40,000 bridges and created 800 state parks. The CCC's legacy lives on in the infrastructure of the park system.
With all the amenities of nearby Richmond, the rich history of the CCC and the beautiful forests and wildlife of Pocahontas State Park, Swift Creek Lake is a treat just waiting to be savored.
Things to do at Swift Creek Lake
Vacation Rentals
Fishing
Boating
Swimming
Swimming Pool
Canoeing
Kayaking
Camping
Picnicking
Cabin Rentals
Hiking
Horseback Riding
Hunting
Wildlife Viewing
State Park
National Park
Museum
Fish species found at Swift Creek Lake
Bass
Black Crappie
Bluegill
Crappie
Largemouth Bass
Redear Sunfish (Shellcracker)
Sunfish
---
Swift Creek Lake Photo Gallery
Swift Creek Lake Statistics & Helpful Links
Spread the word! Share our Swift Creek Lake article with your fellow Lake Lubbers!