Lake Anna, Virginia, USA
Lake Locations:
USA - South - Virginia - Central Virginia - Northern Virginia -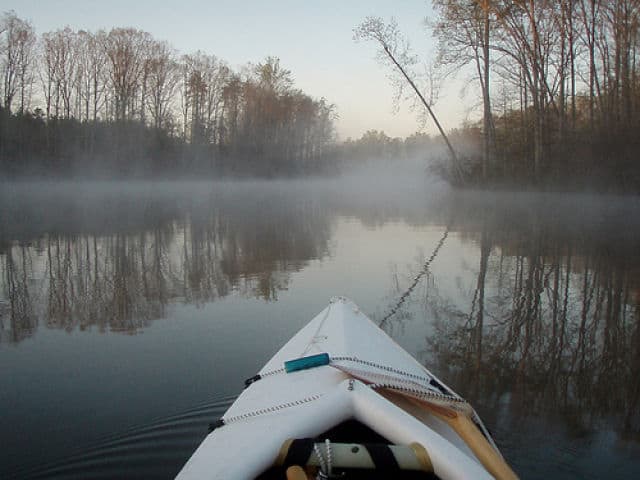 Lake Anna, covering 13,000 acres of central Virginia, is one of the largest freshwater lakes in the state. It spans Virginia's Northern and Central tourism regions. Virginia Electric and Power Company created Lake Anna in 1971 by damming the North Anna River. It was expected to take three years to fill to the 'full pond' level of 257 feet above sea level, but heavy rains from Hurricane Agnes in 1972 filled Lake Anna two years ahead of schedule.
Lake Anna provides cooling water to the North Anna Nuclear Generating Station. Despite this, the lake is safe – and very popular – for swimming, boating, and fishing. Lake Anna is a favored vacation destination for visitors from Washington, D.C. and Richmond. Boat traffic can be heavy on summer weekends.
Although the lake's total surface is 13,000 acres, just 9,600 acres are open to the public. The other 3,400 acres are three mini-lakes used to receive the cooling waters from the nuclear plant and dissipate the heat into the atmosphere. These acres are open only to landowners and their guests.
Lake Anna shares its surrounding land with the Lake Anna State Park. Formerly known as "Gold Hill," the park was home to the Goodwin Gold Mine. The land was first found to hold the flaxen treasure in 1829, though mining didn't reach its apex until the 1880's. Unfortunately for the miners, though fortunate for us, the last of the gold was found in the 1940's, eventually allowing the state to buy the land and create the state park.
The park was opened in 1983, about 10 years after the filling of the lake. Lake Anna State Park offers visitors many activities, including lakefront picnic areas, an educational visitor's center, and excellent hiking trails. In addition, the park offers both camping sites and fully-equipped cabins. If camping is your pleasure, you'll find primitive sites as well as ones with water and electric hookups. Hot waters showers, restrooms, and lantern holders are available. If you love the lake life, but prefer a mattress and a stove, the cabins are fully furnished with bedrooms, sofas, a full kitchen, and even a wraparound deck to maximize views.
Lake Anna's tempting warmth, stretching shoreline, and beautiful blue skies will invite you to take a dip, and the state park offers a public swimming beach from which to do so. Lay your towel out, get out your beach read, and warm up in the summer sun before diving in for a quick lake romp. Because the lake is used to cool the nuclear power plant, you'll find that the water is warmer than other Virginia lakes, though it will still provide you with refreshment.
If you're more of a land lubber, Lake Anna State Park has over 15 miles of trails, 10 of which are multi-use for hiking, horseback riding, and biking. As you meander down a path or hike up a ridge, you'll be treated to views of hardwood forest, vistas of Lake Anna, and a backstage pass to wildlife creatures. Take your camera along to photograph butterflies, birds, and special scenes that cross your path along the way.
When you're ready to get back out on the water, let your temptations prevail and head out in a boat, whether rented or brought from home. Lake Anna has no horsepower limit, so boats of all kinds are found floating along the waters. If you prefer a calm ride, grab a paddle and hop into a canoe or kayak for a jaunt around a quiet cove. If sightseeing is what you're after, a pontoon boat provides the perfect combination of speed and leisure. For an exciting ride, hop in a power boat and speed along, over waves and wake, enjoying your adrenaline rush.
If fishing is in your future, a boat will be handy to troll for the over 30 species of fish that populate the lake, including bluegill, bream, catfish, crappie, largemouth bass, striped bass, walleye, white perch, and yellow perch. For the younger angler, Lake Anna State Park has a 1.5 acre stocked pond, only for use by children and handicapped individuals. Keep in mind that you need a Virginia Fishing License to fish anywhere in the state.
The state park also offers several family-friendly activities year-round, including panning for gold, pontoon boat tours, and nature programs. If you want an upfront look at the old gold mines, then the Goodwin Gold Mine Tour is for you. Take a drive to the mine, walk the 120+ year old mine site, and learn about the history and practice of mining in Virginia.
Whether you're into history, water, fishing, or hiking, Lake Anna will exceed your expectations, so pack your bags and make plans for a vacation that will be everything you hoped.
Things to do at Lake Anna
Vacation Rentals
Fishing
Boating
Swimming
Beach
Canoeing
Kayaking
Camping
Picnicking
Cabin Rentals
Hiking
Biking
Horseback Riding
Wildlife Viewing
Birding
State Park
Fish species found at Lake Anna
Bass
Black Bass
Bluegill
Catfish
Crappie
Largemouth Bass
Perch
Striped Bass
Sunfish
Walleye
White Perch
Yellow Perch
---
Lake Anna Statistics & Helpful Links
Spread the word! Share our Lake Anna article with your fellow Lake Lubbers!