Strawberry Reservoir, Utah, USA
Lake Locations:
USA - West - Utah - Mountainland -
Also known as:  The Berry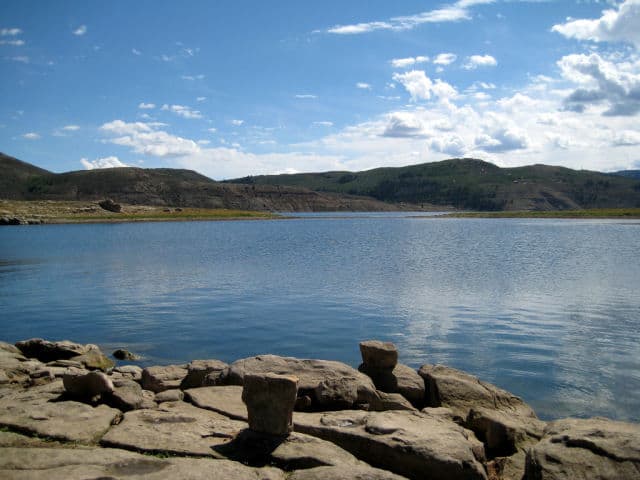 Strawberry Reservoir, known locally as The Berry, is Utah's most popular fishing spot. Located in Wasatch County, a convenient 65 miles east of the Wasatch Front and the cities of Salt Lake, Provo and Orem, Strawberry Reservoir draws visitors from around the state and country. Fishing on Strawberry Reservoir is so popular one may think it was built just for casting a line into the water. In reality, Strawberry Reservoir is part of the Central Utah Project (CUP), which provides water to the state's parched farmland and arid urban landscapes. Part of the Mountainland Tourism Region of Utah, this 17,164-acre reservoir grew out of the 1922 Strawberry Valley Project. The original 8,400-acre reservoir was formed by constructing Strawberry Dam on the Strawberry River. In 1973, Strawberry Reservoir was enlarged to hold its current water volume of 1,106,500 acre-feet.
Surrounded by the Wasatch Mountains, Strawberry Reservoir offers a wide range of recreational opportunities. Fishing, however, is the most popular attraction. There are four major fishing areas; the most popular is Strawberry Basin. This area lies at the north end of the lake and covers the original 8,400-acre Strawberry Reservoir. Meadows Basin, or Indian Creek Bay, lies at the south end of this larger body of water. The Narrows is a drainage channel for Strawberry River and Indian Creek, which flows into Soldier Creek Basin. This basin lies over the original Soldier Creek Reservoir. Stinking Springs and Soldier Creek Bay lie in the deepest area of Strawberry Reservoir.
Strawberry Reservoir has not always been the clean, well-managed fishery that it is today. In 1961 and again in 1990, Strawberry Reservoir was chemically treated to remove competitive nongame fish, Utah chub and Utah sucker. Since that time, The Berry has been restocked with Bear Lake cutthroat trout, sterilized rainbow trout and kokanee salmon. Management of the fishery has been a tremendous success with Utah's Division of Wildlife Resources reporting anglers "fishing over 1.4 million hours and catching more than 617,000 game fish each year," yielding a catch rate of 0.5 fish per hour.
If you are new to Strawberry, a Forest Service visitor center is available near the northwest shoreline at the intersection of highway 40 and west side road. Stop here for current fishing information, maps and published guides. Boat access to Strawberry Reservoir can be found at four public ramps. Strawberry Bay Marina is located on the western shore at Strawberry Bay; Renegade Point lies at the southwestern end of Meadows Basin; and Soldier Creek Marina and Aspen Grove are on the northern and southern shore of Soldier Creek Basin, respectively. All launches are paved and provide access to accompanying Forest Service campgrounds. Facilities at these sites include sanitary dump stations, group pavilions, and stores. For those needing a sit-down dinner and place to rest, a restaurant and lodge are available at Strawberry Bay. Additional day-use areas scattered around the shoreline include Mud Creek, Chicken Creek East and West, Soldier Creek Bay and Soldier Creek Dam.
Portions of The Berry lie within Uinta-Wasatch-Cache National Forest boundaries. Drive into the forests and you can backpack into the solitude of seven wilderness areas. If you prefer something a little less adventurous, there are 1,524 miles of hiking trails and 245 miles of motorized trails. Picnic areas, interpretive or wildlife viewing sites and scenic byways are within easy driving distance of Strawberry Reservoir. Before venturing out, visitors should remember that weather can be unpredictable in high mountain terrain. While summer temperatures may reach 80 degrees, nighttime temperatures can reach freezing.
The opportunities for fun and recreation don't end at Strawberry Reservoir. Enjoy a scenic drive north to Heber Valley and you will find the welcoming communities of Heber City, Midway, Charleston and Daniels. Here, attractions are as varied as the countryside itself. The entire family can enjoy a scenic trip or dinner theater on the Heber Valley Railroad. Museums, day spas and local theaters provide daytime and evening entertainment. Get a sense of life in the West by attending Heber Valley Pow Wow, an annual Native American gathering, watch dogs compete at the Soldier Hollow Sheepdog Classic, or rodeo at the Mountain Valley Stampede. For a rare mountain attraction, you can scuba dive in the warm waters of Homestead Crater.
During winter months, Strawberry Reservoir and the Wasatch Mountains become a mecca for winter sport enthusiasts. Available for public use, the Utah Athletic Foundation manages the world-class sport facilities from the 2002 Winter Olympics. Whether you enjoy ice fishing, ice skating, snowshoeing, snowmobiling, down-hill or cross-country skiing, the high mountainlands of Utah welcome you. Vacation rentals and real estate properties found near Strawberry Reservoir and throughout Heber Valley will provide the perfect accommodation for your stay. Here you can watch the sunset while you grill your morning catch or watch the snow fall as you sit by the fireside. Find a place you can call home and live the sights and sounds of The Strawberry in Utah's majestic mountains.
Things to do at Strawberry Reservoir
Vacation Rentals
Fishing
Ice Fishing
Boating
Scuba Diving
Camping
Campground
Picnicking
Hiking
Ice Skating
Cross-Country Skiing
Snowmobiling
Wildlife Viewing
National Forest
Museum
Fish species found at Strawberry Reservoir
Carp
Cutthroat Trout
Kokanee Salmon
Rainbow Trout
Salmon
Sucker
Trout
---
Strawberry Reservoir Photo Gallery
Strawberry Reservoir Statistics & Helpful Links
Spread the word! Share our Strawberry Reservoir article with your fellow Lake Lubbers!