St. Mary's Lake, British Columbia, Canada
Lake Locations:
Also known as:  St. Mary Lake, St. Marys Lake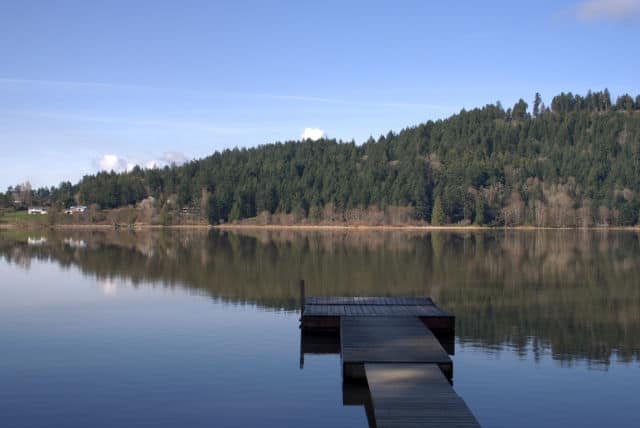 St. Mary's Lake is a beautiful and tranquil 729-acre lake located west of the community of Kimberley in the Kootenay region of British Columbia, Canada. Located at the base of Bootleg Mountain, the lake is a popular destination for fishing, swimming, bird watching and paddling trips. The St. Mary's River flowing out of the lake is heavily used for white water rafting adventures.
If you've come to St. Mary's Lake to fish, trolling or shore fly-fishing will give you the best success. Popular sport fish in the lake include rainbow trout, bull trout, cutthroat trout, white fish and ling cod. Boating, picnicking, and swimming are allowed, but camping is not. There are no camping facilities on St. Mary's Lake, however Wasa Provincial Park, located north of Kimberley, is a 355-acre campground park popular for camping, boating, canoeing, swimming, fishing, water skiing and scuba diving.
There are a number of national, provincial and recreation parks, hiking trails, ski hills, lakes, and mountains within 30 miles of St. Mary's Lake. The communities of Kimberley, Marysville, Meadowbrook and Wycliffe all offer vacation rentals, fine dining, and a multitude of antique shops and souvenir stores. The roads and mountains around St. Mary's Lake are popular for cycling, mountain biking and hiking. On the north side of the lake, across the road from St. Mary's Lake, is the trailhead to the Alki Creek Hiking Trail, a six mile hiking adventure including switchbacks, mountain passes, alpine meadows and dense forests.
White water rafters will want to take advantage of the St. Mary's River which enters and exits St. Mary's Lake. The exit river is a good put-in point for rafting. The first mile can be an easy two hour trip of slow moving Class 1 water, but beyond the town of Marysville the river narrows and becomes sections of Class2 and Class 3 rapids.
While visiting St. Mary's Lake, be sure to find time to travel 15 minutes north to the Bavarian community of Kimberley, the highest city in Canada at 3,674,530 feet above sea level in the Canadian Rockies. Kimberley was once a mining town and was named after the famous South African diamond mine. Visitors will be charmed by the "Old Bavaria" feel of the downtown shopping area. There are plenty of cafes and boutiques as well as hiking, camping and golf courses for those who love the great outdoors.
Parks near St. Mary's Lake include Kimberley Nature Park a 2,000-acre park popular for hiking, mountain biking, dog walking, jogging, bird watching, sightseeing, snowshoeing and cross country skiing. Mary's Alpine Provincial Park is a rugged area located south of Kimberly. Experienced and properly equipped hikers will be rewarded with incredible scenery, alpine lakes, icefields, swift moving creeks and waterfalls.
Another popular attraction near St. Mary's Lake is Marysville Falls, a boardwalk walking path located in the Village of Marysville, east of St. Mary's Lake. The hiking trail is a n easy walk leading to a spectacular viewpoint overlooking a 100 foot high waterfall.
The area around St. Mary's Lake doesn't slow down during the winter months. Skiing and winter recreation in the B.C. Rockies is just as popular as summer activities. Whether you're looking for night skiing, recently groomed runs, mogols, cross country skiing, snow shoeing, snowboarding, snowmobiling, ice fishing or winter tours, the ambience of the Rockies draw skiers and winter visitors of all abilities.
Weather you've come to fish, hike, ski, or just visit a unique little town at the top of the world, the varied terrain around St. Mary's Lake and the B.C. Rockies region of British Columbia can accommodate any type of outdoor recreation spring, summer, winter or fall.
Things to do at St. Mary's Lake
Vacation Rentals
Fishing
Ice Fishing
Boating
Swimming
Canoeing
Kayaking
Whitewater Rafting
Water Skiing
Scuba Diving
Golf
Camping
Campground
Picnicking
Hiking
Biking
Snowboarding
Cross-Country Skiing
Snowmobiling
Waterfall
Birding
Provincial Park
Antiquing
Shopping
Fish species found at St. Mary's Lake
Bull Trout
Cod
Cutthroat Trout
Rainbow Trout
Trout
---
St. Mary's Lake Photo Gallery
St. Mary's Lake Statistics & Helpful Links
Spread the word! Share our St. Mary's Lake article with your fellow Lake Lubbers!