Thetis Lake, British Columbia, Canada
Lake Locations:
Also known as:  Upper Thetis Lake, Lower Thetis Lake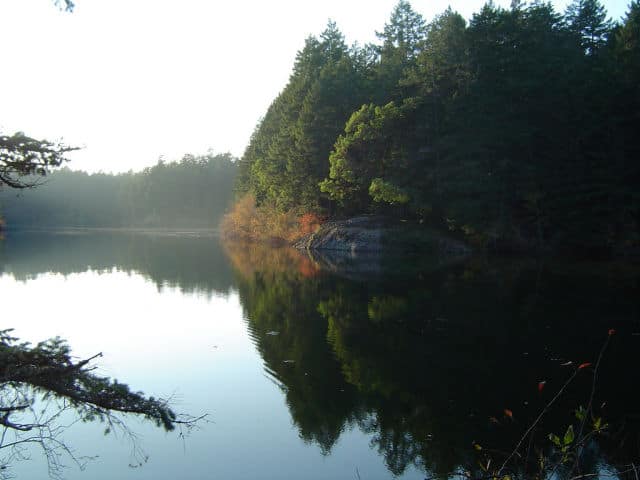 Thetis Lake is actually two lakes – Upper and Lower Thetis Lakes located within the Thetis Lake Regional Park in View Royal, British Columbia. A narrow channel connects the lakes and is just wide enough for a canoe or kayak to squeeze through. Fishing in the lake is said to be excellent and if you're lucky, you might catch a glimpse of the Thetis Lake Monster.
Thetis Lake Regional Park is a the 1,569-are park named for the frigate HMS Thetis, which had been assigned to Esquimalt as part of the Royal Navy's Pacific Squadron. The park is popular with anglers, paddlers, hikers and naturalists. In spring, the park comes alive with a dazzling display of colorful wildflowers. The main attraction of the park is Thetis Lake. Paddlers with hand-carried boats can launch from the main beach and explore the more remote beaches and many bays and islands that characterize the lake. A small island in the middle of Lower Thetis is a perfect picnic spot. Canoes, kayaks and small electric motor boats are allowed on the lake. Anglers are attracted to the lake for its rainbow trout, cutthroat trout, brown bullhead, pumpkinseed sunfish and smallmouth bass. You can fish from shore or there is a boat launch for small boats. The best fishing is from March to June, and September to October.
Thetis Lake has some great swimming beaches and a family playground. An extensive network of wooded trails criss-cross the park, providing endless hiking opportunities for hikers of all levels. Park facilities include parking, bathrooms, lifeguard supervised swimming areas, picnic tables and concessions.
For campers, the Thetis Lake Campground is located next to the park and offers primitive campsites, electrical outlets for RVs, sewer services, cable hook up, showers and laundry facilities. Additional camping and vacation rentals can be found in the towns of View Royal, and Victoria, just east of the lake.
Another attraction of Thetis Lake is the rumored Thetis Lake Monster. Unlike serpentine creatures that inhabit other lakes, the Thetis Lake monster is rumored to be a scaly, gilled humanoid similar to the creature featured in the movie "Creature from the Black Lagoon." Able to breathe on land and underwater, the monster's first sighting was in 1972. Throughout the years there have been reports of strange footprints and large scales, but no one has yet photographed the mysterious monster.
If illusive monsters aren't your idea of rest and relaxation, there is much to see and do near Thetis Lake. The city of Victoria boasts a busy schedule of fine dining, arts and entertainment, golf, skiing, whale watching, and an endless number of souvenir shops, art galleries and eclectic restaurants. South of Thetis Lake is Esquimalt Harbor with its beautiful parks, scenic waterfront walkways, many recreational facilities, golf courses, shopping and restaurants. Just to the east is Francis/King Regional Park with mile after mile of beautiful woodland trails. If you're in the mood for a long leisurely walk, you can walk to this park from Thetis Lake.
If you're looking for a relaxing respite from the rigors of everyday life, gather the family, pack the fishing rods, secure the canoe and head off for an exciting day on Thetis Lake.
Things to do at Thetis Lake
Vacation Rentals
Fishing
Boating
Swimming
Beach
Canoeing
Kayaking
Golf
Camping
Campground
Picnicking
Hiking
Playground
Shopping
Fish species found at Thetis Lake
Bass
Black Bass
Brown Bullhead
Cutthroat Trout
Pumpkinseed
Rainbow Trout
Smallmouth Bass
Sunfish
Trout
---
Thetis Lake Photo Gallery
Thetis Lake Statistics & Helpful Links
Spread the word! Share our Thetis Lake article with your fellow Lake Lubbers!