Slocan Lake, British Columbia, Canada
Also known as:  The Slocan
Welcome to the ultimate guide for history, statistics, local fun facts and the best things to do at Slocan Lake.
If you're considering Slocan Lake vacation rentals, we've made it super easy to explore accommodations and nearby hotels using the interactive map below. Simply click on a listing to compare similar properties, best rates and availability for your dates. Or keep scrolling to read our Slocan Lake guide!
Slocan Lake visitor and community guide
Beautiful Slocan Lake occupies a scenic portion of British Columbia's Slocan River Valley. This natural undammed lake is unusual as it has no major rivers running into it. Instead, a number of small streams bring water into the deep and cold 20-mile-long lake which drains to the Slocan River. Nestled between the West Kootenay and Valhalla mountain ranges, a large portion of Slocan Lake's shoreline has steep slopes rising above it, making development difficult. The mountains, large conifer forests, and distance from large cities have saved the remote, 17,100-acre lake from over-development, providing beautiful views of mountain peaks, glaciers and wilderness. Those who discover Slocan Lake are rewarded with a wide variety of recreational opportunities geared to outdoors fans.
Pictographs on the cliffs above the lake's shoreline show evidence that First Nations bands called this area home long before European explorers arrived. In the late 1800s, silver-lead ore deposits brought a rush of miners to the area. Railroads built for hauling ore provided access to the area, and a number of villages grew up along the shore and near the many mines. Slocan City was incorporated in the 1890s, one of the first cities in southeastern British Columbia. Now downgraded to an official 'village', Slocan City is still the name the town goes by locally. It has settled into a quiet village of less than 400 people, supported primarily by tourism-related businesses. The former railroad bed is now a hiking trail.
Much of Slocan Lake's shoreline is inaccessible by road. Highway 6 skirts the eastern shoreline, part of the North Kootenay Lake Silvery Slocan Side Trip Loop off the Selkirk Loop. The larger loop is one of the top 10 Scenic Drives in the Northern Rockies. The 110-mile loop is a favorite of cyclists and nature lovers due to the fine views of Kokanee Glacier, Idaho Peak, and numerous mountains in the Valhalla Range. The little clusters of homes called Rosebery, New Denver and Silverton receive the most visitors along with Slocan City. All are along the east shore. Most have boat launch sites and small public beach/picnic areas. And most locals can point visitors to at least one or two local ghost towns and abandoned mines slowly being overtaken by the forest. Those who visit come to enjoy the views, boating on the water, and hiking in the surrounding area. Scuba divers enjoy the deep lake which holds several shipwrecks dating back to the days when sternwheelers served the miners between communities.
Boating of all types can be performed on Slocan Lake. A small marina at Slocan City offers dock space but few services, and a public beach provides sandy recreation to those who brave the usually cold waters. The long narrow lake is ideal for sailing and power boating. Canoes and kayaks are also an enjoyable way to explore the water, but care must be taken to watch the weather as winds can quickly create large and dangerous waves.
Fishing is always popular as the lake holds kokanee salmon, mountain whitefish, rainbow trout, bull trout, burbot and a few white sturgeon. An annual fishing derby is held each year to provide funds for equipment for fire and rescue personnel around the lake. Because the lake is so deep and has few areas for spawning, creek mouths are usually the best places for casting a line. Wilson Creek, Carpenter Creek, Bonanza Creek, Seaton Creek and other streams provide the perfect fly fishing spots for rainbow trout and other coldwater fish. The lake seldom freezes over, so fishing is offered year round. Those unfamiliar with the lake usually have better luck if they engage the services of a local fishing guide. Several outfitters are located in the small settlements along the eastern shore.
The west shoreline is primarily within the Valhalla Provincial Park, a 12,330-acre wilderness with a wealth of hiking trails, stunning waterfalls and small lake fishing at high-altitude lakes. Camping is available at several beach areas on the western side of Slocan Lake but must be accessed by water. A few designated backcountry campsites are located within the park with communal shelters, including Cove Creek Cabin, Evans Lake Cabin, Iron Creek Shelter and Evans Beach Shelter offering accommodations for up to four people. Water taxis can be used to access west shore campsites and also provide scheduled and individual tours of the lake. East of the lake, Goat Range Provincial Park protects spawning areas for several native fishes. No fishing is allowed in this park. Southeast of Slocan Lake, Kokanee Glacier Provincial Park offers vistas of Kokanee Glacier. And not far east of Rosebery, little Rosebery Provincial Park offers camping along Wilson Creek.
Several campgrounds in the area offer do-it-yourself lodging, while small resorts and RV parks cater to summer visitors. Some of the cottage resorts remain open year round to serve hunters and snow lovers. The area is perfect for wilderness skiing, snowshoeing, snowmobiling and cross-country skiing. Private rentals are also found for weekly lakefront lodging. A few inns and bed & breakfasts can be found in the area, along with several restaurants, cafes and shopping. Artists often open small shops to sell their wares, and a small gallery allows for communal display and sales.
Slocan Lake was the site of a Japanese Internment Camp during World War II. The Nikkei Memorial Internment Centre at New Denver offers hour-long tours honoring the memory of these Japanese-Canadians. Some of the Japanese citizens held here remained when released, giving rise to two lovely examples of formal Japanese gardens near the lake. The Kohan Reflection Garden is located in New Denver; the Heiwa Teien Peace Garden, located just outside the Nekkei Memorial Internment Centre, was designed by a master gardener and former internee. Also in New Denver, the Visitor Centre is located in the same 1896 historic building as the Silvery Slocan Museum. The museum offers a glimpse into the rich past of the Slocan Lake area, including the mining heritage, the Japanese Internment Camp, and local immigrant farm families. A trailhead for Galena Trail is located nearby in Rosebery. This 9-mile trail along an old rail bed is a favorite among cyclists and has a small cable car crossing Carpenter Creek that cyclists can hook their bikes onto to cross the stream.
Despite the increasing growth of recreational visitors to Slocan Lake, the water is pristine. A local group, the Slocan Lake Stewardship Society, works to monitor water quality, watches for invasive species, and protects the environment for posterity by limiting development and protecting water quality. Slocan Lake is an amazing place, located an hour northwest of Nelson, B.C. It's worth the drive. So schedule your visit, secure reservations for lodgings, and head on out to Slocan Lake.
Custom Slocan Lake house decor
Read our full review of these personalized lake house signs.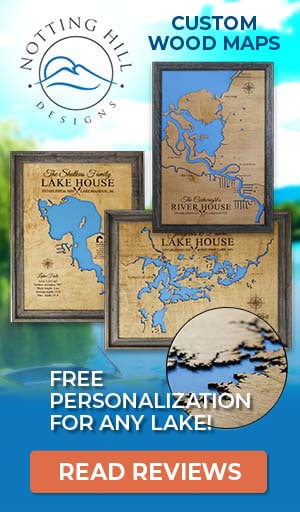 Things to do at Slocan Lake
Vacation Rentals
Fishing
Boating
Sailing
Swimming
Beach
Canoeing
Kayaking
Scuba Diving
Camping
Campground
Picnicking
Cabin Rentals
Hiking
Biking
Cross-Country Skiing
Snowmobiling
Snowshoeing
Hunting
Waterfall
Provincial Park
Museum
Shopping
Fish species found at Slocan Lake
Bull Trout
Burbot
Kokanee Salmon
Rainbow Trout
Salmon
Sturgeon
Trout
Whitefish
---
Best hotels and vacation rentals at Slocan Lake
The Slocan Lake map shown above is a simple and stress-free way to search for trip accommodations. But if you want to take a deeper dive to find the ideal waterfront home, cabin, condo, hotel or resort, visit our favorite lodging partners by clicking the buttons below.
Note: These are affiliate links so we may earn a small commission if you book through them. While there is no extra cost to you, it helps provide resources to keep our site running (thank you)! You can read our full disclosure policy here.
---
Slocan Lake photo gallery
New photos coming soon!
Slocan Lake statistics & helpful links
We strive to keep the information on LakeLubbers as accurate as possible. However, if you've found something in this article that needs updating, we'd certainly love to hear from you! Please fill out our Content Correction form.
Advertise your Slocan Lake vacation rental
LakeLubbers will soon offer homeowners and property managers the opportunity to to showcase their vacation rentals to the thousands of lake lovers searching our site daily for accommodations. If you'd like additional details, please contact our advertising team here.
Looking for the Slocan Lake forum?
LakeLubbers previously offered visitors the ability to create accounts and participate in lake forums. When we overhauled the site's content management system in 2021 we had to disable those features. We're evaluating options and welcome your comments and feedback here.
We also encourage you to join our lake-lovin' community on Facebook and Instagram!
Spread the word! Share our Slocan Lake article with your fellow Lake Lubbers!