Shuswap Lake, British Columbia, Canada
Lake Locations: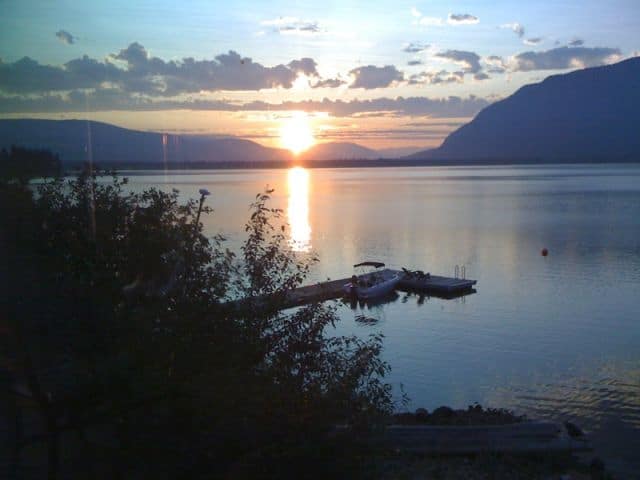 With 889 miles of shoreline and a multitude of provincial parks, 76,602-acre Shuswap Lake in the Southern Interior of British Columbia offers unlimited water related recreational opportunities. The lake also boasts the largest houseboat fleet in Canada for those looking for a unique and fun way to vacation with family and friends. And when you get tired of the water, the surrounding mountains provide beautiful trails for mountain biking, hiking, cross country skiing, and snowmobiling.
Shuswap Lake, named after the Shuswap indians, is a multi-basin lake made up of four large arms: the Shuswap Lake Main Arm, Salmon Arm, Anstey Arm, and Seymour Arm. The four arms join at a short shallow passage called Cinnemousun Narrows, northeast of the town of Sicamous. The two south arms have been developed for recreational use while the two north arms remain mostly untouched. One of the best places to begin exploring Shuswap Lake is at Sicamous, known as the Houseboat Capital of Canada. Most of the marinas and watercraft rental facilities are also located here.
Shuswap Lake has an incredible number of parks, some of which are only accessible by water. All locations are popular for fishing and water sports; hiking and nature study are the main attraction at some sites. Those interested in an extended visit to Shuswap Lake will find plenty of campsites, some of which are vehicle-accessible, but most require a boat or watercraft of some kind. For sites accessible by water only, launch facilities are located around the lake. Vacation rentals of all kinds can also be found around the lake.
Shuswap Lake Provincial Marine Park is comprised of 26 sites located along the shoreline of Shuswap Lake. Most of the sites have boat launches, beaches, campgrounds and docks. Facilities at the parks vary greatly from park to park.
Silver Beach Provincial Park is located at the end of a gravel road at the head of Seymour Arm on Shuswap Lake. This part of the lake has beautiful sandy beaches. Houseboaters often come here to get away from it all. Also nearby are the remains of a gold-rush town.
Shuswap Lake Provincial Park is one of the most popular parks on Shuswap Lake. Camping, picnicking, fishing, boating, paddling, swimming, hiking, windsurfing, sailing, houseboating, water-skiing, nature study, and bicycling can all be found here.
Yard Creek Provincial Park lies just east of Sicamous on Shuswap Lake. This quiet, shady park is often used as a base camp when exploring Shuswap Lake.
Hikers will want to head to Herald Provincial Park for some interesting hiking over upland and flat delta terrain. This park is located along the western shore of the Salmon Arm of Shuswap Lake. Birders will enjoy the 70 species documented in Herald Park. Campsites are located both at lakeside and a short distance uphill in the wooded areas. Roderick Haig-Brown Provincial Park on the Adams River at the western extreme of Shuswap Lake has several beautiful walks and easy hikes; the Lower Trail System provides access to viewing the salmon run along the Adams River. Be sure to take the Reinecker Creek self-guided nature walk here, which leads to Margaret Falls.
Shuswap Lake is great for fishing with 19 species of fish in the lake. Lake trout, rainbow trout and kokanee are some of the prize catches from the lake. Kamloops trout, a unique strain of rainbow trout, can put on an acrobatic performance for fly-fishers skilled enough to hook one. These trout, native to central and south-central Interior regions of the province, are most plentiful at Silver Beach Provincial Park, at Seymour Arm. Due to the unusual shape of the lake, the depth of the water can vary from 203 feet to 528 feet.
If renting a houseboat sounds like fun, you will find many to choose from. Some of these luxurious boats can sleep up to 30 and feature hot tubs, fireplaces, TVs, satellite dish, king size beds and even wireless internet access.
Shuswap Lake has much to offer winter visitors as well. Many of the trails in the parks are suitable for cross-country skiing, snowmobiling and snowshoeing in the winter months.
For those seeking a peaceful vacation getaway, consider the shores of Shuswap Lake, situated in the Columbia Mountains region of British Columbia. The moderate weather, clear water and easy accessibility make Shuswap Lake a highly desirable recreational area. This can be proven by the many provincial parks surrounding the lake and the hundreds of houseboats and pleasure crafts on the water during the summer months.
Things to do at Shuswap Lake
Vacation Rentals
Fishing
Boating
Sailing
Swimming
Beach
Canoeing
Kayaking
Water Skiing
Camping
Campground
Picnicking
Hiking
Biking
Cross-Country Skiing
Snowmobiling
Snowshoeing
Birding
Provincial Park
Fish species found at Shuswap Lake
Kamloops
Kokanee Salmon
Lake Trout
Rainbow Trout
Salmon
Trout
---
Shuswap Lake Photo Gallery
Shuswap Lake Statistics & Helpful Links
Spread the word! Share our Shuswap Lake article with your fellow Lake Lubbers!