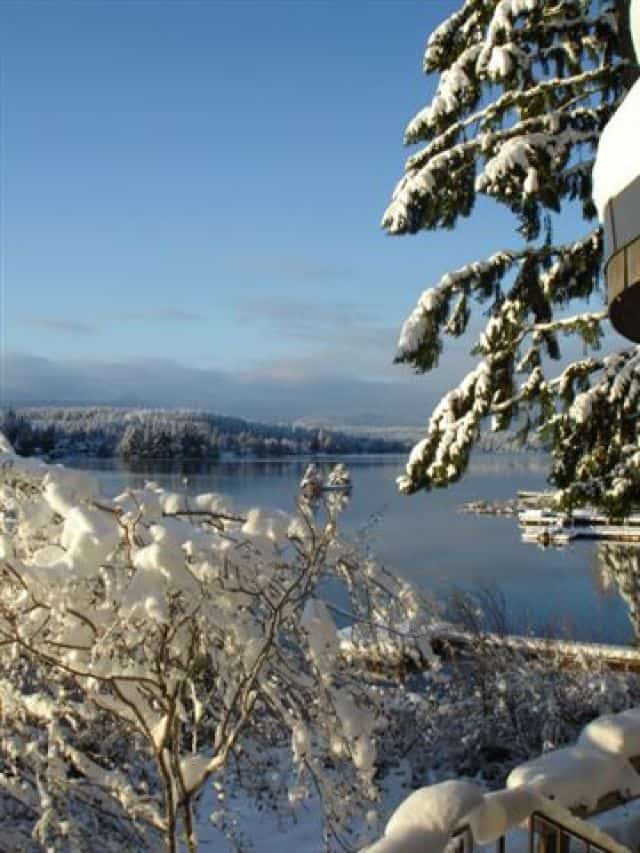 Shawnigan Lake, British Columbia, Canada
Lake Locations:
Shawnigan Lake is a 1,327-acre lake located on southern Vancouver Island, 3 miles west of Mill Bay and 28 miles north of Victoria. Known as a summer recreation and cottage area for over a century, the lake is becoming a favorite weekend getaway spot and one of Victoria's more popular communities. Shoreline marshes, an island park, and a number of lakeside cabins make the lake an excellent destination for swimming, fishing, and boating.
Shawnigan Lake provides a number of recreational opportunities including swimming, water skiing, boating, and fishing. Although the majority of the residences are occupied year round, there are number of campgrounds, resorts and vacation rentals that receive heavy use during the summer months. One of the main attractions of the lake is fishing. Shawnigan Lake has been stocked with rainbow and cutthroat trout since 1903 and there is also a large native population of kokanee salmon. Smallmouth bass and yellow perch have also been introduced to the lake. The lake has an average depth of 39 feet, but there are spots that reach up to 170 feet. The water level of the lake is controlled by a dam on Shawnigan Creek.
Kayakers and canoeists will love Shawnigan Lake for its calm, clear water and picturesque shoreline dotted with modern residences and rustic old cabins. Memory Island Provincial Park, located on the southern half of the lake is just over a half mile paddle from shore. This day-use, tranquil little park is a great place to picnic, relax, and bird-watch.
Hikers will want to head to nearby Koksilah Provincial Park. Just over 4 miles from Shawnigan Lake this park features excellent hiking, mountain biking, fishing and swimming. There are numerous trails throughout the forest offering some great wildlife viewing opportunities. You can also explore West Shawnigan Lake Provincial Park on the western shore best known for its public beach, swimming and family picnicking. The surrounding area of the lake also offers great cycling and mountain biking terrain.
Directly east of Shawnigan Lake and just south of the Mill Bay ferry terminal is Bamberton Provincial Park. This scenic park features a large beach and an abundance of picnic facilities. Primitive camping and RV campsites can be found in this park. Old Mill Park on the east side of Shawnigan Lake was the mill site of the Shawnigan Lake Lumber Co. from 1881 to 1945. This park features a beach, swimming, picnic area, and a playground.
The Trans-Canada Trail Regional Park follows the abandoned Canadian National Railway from Sooke Lake Road, at the south end of Shawnigan Lake, to the Holt Creek trestle in the Glenora area. The trail will eventually connect with the Galloping Goose Trail and create a continuous national trail system of approximately 10,800 miles. The Trans Canada Trail follows the western side of Shawnigan Lake. Make sure you take the time to visit the Kinsol Trestle, a large wooden railway trestle that can be explored by starting in the village of Shawnigan Lake. To find the trestle, you will need to hike the Trans-Canada Trail.
If you get tired of the lake, Shawnigan Lake Village is well known for its arts and craft shows, and has a small but excellent museum. Golfers will find several golf courses in the area to choose from. The nearby town of Cobble Hill features various vineyards and wine tours throughout the year.
Winter is also a busy time at Shawnigan Lake with plenty of opportunities for snowmobiling, cross-country skiing, and ice fishing.
Peaceful Shawnigan Lake is an excellent vacation spot for water activities as well as outdoor recreation. Hikers, bikers and outdoor enthusiasts will find much to do with an abundance of parks and a variety of trails to choose from.
Things to do at Shawnigan Lake
Vacation Rentals
Fishing
Ice Fishing
Boating
Swimming
Beach
Canoeing
Kayaking
Water Skiing
Golf
Camping
Campground
Picnicking
Cabin Rentals
Hiking
Biking
Cross-Country Skiing
Snowmobiling
Wildlife Viewing
Provincial Park
Museum
Playground
Fish species found at Shawnigan Lake
Bass
Black Bass
Cutthroat Trout
Kokanee Salmon
Perch
Salmon
Smallmouth Bass
Trout
Yellow Perch
---
Shawnigan Lake Photo Gallery
Shawnigan Lake Statistics & Helpful Links
Spread the word! Share our Shawnigan Lake article with your fellow Lake Lubbers!