Shoal Lake, Manitoba & Ontario, Canada
Welcome to the ultimate guide for history, statistics, local fun facts and the best things to do at Shoal Lake.
If you're considering Shoal Lake vacation rentals, we've made it super easy to explore accommodations and nearby hotels using the interactive map below. Simply click on a listing to compare similar properties, best rates and availability for your dates. Or keep scrolling to read our Shoal Lake guide!
Shoal Lake visitor and community guide
Remote, inviting and beautiful describes Shoal Lake. Sprawling across about 80,000 acres in southwestern Ontario at the border with Manitoba, Shoal Lake is one of the Province's best-kept secrets. The size is only an estimate; the lake has never been fully surveyed. Because hundreds of small islands break the surface, shoreline length is difficult to measure. And because the only real road access to the huge lake is from the north-and leads primarily to two First Nations reserves-few will ever see this majestic north country lake in all its glory.
Shoal Lake receives the waters from Falcon River, Falcon Lake and High Lake in Manitoba, multiple smaller streams, and a shared water surface with Lake-of-The-Woods and its water source, the Rainy River. As Lake-of-The-Woods is partially in Minnesota, Shoal Lake is subject to several jurisdictions, not the least of which is the City of Winnipeg. Although the majority of the lake is within Ontario, a small part of the western shoreline falls in Manitoba. The City of Winnipeg secured rights to draw its municipal water supplies from Shoal Lake over 100 years ago. Winnipeg maintains a small water treatment plant at the lake; an aqueduct carries treated water to Winnipeg, where it is stored until needed. Good engineering allows the water to flow via gravity to the city. Auxiliary pumps are almost never needed.
A few private cottages exist on Shoal Lake, with most located on islands near the north shore. Two children's camps are located on MacKinnon Island and Cash Island. There are limited places for visitors to stay at Shoal Lake. One fishing lodge occupies an island in the middle part of the lake. Visitors must by transported to the lodge by boat from the docks at the north end. Another fishing camp/lodge is located on the Ash Rapids channel between Shoal Lake and Lake-of-The-Woods. Lake-of-The-Woods has many lodges and resorts however, and some fishermen follow the channel through to Shoal Lake.
Although the lodges are considered fishing resorts, nearly all fishing on Shoal Lake is strictly regulated. Due to a walleye fishery collapse in 1984, most fishing is catch and release. The two Ojibway bands with reserves on Shoal Lake have aboriginal rights to fishing and have maintained commercial fisheries for many years. Fishing is an important economic industry to the bands, and they are still allowed to harvest set limits of various species of fish each year. The lake is noted for many northern pike, smallmouth bass, yellow perch, largemouth bass, crappie, muskellunge and whitefish; local reports show that sturgeon and smelt are also present. These limits don't appear to have stopped fishermen from eagerly planning an annual visit to the two fishing lodges on the lake. Anglers cheerfully take pictures of the fish they catch before releasing them back into the water. The health of the fishery is under constant monitoring, and future decisions on fishing regulations are developed to reflect new findings. The many shallow bays and submerged weed beds make for excellent fish habitat, while the islands provide additional spawning shallows.
The area around Shoal Lake is rich in wildlife. Waterfowl nest and feed in the extensive wetlands along the Falcon River, while the bogs and marshes near the shoreline are home to moose, black bear, wolf, lynx, white-tailed deer, snowshoe hare, woodchuck and a variety of small mammals. Birds found here include great blue heron, herring gull, hooded merganser, cormorant, ruffed grouse, turkey vulture, pileated woodpecker, red-tailed hawk, ducks, loons and shorebirds. Bald eagles are common. As so much of the shoreline is inaccessible by road, the best way to view many of these native fauna is by boat. The two fishing lodges usually provide boats as a part of the rental package, guaranteeing they will continue to see much business for bird watching and nature observation in addition to fishing.
Historically, water flowed out to Lake-of-The-Woods from Shoal Lake. Near the turn of the 20th century, the natural shallow channel at Ash Rapids was deepened to provide more water to aid in navigation for the timber industry and mining interests. When Norman Dam was built near Kenora around 1898, water levels rose about three feet in some areas. Water now flows both ways between the two lakes, making withdrawal by the City of Winnipeg less noticeable. Because higher water flooded some former low-lying lands near the south shore of Lake-of-The-Woods, including lands within the State of Minnesota, an international board was formed to control water levels via the dam. Although local officials have day-to-day operation of the dam, any water level change of more than a few inches requires the determination of the International Lake of the Woods Control Board.
Due to the significance of municipal water supply from Shoal Lake, the First Nations bands who hold reserve lands along the northern shore have been forced to abandon plans for development. This has been a hardship to the tribes who struggle to provide economically for their members with few sources of income. The original treaties resulted in Canadian laws that state that the City of Winnipeg can withdraw the water without making any payment for it. Now, as Winnipeg expands, additional water is being provided to new communities, to the perceived detriment of these First Nations bands. Not surprisingly, there are now demands that the City of Winnipeg make payment to these bands for the use of their treaty resources. It remains to be seen how this will eventually be resolved.
Lodgings for visitors to Shoal Lake are few, relying mainly on the fishing lodges previously mentioned. Lake-of-The-Woods has a variety of vacation lodgings, resorts and cottages available. Best access to Shoal Lake is the portion of Lake-of-The-Woods near the Ash Rapids channel. Be sure to locate a resort or cottage community which provides boats and guide services, since navigating the lake's islands can be confusing to newcomers. And if you happen to locate a private cottage on Shoal Lake itself, you have secured a prize worth albums of vacation photos and bragging rights for a lifetime. Come, catch that giant northern-and take his picture before you throw him back!
* Statistics for Shoal Lake are limited and often estimates.
Custom Shoal Lake house decor
Read our full review of these personalized lake house signs.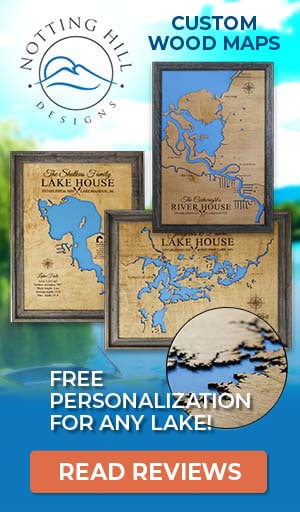 Things to do at Shoal Lake
Vacation Rentals
Fishing
Boating
Camping
Snowshoeing
Wildlife Viewing
Birding
Fish species found at Shoal Lake
Bass
Black Bass
Crappie
Largemouth Bass
Muskellunge
Northern Pike
Perch
Pike
Smallmouth Bass
Smelt
Sturgeon
Walleye
Whitefish
Yellow Perch
---
Best hotels and vacation rentals at Shoal Lake
The Shoal Lake map shown above is a simple and stress-free way to search for trip accommodations. But if you want to take a deeper dive to find the ideal waterfront home, cabin, condo, hotel or resort, visit our favorite lodging partners by clicking the buttons below.
Note: These are affiliate links so we may earn a small commission if you book through them. While there is no extra cost to you, it helps provide resources to keep our site running (thank you)! You can read our full disclosure policy here.
---
Shoal Lake photo gallery
New photos coming soon!
Shoal Lake statistics & helpful links
We strive to keep the information on LakeLubbers as accurate as possible. However, if you've found something in this article that needs updating, we'd certainly love to hear from you! Please fill out our Content Correction form.
Advertise your Shoal Lake vacation rental
LakeLubbers will soon offer homeowners and property managers the opportunity to to showcase their vacation rentals to the thousands of lake lovers searching our site daily for accommodations. If you'd like additional details, please contact our advertising team here.
Looking for the Shoal Lake forum?
LakeLubbers previously offered visitors the ability to create accounts and participate in lake forums. When we overhauled the site's content management system in 2021 we had to disable those features. We're evaluating options and welcome your comments and feedback here.
We also encourage you to join our lake-lovin' community on Facebook and Instagram!
Spread the word! Share our Shoal Lake article with your fellow Lake Lubbers!