West Hawk Lake, Manitoba, Canada
Also known as:  The Meteor Lake
Welcome to the ultimate guide for history, statistics, local fun facts and the best things to do at West Hawk Lake.
If you're considering West Hawk Lake vacation rentals, we've made it super easy to explore accommodations and nearby hotels using the interactive map below. Simply click on a listing to compare similar properties, best rates and availability for your dates. Or keep scrolling to read our West Hawk Lake guide!
West Hawk Lake visitor and community guide
Occupying a prominent position on the southern Manitoba/Ontario border, West Hawk Lake is a favored destination within Whiteshell Provincial Park. The 3,700-acre lake is the deepest in Manitoba at 377 feet and owes its existence to the ancient impact of a meteorite. The crater created by the meteorite is estimated to be at least 100 million years old. The water is extremely clear and inviting, making West Hawk Lake a favorite for summer vacationers and cottagers. Located only 100 miles east of Winnipeg, West Hawk Lake is easily accessed and prepared to meet most visitors' needs.
Nearly 300 cottages line the southern portion of the shoreline, with only a few located toward the north end. The little town of West Hawk Lake provides groceries, gas and necessary services to cottagers and those visiting the several resorts along the lake. The only other settlement is located at the north end of the lake: Big Island Landing takes its name from the large island lying directly off shore and connected by road. Not far from Big Island Landing, the small water control dam regulates water levels at the outlet to Whiteshell River. Because the entire area now lies within the provincial park, the many nearby lakes and forested land are open to public use. Numerous hiking and mountain biking trails in the area draw many to enjoy the shaded trails and prolific wildlife.
A campground, operated by the Whiteshell Provincial Park, occupies a scenic spot along the southwest shoreline. The campground contains a day use area, two public beaches and and small marina. Access is by daily or annual permit. More than 130 campsites have water, electricity, picnic tables, fire rings and nearby rest rooms. About 90 spots can be rented on a seasonal basis. There is an RV dump on-site. Campers report deer often visit the campsites looking for a snack. A few isolated walk-in campsites can be reserved along the 12-mile shoreline. A provincial park office is located at the lake, and rangers can provide information, permits and maps to the entire provincial park and its many trails and campsites. Many trails are located near the lakeshore; however, numerous boulders and granite outcroppings make many of them somewhat difficult. The camp rangers have trail maps to help identify the best choices.
The lake's wide expanse makes it attractive for waterskiing, wakeboarding, tubing, canoeing, pontooning and sailing. The marina rents all types of watercraft and water sports equipment along with dock space and boat slips. A sailing club uses space at Big Island Landing to teach sailing to children and adults. At one time, the West Hawk Lake Yacht Club had its own facilities, but low interest in past years forced them to give up their clubhouse and sailboat racing schedule. Now seeing growing interest, the club maintains a 'virtual' presence and has again begun to plan activities for its members, including sailing and windsurfing instruction.
Only a couple of miles to the southwest, Falcon Lake also maintains a good-sized cottage and resort community. The two lakes don't connect by water, but the two communities together provide a variety of restaurants and small shops to fill nearly all needs. Vacationers often rent boats or pontoons on one or both lakes for a part of their stay. In winter, a popular alpine ski facility is located near Falcon Lake. Cross-country skiing and snowmobiling facilities are numerous in the area. Locally, horseback riding can be provided by local stables.
Fishing is popular, with the deep, cold lake sheltering whitefish, lake trout, smallmouth bass, yellow perch, burbot and northern pike. A Manitoba Natural Resources fish hatchery is located not far downstream which raises and releases brook trout, brown trout, arctic char, walleye and rainbow trout every year. The lake is large enough that many first-time anglers engage the services of a local outfitter to help locate the best fishing holes. A catch-and-release bass fishing tournament is held on West Hawk Lake annually. A Manitoba fishing permit is essential for all fishermen.
Several small streams flow into West Hawk Lake, but at least some of its water comes from underground springs. The relatively small size of the watershed compared to the size of the lake protects it from accumulating excess nutrients. Consequently, the water is extremely clear. The former crater formed many millennia ago is entirely underwater, and the lake has enlarged well past its crater basin to fill other low-lying lands. Scuba divers enjoy exploring the unique underwater geology of the lake. Those who wish to stay above the surface will enjoy learning about the lake's formation at the Museum of Geological History located on the shoreline.
Whiteshell Provincial Park has a wealth of natural features, most of which can be reached by trail. The fish hatchery is available for tours. The nearby Alf Hole Goose Sanctuary features a flock of annual resident geese with their hatchlings, walking trails, and an interpretive center. Whiteshell Trappers Museum offers information on the history of trapping, modern trapping techniques and the place trapping plays in wildlife management. At least two waterfalls are accessible within the park. Centuries-old petroforms made of boulders laid out on the bedrock by aboriginal people depict the shapes of fish, snakes and turtles. It is believed these were made for ceremonial purposes. During the summer, the petroform site at Bannock Point has interpretive guides available to explain the layout. Other petroform sites are accessible via wooded paths.
This wide variety of attractive sites and explorations is what has made West Hawk Lake popular for several generations of visitors. Many of the cottages have remained in the same family for many years; other visitors return to the same resort cabin or lodge annually. Lodgings are plentiful but often quickly filled on busy summer weekends and around holidays, so reserve early. Some of the private owners rent their cottages or homes for short-term stays. Nearly everyone will offer their opinion as to the best local cafe and most popular nightspot. Reservations are also recommended to rent a pontoon or ski boat as they are often booked early. The public boat launch at the provincial park is available for those bringing their own watercraft. No matter if you choose to fish or waterski or hike the surrounding woods, West Hawk Lake has something for you.
Custom West Hawk Lake house decor
Read our full review of these personalized lake house signs.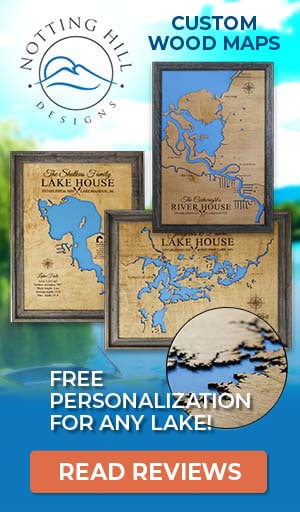 Things to do at West Hawk Lake
Vacation Rentals
Fishing
Fishing Tournaments
Boating
Sailing
Swimming
Beach
Canoeing
Water Skiing
Wakeboarding
Tubing
Scuba Diving
Camping
Campground
Picnicking
Cabin Rentals
Hiking
Biking
Cross-Country Skiing
Snowmobiling
Horseback Riding
Waterfall
Wildlife Viewing
Birding
Provincial Park
Museum
Fish species found at West Hawk Lake
Bass
Black Bass
Brook Trout
Brown Trout
Burbot
Char
Lake Trout
Northern Pike
Perch
Pike
Rainbow Trout
Smallmouth Bass
Trout
Walleye
Whitefish
Yellow Perch
---
Best hotels and vacation rentals at West Hawk Lake
The West Hawk Lake map shown above is a simple and stress-free way to search for trip accommodations. But if you want to take a deeper dive to find the ideal waterfront home, cabin, condo, hotel or resort, visit our favorite lodging partners by clicking the buttons below.
Note: These are affiliate links so we may earn a small commission if you book through them. While there is no extra cost to you, it helps provide resources to keep our site running (thank you)! You can read our full disclosure policy here.
---
West Hawk Lake photo gallery
New photos coming soon!
West Hawk Lake statistics & helpful links
We strive to keep the information on LakeLubbers as accurate as possible. However, if you've found something in this article that needs updating, we'd certainly love to hear from you! Please fill out our Content Correction form.
Advertise your West Hawk Lake vacation rental
LakeLubbers will soon offer homeowners and property managers the opportunity to to showcase their vacation rentals to the thousands of lake lovers searching our site daily for accommodations. If you'd like additional details, please contact our advertising team here.
Looking for the West Hawk Lake forum?
LakeLubbers previously offered visitors the ability to create accounts and participate in lake forums. When we overhauled the site's content management system in 2021 we had to disable those features. We're evaluating options and welcome your comments and feedback here.
We also encourage you to join our lake-lovin' community on Facebook and Instagram!
Spread the word! Share our West Hawk Lake article with your fellow Lake Lubbers!