Sea Gull Lake, Minnesota, USA
Welcome to the ultimate guide for history, statistics, local fun facts and the best things to do at Sea Gull Lake.
If you're considering Sea Gull Lake vacation rentals, we've made it super easy to explore accommodations and nearby hotels using the interactive map below. Simply click on a listing to compare similar properties, best rates and availability for your dates. Or keep scrolling to read our Sea Gull Lake guide!
Sea Gull Lake visitor and community guide
Sea Gull Lake is at the end of Gunflint Trail, one of Northeast Minnesota's best known and most loved Scenic Byways. The trail provides 57 miles of near-wilderness scenery and outdoor sporting venues, with Sea Gull Lake very near the actual end of the route. Gunflint Trail goes around the north end of the lake and makes a loop around the National Forest Service Campground at nearby small Gull Lake. Sea Gull Lake is also one of the entry points into the Boundary Waters Canoe Area, the huge canoeing paradise along the USA-Canada border that receives thousands of visitors each year. Most of the sprawling 4,000-acre lake is within the Superior National Forest; there is very little private property on Sea Gull Lake.
Sea Gull Lake is far from deserted, however. Several resort lodges and outfitters are located along the shoreline. One even provides a paddler's camp for canoeing groups, complete with bunk rooms sleeping up to eight people. In addition to rental cabins and rooms, the camps provide such welcome amenities to area paddlers as hot showers, meals, equipment rental and supplies. Boats with motors are restricted to less than a quarter of the water's surface, so a vacation here has a feel of remoteness and solitude. The proprietors of these camps know paddling and hiking, and can be counted on to organize all types of outdoor-related activities for their guests.
The heavily forested area is great for backpack treks and wildlife watching. The shoreline is rocky, and granite outcroppings protrude from the landscape, particularly in areas impacted by fire. Fishing is likely the main attraction for non-paddlers; the lake holds burbot, lake trout, lake whitefish, northern pike, smallmouth bass and walleye. In recent years there has been a bumper catch of northern pike in the lake. The Minnesota DNR hasn't stocked the lake since 1992, and the lake trout and walleye are reproducing well naturally. Although the lake reaches 145 feet deep in spots, other areas are shallower, with many islands and granite islets emerging above the surface. Ice fishing for lake trout is productive enough here that a great many fishermen make the mid-winter trip up the Gunflint Trail to try their luck on the ice. The camps and outfitters in the area sell fishing licenses, bait and necessary supplies for a great winter outing.
Sea Gull Lake area suffered from three major natural events that changed the landscape in the past few years. A major 'blow-down' in 1999 felled a huge number of trees. Two forest fires also burned over large areas, destroying many of the existing homes on the lake. Those areas can still be recognized as a scar upon the forested face of the region; however, the fires brought rewards, too. Dead and downed trees supported beetles and insects which made the area a woodpecker heaven. New, low growth provides protection for moose and deer. Bald eagles, broad winged hawks, pine marten, flycatchers, warblers and sparrows are often seen here. The lake hosts a variety of waterfowl and ducks, while osprey and turkey vultures often soar above. Conditions created by the fires appear to be the cause of the large upswing in northern pike. Although forest fires are devastating to property, they serve to rejuvenate the forest, allowing for plant and tree diversity and provide food and shelter to a wider range of wildlife.
Entering the Boundary Waters Canoe Area requires a permit obtainable from the US Forest Service Ranger in Grand Marais. Only a limited number of permits are issued for each entry-point lake to keep the wilderness route wild and pristine. Many paddlers allow the outfitters and resorts to organize their canoe trip and can count on them to arrange for all necessary gear and supplies. Guides can be provided if desired. Some camps will even tow canoes to the starting point of the Boundary Waters water route, saving them the effort of paddling the length of the lake. Many of the camps and outfitters have been in business for several generations at Sea Gull Lake and know the area intimately.
A number of trails in the area allow for cross-country skiing, snowshoeing, snowmobiling and winter hiking. In warmer weather, abandoned logging trails make for excellent exploring by mountain bike. There are primitive campsites nearby on National Forest lands, and the organized campground at the Gunflint Loop provides water and restrooms for vehicle camping. Not far north of the lake, the Chik-Wauk Museum and Nature Center tells the story of the Gunflint Trail and the history and environment of the region. The Chik-Wauk Museum is a project of the Gunflint Trail Historical Society, Gunflint Ranger District and Superior National Forest.
The Gunflint Trail roughly follows the old Native American and Voyageur waterway trail that served the area for many years before roads were built. The old Gunflint Trail took many years and many tries before the Civilian Conservation Corps came in to complete the piecemeal project during the Depression. One of the CCC Camps was in the Sea Gull Lake area. Although CCC programs were in general well-received, the Gunflint Trail project was anything but a smooth operation, with the locals of the 1930's era concerned about the influx of 'outsiders' being used to construct the trail. The trail is now a paved, two-lane road with many trailheads for hiking, resorts and campgrounds. There are few homes allowed near the trail, but there are a number of discretely-placed facilities for lodgings, meals and outdoor equipment and guides.
The Gunflint Trail website provides detailed descriptions of various parts of the trail and highlights the many tourism-related businesses along the route. This is one wilderness area that is well-supplied with hotels, motels, resorts, guest cabins, restaurants and activities for vacationers. Sea Gull Lake may be near the end of the trail, but it is also the beginning of many outdoor adventures. Choose the kind of adventure that suits your fancy and head toward Sea Gull Lake.
Custom Sea Gull Lake house decor
Read our full review of these personalized lake house signs.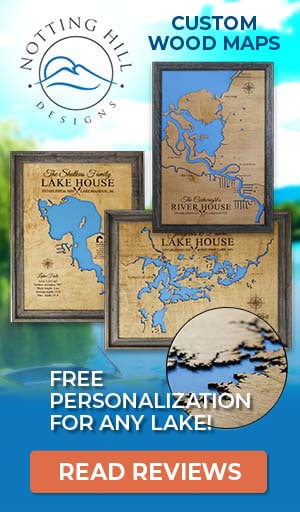 Things to do at Sea Gull Lake
Vacation Rentals
Fishing
Ice Fishing
Boating
Canoeing
Kayaking
Camping
Campground
Cabin Rentals
Hiking
Cross-Country Skiing
Snowmobiling
Wildlife Viewing
Birding
National Forest
Museum
Fish species found at Sea Gull Lake
Bass
Black Bass
Burbot
Lake Trout
Northern Pike
Perch
Pike
Smallmouth Bass
Trout
Walleye
Whitefish
---
Best hotels and vacation rentals at Sea Gull Lake
The Sea Gull Lake map shown above is a simple and stress-free way to search for trip accommodations. But if you want to take a deeper dive to find the ideal waterfront home, cabin, condo, hotel or resort, visit our favorite lodging partners by clicking the buttons below.
Note: These are affiliate links so we may earn a small commission if you book through them. While there is no extra cost to you, it helps provide resources to keep our site running (thank you)! You can read our full disclosure policy here.
---
Sea Gull Lake photo gallery
New photos coming soon!
Sea Gull Lake statistics & helpful links
We strive to keep the information on LakeLubbers as accurate as possible. However, if you've found something in this article that needs updating, we'd certainly love to hear from you! Please fill out our Content Correction form.
Advertise your Sea Gull Lake vacation rental
LakeLubbers will soon offer homeowners and property managers the opportunity to to showcase their vacation rentals to the thousands of lake lovers searching our site daily for accommodations. If you'd like additional details, please contact our advertising team here.
Looking for the Sea Gull Lake forum?
LakeLubbers previously offered visitors the ability to create accounts and participate in lake forums. When we overhauled the site's content management system in 2021 we had to disable those features. We're evaluating options and welcome your comments and feedback here.
We also encourage you to join our lake-lovin' community on Facebook and Instagram!
Spread the word! Share our Sea Gull Lake article with your fellow Lake Lubbers!