Big Sandy Lake, Minnesota, USA
Welcome to the ultimate guide for history, statistics, local fun facts and the best things to do at Big Sandy Lake.
If you're considering Big Sandy Lake vacation rentals, we've made it super easy to explore accommodations and nearby hotels using the interactive map below. Simply click on a listing to compare similar properties, best rates and availability for your dates. Or keep scrolling to read our Big Sandy Lake guide!
Big Sandy Lake visitor and community guide
Big Sandy Lake is located in Minnesota's northeast Aitkin County, home to over one million acres of hardwood forest and 365 lakes. With the majority of the woodlands available to the public, Big Sandy Lake provides the perfect setting to relax, rejuvenate and reconnect with family and friends. Part of the state's Northeast tourism region, Big Sandy Lake is easily accessible from Duluth, 67 miles to the east, and the Twin Cities, 175 miles to the south.
The tranquil setting of Big Sandy Lake and the Big Sandy Watershed Area does not reflect its turbulent past. Claims to this land were held by Spain, France and England before becoming part of the United States. The Sioux people, who originally settled this area, were displaced by Ojibwe, who were forced from their eastern homeland. Big Sandy Lake derived its name from the Ojibwe word Mitaawangaagamaa which translates to "Lake with flat, sandy beaches."
As early as the 1600s, fur traders were exploring this region and trading with native people. During the 19th century, the American Fur Company established a post at Savanna Portage on Big Sandy Lake. Savanna Portage connected the Mississippi River waterways to Lake Superior and southern transport connections to St. Louis. As the fur trade declined, lumber industries grew, along with a large transport steamboat industry. Today, the natural beauty of Big Sandy Lake and surrounding woodlands has replaced its industrial base with a growing recreation and tourism business.
In 1991, the Big Sandy Area Lakes Watershed Management Project was organized to protect and enhance area lakes, rivers and watershed. Multiple water-quality improvement projects were implemented, yet Big Sandy Lake's water quality declined. Big Sandy Lake was placed on Minnesota's list of impaired lakes in 2006. A pollution reduction plan, Total Maximum Daily Loads (TMDLs), is being used to identify and reduce sources of excessive nutrients polluting the 6,623-acre lake.
Four tributaries feed Big Sandy Lake: West Savanna River enters from the north, Prairie and Tamarack Rivers from the east. Sandy River enters Big Sandy Lake from the south and provides the outlet for the lake at Big Sandy dam near the lake's northwestern corner. Three basins lie within Big Sandy Lake: Main lake, located at the northern shore, has an average depth of 19 feet; Webster Bay, at the southern shore has an average depth of 17 feet; Bill Horn Bay, along the eastern shore, has an average depth of 44 feet. From north-to-south, Big Sandy Lake extends 18 miles and contains 25 islands. The combined shoreline for both lake and islands is 64.3 miles.
For many years, anglers have known that Big Sandy Lake has a reputation for excellent walleye fishing. Big Sandy Lake is currently being managed for walleye, northern pike and black crappie. The varying basin depths and diverse shoreline provide habitat for additional species including black and brown bullhead, bluegill, bowfin, pumpkinseed sunfish, rock bass, shorthead redhorse, silver redhorse, white sucker, yellow bullhead and yellow perch.
The U.S. Army Corps of Engineers maintains the outlet dam to Big Sandy Lake and opens the surrounding Sandy Lake Recreational Area to public use. Located at the northwestern shore, attractions include a swimming beach, playgrounds, picnic shelters, fishing platforms, and a museum. Campgrounds include "43 single-family electric sites, 8 walk-in tent sites, 2 group sites, and 5 double-occupancy sites." Additional amenities include "dump stations, laundry facilities, showers, two boat ramps on the lake, one boat ramp on the river."
In addition to private and commercial campgrounds along Big Sandy Lake, Minnesota's Department of Natural Resources maintains public access at Savanna Portage State Park. Within the park, portions of the historic trail used by Native Americans, explorers and fur traders are open for hiking. The Continental Divide Trail runs through the park's 15,818 acres, as do 50 miles of trails groomed for winter cross-country skiing and snowmobiling. Summer facilities include a swimming beach, picnic shelters, playground and fishing pier.
Birding and wildlife watching are popular activities at Big Sandy Lake. The shallow bays and bogs located along the south, east and northeast shores produce acres of wild rice that in the fall attract migratory waterfowl. Songbirds, loons, deer, bear, wolf, moose and coyote can be found among the waterways and hiking trails around Big Sandy Lake.
With 48 additional lakes in the Big Sandy Watershed Area, fishing, hiking, canoeing and wildlife watching opportunities are only miles away. Rice Lake National Wildlife Refuge lies 15 miles south of Big Sandy Lake. Designated as a "Globally Important Bird Area" by the American Birding Association, the refuge is also open to fishing, some hunting, hiking and wildlife photography. Drive an additional 15 miles to the southeast and you arrive at Mille Lacs Lake, home to the reservation of the Mille Lacs Band of Ojibwe.
With a combined population of approximately 500 people, the surrounding rural communities of McGregor and Tamarack offer shopping, restaurants, resorts and motel accommodations. Lakeside and woodland vacation rentals and real estate properties offer solitude. Choose to reside at Big Sandy Lake for a week or a lifetime. Feel stress roll away as you relax to the sound of songbirds. Rejuvenate your spirit as you paddle into the wilderness. Reconnect with all that is important at Big Sandy Lake.
Custom Big Sandy Lake house decor
Read our full review of these personalized lake house signs.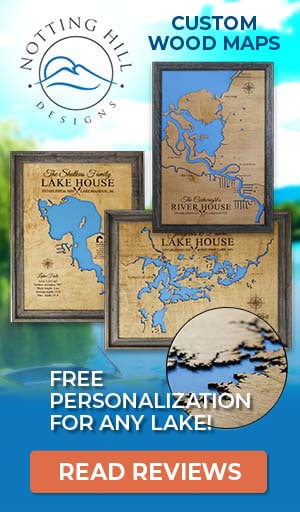 Things to do at Big Sandy Lake
Vacation Rentals
Fishing
Boating
Swimming
Beach
Canoeing
Camping
Campground
Picnicking
Hiking
Cross-Country Skiing
Snowmobiling
Hunting
Wildlife Viewing
Birding
National Wildlife Refuge
State Park
Museum
Playground
Shopping
Fish species found at Big Sandy Lake
Bass
Black Crappie
Bluegill
Bowfin
Brown Bullhead
Crappie
Northern Pike
Perch
Pike
Pumpkinseed
Redhorse
Sucker
Sunfish
Walleye
Yellow Bullhead
Yellow Perch
---
Best hotels and vacation rentals at Big Sandy Lake
The Big Sandy Lake map shown above is a simple and stress-free way to search for trip accommodations. But if you want to take a deeper dive to find the ideal waterfront home, cabin, condo, hotel or resort, visit our favorite lodging partners by clicking the buttons below.
Note: These are affiliate links so we may earn a small commission if you book through them. While there is no extra cost to you, it helps provide resources to keep our site running (thank you)! You can read our full disclosure policy here.
---
Big Sandy Lake photo gallery
New photos coming soon!
Big Sandy Lake statistics & helpful links
We strive to keep the information on LakeLubbers as accurate as possible. However, if you've found something in this article that needs updating, we'd certainly love to hear from you! Please fill out our Content Correction form.
Advertise your Big Sandy Lake vacation rental
LakeLubbers will soon offer homeowners and property managers the opportunity to to showcase their vacation rentals to the thousands of lake lovers searching our site daily for accommodations. If you'd like additional details, please contact our advertising team here.
Looking for the Big Sandy Lake forum?
LakeLubbers previously offered visitors the ability to create accounts and participate in lake forums. When we overhauled the site's content management system in 2021 we had to disable those features. We're evaluating options and welcome your comments and feedback here.
We also encourage you to join our lake-lovin' community on Facebook and Instagram!
Spread the word! Share our Big Sandy Lake article with your fellow Lake Lubbers!