Savage River Reservoir, Maryland, USA
Welcome to the ultimate guide for history, statistics, local fun facts and the best things to do at Savage River Reservoir.
If you're considering Savage River Reservoir vacation rentals, we've made it super easy to explore accommodations and nearby hotels using the interactive map below. Simply click on a listing to compare similar properties, best rates and availability for your dates. Or keep scrolling to read our Savage River Reservoir guide!
Savage River Reservoir visitor and community guide
Fresh, crystal clear mountain water makes Savage River Reservoir a beautiful destination in northwestern Maryland. Located in a canyon of the Savage River State Forest, the 360-acre reservoir is an ideal spot for outdoor adventure seekers. Created by construction of the Savage River Dam in 1952, Savage River Reservoir in Garrett County provides drinking water, flood control, and recreation for the area. The lake is owned and operated by the Upper Potomac River Commission with the guidance of the U.S. Army Corps of Engineers.
The waters of Savage River Reservoir are clear enough to provide 15 feet of visibility. The huge rocks and boulders create mesmerizing underwater scenes. There are several coves waiting to be explored. Almost the entire rocky shoreline is richly forested. The seasons bring vibrant colors as well as varied activities for all age groups.
The Savage River Reservoir offers world class trout fishing for brown trout, rainbow trout, brook trout and sometimes cutthroat trout. The quality of the wild brook and brown trout fishery is truly amazing. Spring brings forth loads of native brook trout, wild brown trout and stocked rainbow trout. Catches also include large and smallmouth bass, walleye, black crappie, bluegill, catfish, bass and tiger muskie.
After a day of fishing, several wonderful choices await. Opportunities include mountain biking, paddling, hiking, cross-country skiing, snowmobiling, cross-whitewater paddling, nature study or rustic camping. More than 12,000 acres of forest at Savage River Reservoir have been designated as State Wildlands. The region remains refreshingly free of development.
Savage River Reservoir is a wonderful treat for outdoor enthusiasts. Savage River State Forest offers a variety of exciting recreational activities. Within the forest lie two beautifully wooded state parks, Big Run and New Germany. Hiking, mountain biking, snowmobiling, off-road wheeling, hunting, fishing, and paddling are favorite activities. New Germany State Park visitors find a shimmering 13-acre expanse of water. A peaceful beach, rowboats, and plenty of fishing opportunities are a true treat. Nestled among tall trees are 39 campsites and miles of ski trails. New Germany Park offers nature talks, and a historian conducts entertaining tours. New Germany's primitive log cabins are fully winterized. Abutting the forest is stunning 300-acre Big Run Park. The park is brimming with fun-filled activities.
Heavily forested hillsides along with vibrant pastures of rhododendron and mountain azaleas surround the reservoir. The more than 54,000 acres of rugged terrain at Savage River State Forest never ceases to challenge long-time hikers, hunters, paddlers, anglers and mountain bikers. Rhododendron thickets and hickory and oak trees provide a comfortable habitat to a great variety of wildlife species. The forest comes to life with black bears, white-tailed deer, bobcats and raccoons to name a few. Chances of sighting ducks, great blue herons, king fishers, vultures, beavers, mink, water snakes, turtles, frogs and salamanders are very high. Ruffed grouse, wild turkeys, a plethora of songbirds, and amphibians and reptiles flourish throughout the Savage River area. Various species of hawks, owls and songbirds flit through the air. Guided canoe trips, offered by experienced forest interpreters or private nature tourism vendors are a good thing for visitors.
Several trails near Savage River Reservoir are worth exploring. Big Savage Trail consists of a 17 miles that wind through forests of oak and hickory, farmsteads and terrain covered with an array of wild azaleas and rhododendron. Margraff Trails is a series of gravel roads for more advanced cyclists. Mt. Aetna Tract Trails is an astoundingly scenic 700-acre area with loop trails that offer chances for bird watching, mountain biking and hiking. Along the Asa Durst Trails expect to see a plethora of pine and spruce and stream valleys layered with rhododendron and hardwood forests. For those looking for tranquility, New Germany offers peaceful snowshoe or cross-country ski experiences. Poplar Lick Trail is a popular trail that begins at New Germany State Park, and Meadow Mountain is a motorized vehicle route. Snowmobiling, snowshoeing and cross-country skiing are popular throughout these trails.
Enjoying plant life comes as second nature to outdoor enthusiasts at Savage River Reservoir. The State Forest is brimming with hemlocks, hickories, oaks, beech, poplars, black cherry, colorful wildflowers and more. The blankets of spectacular pink azaleas and rhododendron are truly breathtaking. A wildflower walk and wildlife viewing should be included in your "To Do List."
Skilled canoeists and kayakers find Savage River Reservoir to be a real treat. The area proudly hosts whitewater challenges and championships. Nearby is the Casselman stone arch bridge, the site where Washington and Braddock traveled to Fort Duquesne in 1813.
A short or long trip to Savage River Reservoir offers plenty of payback no matter what your age or interests. Often the only sound you can hear at the reservoir is the babble of water over rocks and the wind through the trees. However, the opportunities to engage in the myriad of water and outdoor activities are endless. So whether you want to rest and relax or enjoy an exciting, one-of-a-kind vacation, Savage River Reservoir offers it all.
Custom Savage River Reservoir house decor
Read our full review of these personalized lake house signs.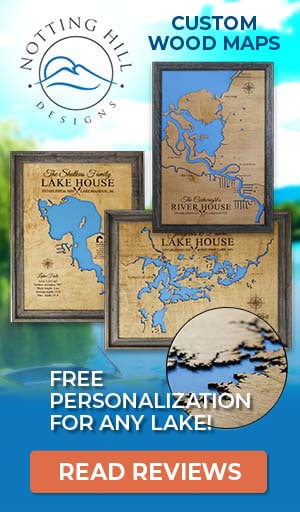 Things to do at Savage River Reservoir
Vacation Rentals
Fishing
Swimming
Beach
Canoeing
Kayaking
Camping
Cabin Rentals
Hiking
Biking
Cross-Country Skiing
Snowmobiling
Hunting
Wildlife Viewing
Birding
State Park
State Forest
Fish species found at Savage River Reservoir
Bass
Black Bass
Black Crappie
Bluegill
Brook Trout
Brown Trout
Catfish
Crappie
Cutthroat Trout
Muskellunge
Perch
Pike
Rainbow Trout
Smallmouth Bass
Sunfish
Tiger Muskellunge
Trout
Walleye
---
Best hotels and vacation rentals at Savage River Reservoir
The Savage River Reservoir map shown above is a simple and stress-free way to search for trip accommodations. But if you want to take a deeper dive to find the ideal waterfront home, cabin, condo, hotel or resort, visit our favorite lodging partners by clicking the buttons below.
Note: These are affiliate links so we may earn a small commission if you book through them. While there is no extra cost to you, it helps provide resources to keep our site running (thank you)! You can read our full disclosure policy here.
---
Savage River Reservoir photo gallery
New photos coming soon!
Savage River Reservoir statistics & helpful links
We strive to keep the information on LakeLubbers as accurate as possible. However, if you've found something in this article that needs updating, we'd certainly love to hear from you! Please fill out our Content Correction form.
Advertise your Savage River Reservoir vacation rental
LakeLubbers will soon offer homeowners and property managers the opportunity to to showcase their vacation rentals to the thousands of lake lovers searching our site daily for accommodations. If you'd like additional details, please contact our advertising team here.
Looking for the Savage River Reservoir forum?
LakeLubbers previously offered visitors the ability to create accounts and participate in lake forums. When we overhauled the site's content management system in 2021 we had to disable those features. We're evaluating options and welcome your comments and feedback here.
We also encourage you to join our lake-lovin' community on Facebook and Instagram!
Spread the word! Share our Savage River Reservoir article with your fellow Lake Lubbers!