Loch Raven Reservoir, Maryland, USA
Lake Locations:
USA - Mid-Atlantic - Maryland - Central -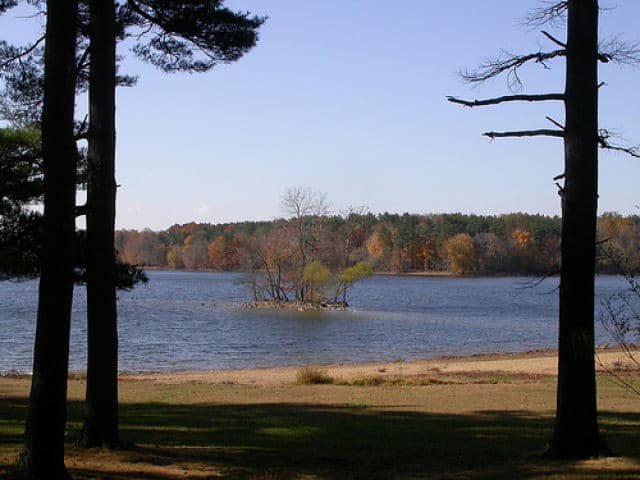 The Loch Raven Reservoir is located just a few miles north of Baltimore. Unspoiled and surrounded by forests and hiking trails, it has long provided Maryland city dwellers with relief from the urban heat and humidity.
The first dam and water tunnel were constructed in 1881 to channel water to nearby Lake Clifton and Lake Montebello. The present Loch Raven Dam was completed in 1915 to provide more water to Baltimore. An entire town was flooded in the process. By 1923 the dam was increased to 240 feet high to meet the demand of a growing metropolitan area. Big Gunpowder Falls River, a tributary of the Chesapeake Bay, provides most of the water that flows into Loch Raven Reservoir
Loch Raven Reservoir does much more than provide water for millions of people. The lake has a skeet shooting range and many trails and picnic areas. Visitors can also go fishing in a rented boat or bring their own. The fishing opportunities are excellent, featuring largemouth and smallmouth bass, yellow perch and northern pike. The Loch Raven Fishing Center will give you tips on the best spots for anglers to try their luck and provides services such as boat rentals, freshwater fishing licenses, bait and launching permits. No gasoline powered engines are allowed, so you will need oars, paddles, or electric motors.
On weekends the lakeside Morgan Mill Road and Providence Road are closed to cars, so runners, bikers, walkers and rollerbladers can take advantage of the smooth asphalt with spectacular views of the water. Joggers and back-packers will enjoy a semi-gravel path which was an old railroad track from Maryland to Pennsylvania. It is completely flat and is over twenty five miles long. There are a couple of places to park your car and walk along the path. There are bathrooms along the way as well as benches and equipment to exercise. On the path are little country stores where you can purchase snacks and drinks.
Visitors can rent a canoe and glide through still lake waters sheltered by a canopy of leaves. Swimming is not permitted in Loch Raven Reservoir. The name Loch Raven does sound Scottish, the word loch being Gaelic for lake. The deep green waters near the dam will remind you of Loch Ness, but the giant creatures swimming below are most likely catfish.
Things to do at Loch Raven Reservoir
Vacation Rentals
Fishing
Boating
Canoeing
Picnicking
Hiking
Fish species found at Loch Raven Reservoir
Bass
Black Bass
Catfish
Largemouth Bass
Northern Pike
Perch
Pike
Smallmouth Bass
Yellow Perch
---
Loch Raven Reservoir Photo Gallery
Loch Raven Reservoir Statistics & Helpful Links
Spread the word! Share our Loch Raven Reservoir article with your fellow Lake Lubbers!