Santa Fe Lake, Florida, USA
Lake Locations:
USA - South - Florida - North -
Also known as:  Lake Santa Fe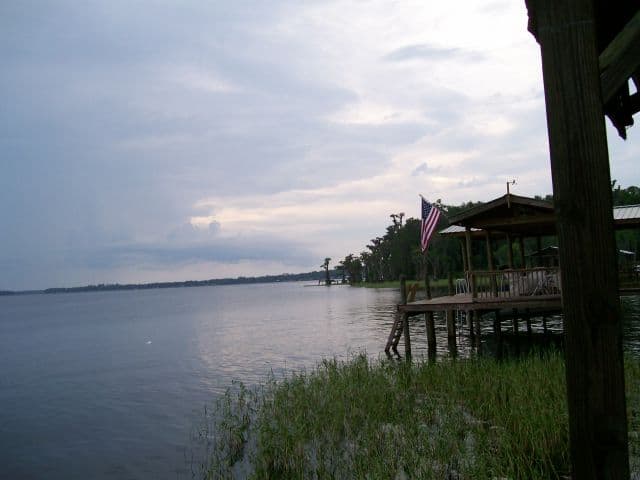 Santa Fe Lake, also known as Lake Santa Fe, is a sparkling 5,850-acre expanse that lies in northeastern Alachua County, Florida. Actually divided into two lakes — Santa Fe Lake and Little Santa Fe Lake — this watery playground is connected and easily navigable by boat. The lake is spring-fed and feeds into the Santa Fe River, which eventually empties into the Suwannee River. One of the larger Florida lakes, Santa Fe Lake is a popular vacation destination.
The State of Florida has designated Santa Fe Lake as an Outstanding Florida Water. The Suwannee River Water Management District manages the area's rivers and lakes to protect water quality and floodplain ecosystems and provide natural storage for flood waters.
Private docks grace the lakeshore in the communities of Earleton and Melrose. Melrose grew as center of a tourism and citrus industry in the late 1800's, when railroad and water were the main methods of transportation. A series of canals were dredged in the 1870's and 1880's to connect Melrose to the railroad terminal in Waldo. The invention of the automobile and expansion of the country's road system led to the last boat navigating the canals in 1925.
Santa Fe Lake Park is maintained by Alachua County and offers visitors a wide variety of activities. Nature lovers are invited to walk the park's trails, taking in the scenes around them. If you're quiet (and a bit lucky), animals native to the area will dart across your path, and deer will dash through the surrounding forest. If you keep your eyes to the sky, you may catch a glimpse of a bald eagle, soaring and circling as it hones in on its next meal.
Santa Fe Lake Park is also equipped with a boat ramp, which is the ideal launching spot for your boat. The lake is the perfect size: at just over 5,800 acres, you'll get to see almost every part of Santa Fe Lake if you dedicate an entire day to its exploration. Take your time, though, and stop to enjoy the lake's tranquility. It's amazing what a healthy dose of warm sun, blue sky, and friendly breeze can do for your spirits.
If you have use of a boat, you should also try a bit of fishing. Anglers are loyal to Lake Santa Fe because of its excellent black crappie, bluegill, largemouth bass, hybrid-striped bass, redear, and sunshine bass. Cypress trees loom, casting shadows, and their aquatic roots provided shelter and an ideal habitat for the thousands of fish that are native, as well as those that are stocked. When casting your line, look for maidencane grass beds, reeds, old tree stumps, and Cypress roots, and you're sure to reel in a hefty catch.
After a day of sun and fun, one of the lake's great treats is watching a burning orange sun set over the horizon. The lake's still waters and reedy grasses light up in imitation of the sky, and as you watch the sun disappear and the last wisps of color smear across the sky, you will realize that this trip will never be forgotten.
Things to do at Santa Fe Lake
Vacation Rentals
Fishing
Boating
Hiking
Wildlife Viewing
Birding
Playground
Fish species found at Santa Fe Lake
Bass
Black Bass
Black Crappie
Bluegill
Crappie
Largemouth Bass
Redear Sunfish (Shellcracker)
Striped Bass
Sunfish
Sunshine Bass
---
Santa Fe Lake Photo Gallery
Santa Fe Lake Statistics & Helpful Links
Spread the word! Share our Santa Fe Lake article with your fellow Lake Lubbers!