Crescent Lake, Florida, USA
Lake Locations:
USA - South - Florida - Cross Florida - North -
Also known as:  Lake Crescent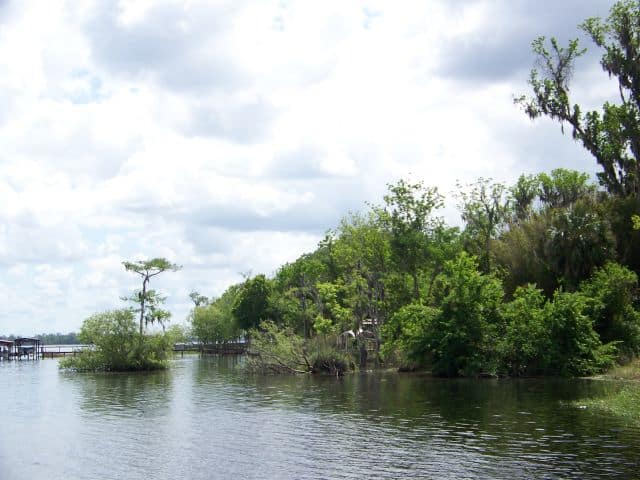 Crescent Lake, straddling Putnam and Flagler Counties in northeastern Florida, lazes out over an imposing 15,960 acres. Known for its clean water and beautiful scenery, the lake hosts many visitors every year, each looking a slice of Crescent Lake tranquility. A public boat ramp on the western shore provides access to the lake. Because there is limited parking for vehicles and boat trailers, it's best to arrive early.
The 3,528-acre Crescent Lake Conservation Area, at the south end of the lake, serves as a buffer for the lake by providing water storage and protecting wildlife. Bald eagles, osprey, and waterfowl make their home here. The Conservation Area and the Haw Creek Preserve provide many recreational opportunities, including hiking, biking, horseback riding, and primitive camping.
Fishing is likely the most popular activity along Crescent Lake, and the pickings are anything but slim. Due to higher-than-average saline levels, the lake is home to the coveted blue crab. Marked by distinctively blue claws, the blue crab is sweet and savory, an absolute must-catch for an avid angler. Beyond these pinching crustaceans, Crescent Lake is home to bass, crappie, catfish, and panfish. Each fish is a prize on its own, and as you cast your line, surrounded by sparkling water, beautiful greenery and blue sky, you'll feel like you've already won.
Nature photographers can't get enough of Crescent Lake. Old cypress trees dot the shoreline, providing perfect stationary perches for the native bald eagle. Few can feel anything but awe as they watch the eagle drift gracefully through the air, seemingly effortless, before flapping its massive wings and gaining more momentum. Osprey stand atop their giant nests, calling out warnings to those who venture too close, and gliding along the lake's surface so close that you think they might take a dip. Large Florida gators amaze visitors, their heads popping out of the water, so still that the water around them doesn't even ripple.
Boating is popular at Crescent Lake, though you should take care, as depths generally range between 5 to 10 feet. Kayaks, canoes, and bass boats are what you'll usually see, though fan boats make an occasional appearance. And though the lake is beautiful when you're staring at it from the shore, nothing can compare to the way it feels when you have it surrounding you on all sides. With a refreshing breeze in your hair, the powder blue sky above you, and the golden sun warming your skin, you'll close your eyes and let the sounds and feel of nature take hold of your senses.
Crescent Lake flows into the St. Johns River through Dunns Creek at the north end of the lake. Boaters will enjoy the picturesque 5-mile ride along the creek with abundant wildlife. This is truly what relaxation feels like.
After a full day of activity at the lake, you can head on over to Crescent City, located on the west end. Private residences, motels, campgrounds, and restaurants populate the town. Entertainment usually takes the form of an interesting conversation over a hearty meal, but don't underestimate the satisfaction of watching an incredible sunset over Crescent Lake with a glass of your favorite wine. Crescent City also hosts the annual Catfish Festival the first weekend in April, so come join the fun with good food, music, and crafts.
Things to do at Crescent Lake FL
Vacation Rentals
Fishing
Boating
Canoeing
Kayaking
Camping
Campground
Hiking
Biking
Horseback Riding
Wildlife Viewing
Birding
Fish species found at Crescent Lake FL
---
Crescent Lake FL Photo Gallery
Crescent Lake FL Statistics & Helpful Links
At LakeLubbers.com, we strive to keep our information as accurate and up-to-date as possible, but if you've found something in this article that needs updating, we'd certainly love to hear from you!
Please let us know about it on our Content Correction form.
Spread the word! Share our Crescent Lake FL article with your fellow Lake Lubbers!