Newnans Lake, Florida, USA
Lake Locations:
USA - South - Florida - North -
Also known as:  Newnan's Lake, Lake Newnan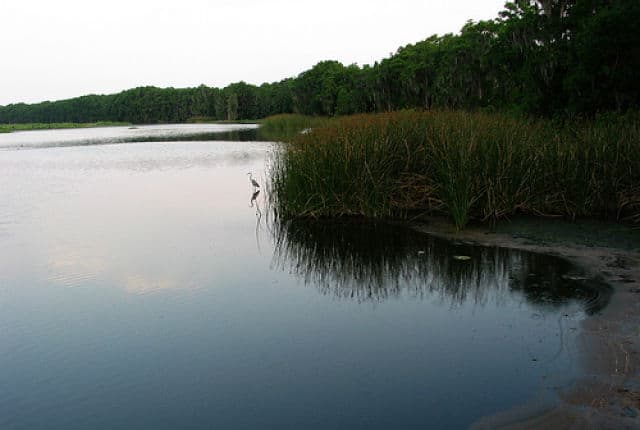 An alligator slips silently into the water as cormorants look on from their perches in the bald cypress trees that ring Newnans Lake. With the Spanish moss-draped trees, surrounding swamps and otherworldly beauty, Newnans Lake feels like a world removed, but in reality the 7,000-acre lake is only two miles east of Gainesville in Alachua County, Florida. The natural beauty and abundant fish draw both anglers and quiet boaters to the lake.
Newnans Lake is a natural, shallow cypress dome in Florida's North tourism region. It is a typical shallow basin lake a little over a mile across with an average depth of just five feet. The lake has two main inflows, Little Hatchet Creek and Hatchet Creek, and one outflow on the southern shore. Prairie Creek drains Newnans Lake and used to flow entirely into Paynes Prairie. With the construction of Camps Canal in 1927, a significant portion of the outflow from Newnan's Lake was diverted through the River Styx and into nearby Orange Lake.
As a result of the canal, water levels dropped so low in Paynes Prairie that it was drained and ranched extensively. In the 1970's it became a State Preserve, and today the 21,000-acre Paynes Prairie Preserve State Park is a National Natural Landmark and a fantastic place to see wildlife. There are over 270 different species of bird along with wild horses, bison and of course alligators. The Preserve has 20 distinct biological communities all with different habitats. A visitor center and trails for hiking, bicycling and horseback riding makes the Preserve accessible to everyone to explore. They are also sites for camping and picnicking. Paynes Prairie and the River Styx are designated Outstanding Florida Waters as are Newnans Lake and Orange Lake.
Along with diverting water through Camps Canal, Newnans Lake was dammed. The artificially stabilized water, however, caused a decrease in fish habitats, so normal water levels were restored. The lake has a reputation as a largemouth bass and sunshine bass fishery, and it was stocked with over 120,000 largemouth bass fingerlings. There is also year-round fishing for bream and catfish. The bream prefer the area around the shore, but Newnans Lake's mucky bottom is ideal for catfish. Anglers can expect to catch white catfish and yellow and brown bullhead catfish at a perfect size for eating.
There are public boat ramps and picnic facilities at the Owens-Illinois Park on the southeast shore of Newnans Lake and also at the Earl P. Powers Park on the southwest shore. Old-fashioned fish camps nearby have boat rentals for motorboats, kayaks and canoes. Most of the shore of Newnans Lake is undeveloped, but there is some scattered real estate and residential development. There are various accomodations and vacation rentals available at nearby Gainesville and real estate for sale within a few miles of Newnan's Lake.
The Newnans Lake Conservation Area is on the northeast side on Lake Newnan. The 5704-acre area includes three miles of shoreline, depression and dome swamps. There is also a large basin swamp known as Gum Root Swamp. The bird watching is exceptional with great blue herons, osprey, sandhill cranes and even nesting bald eagles. The Conservation Area is home to turkeys, foxes, and white tailed deer and there are trails for hiking and biking to explore.
The Seminole name for Newnans Lake was Pithlachocco which means "long boat" or "lake where boats were made." In the spring of 2000, an extended drought lowered the lake's water level and exposed the remains of 120 canoes giving the Seminole name new significance. The canoes, which range in length from 15 to 31 feet, were estimated to be from between 2300 to 5000 BC. It is the largest collection of prehistoric canoes found in North America, and the site is now on the National Register of Historic Places.
With its rich history, abundant wildlife and plentiful fish, Newnans Lake is the perfect outdoor getaway. Add the shopping, restaurants, and amenities of nearby Gainesville and a trip to Newnans Lake is sure to please anyone.
Things to do at Newnans Lake
Fishing
Boating
Canoeing
Kayaking
Camping
Picnicking
Hiking
Biking
Horseback Riding
Wildlife Viewing
Birding
State Park
Shopping
Fish species found at Newnans Lake
Bass
Black Bass
Brown Bullhead
Bullhead Catfish
Catfish
Largemouth Bass
Perch
Sunshine Bass
White Catfish
---
Newnans Lake Photo Gallery
Newnans Lake Statistics & Helpful Links
At LakeLubbers.com, we strive to keep our information as accurate and up-to-date as possible, but if you've found something in this article that needs updating, we'd certainly love to hear from you!
Please let us know about it on our Content Correction form.
Spread the word! Share our Newnans Lake article with your fellow Lake Lubbers!