Richard B. Russell Lake, Georgia & South Carolina, USA
Lake Locations:
USA - South - Georgia - Northeast Georgia Mountains - South Carolina - Old 96 District -
Also known as:  Lake Russell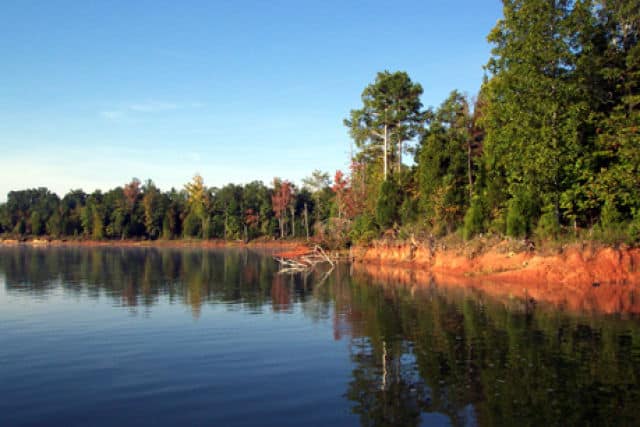 Richard B. Russell Lake, sometimes nicknamed Lake Russell, claims 26,650 sparkling acres and 540 miles of shoreline on the Georgia-South Carolina state line. This expansive lake straddles Georgia's Northeast Mountains region and South Carolina's Old 96 District. Like many lakes in the area, Lake Russell was originally created in 1985 by damming up the Savannah River to provide flood control. Originally named Trotters Shoal Lake, it was later renamed after the late Georgia Senator Richard B. Russell.
While flood control is the reason for the initial creation of the lake, it is now host to many recreational activities such as fishing, water skiing, hiking, jet skiing, swimming, kayaking, canoeing, and wildlife viewing. Managed by the U.S. Army Corps of Engineers, federal law prohibits private use of public lands around the lake. This lack of development offers the opportunity to visit a lake in its natural state. This unique experience offers up a beautiful, pristine lake with abundant wildlife and endless outdoor fun.
Due to its large size, Richard B. Russell Lake offers visitors and residents a plethora of enjoyable activities. If you want to stretch your legs and lungs, the lake's excellent hiking and biking activities will be right up your alley. If you're looking for a bit more relaxation, grab your beach towel and head down to the shoreline to enjoy the sun and the beckoning lake waters.
Ideally situated along the South Carolina Lake Russell shoreline, Calhoun Falls State Park enjoys gorgeous orange sunsets, fishing opportunities that come with significant bragging rights, and endless recreational activities. Picnic areas, campsites, a playground, hiking trails, a tennis court, basketball nets, and a swimming area are available to the public. The Richard B. Russell State Park on the Georgia border offers loads of outdoor fun including camping, hiking and fishing.
Well-known for its excellent fishing, Richard B. Russell Lake is home to diverse species due to its many different aquatic environments. Offering both warm and cold wqater fisheries the lake is one of the finest fishing lakes in the area. Stumps, old docks, and manmade habitats dot the water landscape, providing the perfect hiding places, breeding grounds, and homes to the lake's fish. And while crappie and largemouth bass are your best bet, you can also look forward to the less-common species that inhabit the lake.
Due to the federal lands encompassing most of the land around Richard B. Russell Lake, vacation rentals are only available in the surrounding communities such as Elberton and Calhoun Falls. Campsites are also available in Calhoun Falls State Park in South Carolina and Richard B. Russell State Park in Georgia. A warm summer day with a brilliant yellow sun decorating a perfect blue sky is best enjoyed from the water. Boats can be rented around the lake, so whether you prefer the speed of a power boat or the gentle sway of a canoe, you can have your way at Richard B. Russell Lake. So drag a skier behind your speedboat or stop your kayak in the middle of a quiet cove and dive into the cool, blue waters; whatever your heart desires, it will be fulfilled here.
Things to do at Richard B. Russell Lake
Vacation Rentals
Fishing
Boating
Swimming
Beach
Canoeing
Kayaking
Jet Skiing
Water Skiing
Tennis
Camping
Picnicking
Hiking
Biking
Wildlife Viewing
State Park
Playground
Fish species found at Richard B. Russell Lake
Bass
Black Bass
Crappie
Largemouth Bass
---
Richard B. Russell Lake Photo Gallery
Richard B. Russell Lake Statistics & Helpful Links
At LakeLubbers.com, we strive to keep our information as accurate and up-to-date as possible, but if you've found something in this article that needs updating, we'd certainly love to hear from you!
Please let us know about it on our Content Correction form.
Spread the word! Share our Richard B. Russell Lake article with your fellow Lake Lubbers!