Rend Lake, Illinois, USA
Lake Locations:
USA - Midwest - Illinois - Southern -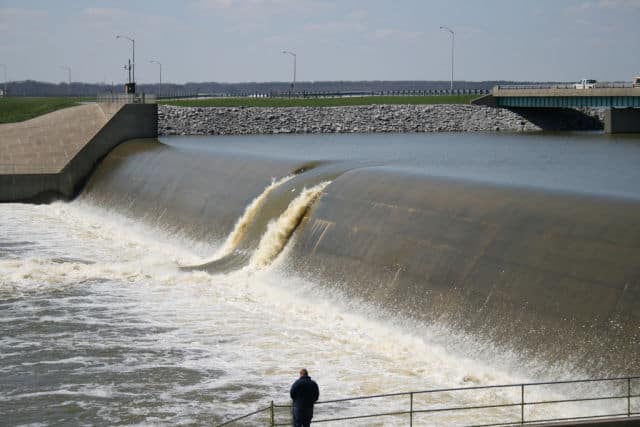 Rend Lake, located in southern Illinois, is a fantastic place to enjoy all sorts of outdoor recreational activities. This reservoir, the second largest artificial lake in the state, covers an area of nearly 19,000 acres and is a perfect place for fishing, boating, and other outdoor sports.
Rend Lake was created in the 1970's, when the U.S. Army Corp of Engineers dammed the Big Muddy River, creating a reservoir three miles wide and thirteen miles long. The lake was completed in 1973, providing flood control, water to nearby communities, fish and wildlife conservation, and recreation.
Rend Lake has much to offer visitors. It is a popular lake for fishing, and has a large population of crappies, channel catfish, bass, and bluegill. Don't like fishing? There's still tons to do. You can go jet skiing or water skiing, or simply cruise around the lake on a boat. With a marina and a couple dozen boat ramps, the lake is well set up for all those who want to enjoy its splendors. And, if you're hankering for a swim, there are several beaches where you can enjoy taking a dip in the cool waves. Lake accommodations include five public campgrounds with close to 800 sites, RV parks, lakefront cabin rentals, and a resort and conference center.
One of the best places to enjoy Rend Lake is the 3,000-acre Wayne Fitzgerrell State Recreation Area. There's nothing better than enjoying a picnic in the great outdoors with friends and family, and the park is well able to accommodate you with over 150 picnicking sites. In addition, the Recreation Area is a haven for wildlife of all types, and nature lovers will enjoy spotting herons, eagles, deer, raccoons, and opossums. There are also several trails on which to walk, bike, or ride horseback. And hunters will enjoy the many hunting opportunities at the Recreation Area and at other locations near Rend Lake.
As if all the lakeside activities weren't enough, nearby towns contain yet more attractions. Benton has a wide variety of entertainment – movie theaters, an opera house, bowling, and more. The town of Sesser has a family fun park with mini-golf, batting cages, and go-carts. And for the avid golfer, a highly rated 27-hold golf course is nearby.
One thing's for sure: whether you're busy with a game of golf, hiking along a nature trail, cruising through Rend Lake's waters, or fishing for the "big one," there's always plenty to do at Rend Lake!
Things to do at Rend Lake
Vacation Rentals
Fishing
Boating
Swimming
Beach
Jet Skiing
Water Skiing
Golf
Camping
Campground
Picnicking
Cabin Rentals
Hiking
Horseback Riding
Hunting
Wildlife Viewing
Birding
Movie Theater
Fish species found at Rend Lake
Bass
Bluegill
Catfish
Channel Catfish
Crappie
Sunfish
---
Rend Lake Statistics & Helpful Links
Spread the word! Share our Rend Lake article with your fellow Lake Lubbers!