Little Grassy Lake, Illinois, USA
Lake Locations:
USA - Midwest - Illinois - Southern -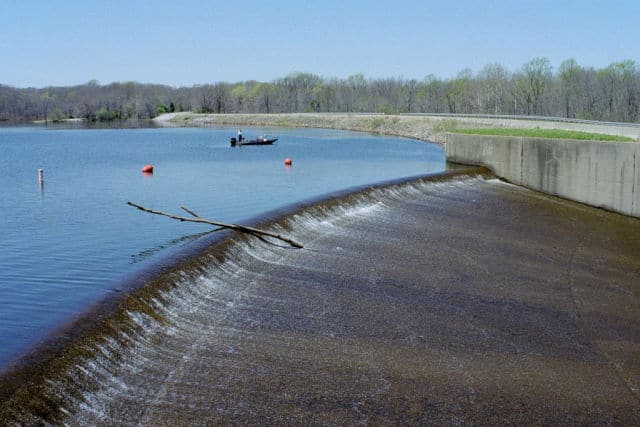 Surrounded by watchful forest trees and open grasslands, the Little Grassy Lake is a quiet body of water sitting in the middle of a Southern Illinois wildlife refuge. The Crab Orchard Wildlife Refuge consists of over 40,000 acres of fields, woods and waters, attracting visitors from all around to come romp in the midst of its beauty.
Visitors have miles of hiking and horseback riding trails to enjoy. Families will relish hours spent camping and picnicking, swimming, boating and water-skiing. Thousands of acres are open to hunting seasons with a plethora of large and small game including deer, waterfowl, wild turkey, rabbit, squirrel, quail, woodchuck, dove, woodcock, snipe, crow, raccoon, opossum, fox and coyote. Hunters use muzzleloaders, archery, shotguns and pistols. There are lots of opportunities for viewing wildlife in the refuge. Various trails, auto tours, pull-off areas, observation blinds and viewing decks help to facilitate the enthusiast's curiosity about life and offer photographing opportunities.
Other facilities are complete and include campgrounds, boat ramps, fishing piers, beaches, picnic areas, a visitor center, and an environmental education complex. There are also five youth camps that retreat on Little Grassy Lake, where unique activities, such as mushroom-picking, are offered in the wilderness area. Last, but not least, one of the biggest attractions of Crab Orchard Wildlife Refuge is its water. Little Grassy Lake is one of three manmade lakes in the refuge; the other two are Crab Orchard Lake and Devil's Kitchen.
Little Grassy Lake was constructed by the Works Progress Administration (WPA) and the Soil Conservation Service. Had it not been for World War II, which stalled plans for the lake, it would have been finished years earlier. The lake was part of the Resettlement Administration's original Crab Creek Project before the project was transferred to the war department. After the war, Crab Orchard National Wildlife Refuge came into existence in 1947, before completion of Little Grassy Lake in 1951.
The 1,000-acre reservoir, created for recreation, is primarily a fishing lake. A 10-horsepower limit reduces noise and disturbance on Little Grassy Lake's serene waters, creating a more favorable environment for sport fishers. The lake has high-quality bluegill, redear, and largemouth bass and also a channel catfish fishery. The Department of the Interior's Fish and Wildlife Service aims to enhance all of these fisheries and monitors the lake via annual surveys. Please note that fish caught between 12 and 15 inches must be released.
Immediately to the south of Little Grassy Lake is the Giant City State Park located within the Shawnee National Forest. The Forest spans 273,000 acres of flora and fauna, wilderness trails, waterfalls, swimming, bicycling, scenic drives, and archaeological sites. Attractions at the Giant City State Park include hundreds of species of wildflowers and gigantic sandstone bluffs with corridors running through them (hence the name "Giant City"). The Shawnee Hills Wine Trail is accessible from Carbondale, the "capital" of Southern Illinois. The city lies just a few miles northwest of the lake and offers great dining as well as cultural and historical excursions. The small village of Makanda offers an annual spring Makanda Fest and fall Vulture Fest, two festivals of great fun, food, music and crafts.
Although there are retreat cabins offered on Little Grassy Lake, visitors will find a diversity of options for vacation rentals in the surrounding towns. Real estate possibilities also exist, whether in Carbondale, Marion, Makanda, or Cambria. Find the home of your dreams in the vibrant communities of the Midwest, or spend your vacation splashing the waters of Little Grassy Lake with a whole world of awe-inspiring nature and wildlife at your fingertips.
Things to do at Little Grassy Lake
Fishing
Boating
Swimming
Beach
Water Skiing
Camping
Campground
Picnicking
Cabin Rentals
Hiking
Biking
Horseback Riding
Hunting
Waterfall
Wildlife Viewing
Birding
National Wildlife Refuge
State Park
National Forest
Fish species found at Little Grassy Lake
Bass
Black Bass
Bluegill
Catfish
Channel Catfish
Largemouth Bass
Redear Sunfish (Shellcracker)
Sunfish
---
Little Grassy Lake Photo Gallery
Little Grassy Lake Statistics & Helpful Links
Spread the word! Share our Little Grassy Lake article with your fellow Lake Lubbers!