Red Rock Lake, Manitoba, Canada
Lake Locations: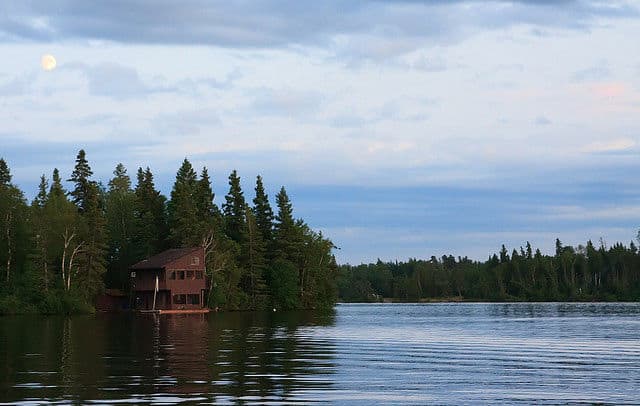 Beautiful Red Rock Lake, small by Manitoba standards, is nestled in the central portion of Whiteshell Provincial Park. Sized at over 500 acres, Red Rock Lake is easy to find if you know where to look: it's right along side Provincial Highway 307 a dozen miles north of Rennie. The lovely 675,000-acre Whiteshell Park, located in the southeast corner of Manitoba is adjacent to the borders of Ontario and North Dakota. The largest city in the area is Winnipeg-a full two hours away.
Red Rock Lake is one of the over 200 lakes within Whiteshell Provincial Park and one that has been designated for cottage development. Cottages are built on leased Crown land in designated 'subdivision' areas, assuring no overcrowding is allowed to spoil the natural wilderness atmosphere. There are no park campgrounds, but two camps owned by religious organizations provide lodgings to their members and offer summer camp experiences to children. Red Rock Lake isn't heavily developed. Most private cottages are situated around the north and east sides of the lake. The shoreline is highly irregular, creating a number of bays and coves along the edges of two main basins. The entire area is heavily wooded with surprise outcroppings of Canadian Shield bedrock exposed in many places. Surrounding the lake are several areas of wetlands, home to a variety of waterfowl.
Undammed, the lake has a tributary of the Whiteshell River flowing through it. The inlets and outlet areas provide some of the best fishing. Walleye have been stocked in Red Rock Lake for many years. They join northern pike, smallmouth bass, yellow perch, crappie and an occasional lake sturgeon. The Parks system has yet to provide a depth map and information as to whether a public boat launch is available. Car-top boats can be launched from Crown lands. Cottage owners enjoy all types of water sports such as water skiing, tubing, sailing, wakeboarding and swimming.
There are no real settlements at Red Rock Lake. Both the resort at Brereton Lake to the south and the small general store at the resort on White Lake to the north sell some groceries, gas and convenience items. The rugged wilderness surroundings belie the fact that Winnipeg is only two hours away and that a large number of outdoor fans come to the area for fishing, hiking the trails, mountain biking, nature observance and winter sports. A little larger is the town of Rennie, 12 miles to the south. Located on the main east-west Highway to Winnipeg, Rennie takes its lack of fame with the typical attitude of the laid-back cottage country; its welcome sign reads, "Welcome To Rennie, Home Of Something…Or Somebody Famous…Someday…Maybe". Beyond that unassuming, tongue-in-cheek welcome sign, Rennie is home to a rustic hotel, several Whiteshell-licensed outfitters, a major hub of the snowmobile and cross-country ski trails in the Whiteshell, and the Alf Hole Goose Sanctuary just outside of town. Medical services, supplies, gas and a variety of small businesses can be found here.
A few Red Rock Lake cottage owners rent their properties by the week or the season. Local real estate agents may be most knowledgeable about available rentals and will certainly know of cottages for sale. Camping is available at several nearby Park locations, along with a few commercial campgrounds at area lakes. Rennie has limited lodgings, so it would be wise to line those up before heading to the area. Many of the cabin resorts and outfitters in the area are open year round to accommodate the many winter visitors for snowmobiling, cross-country skiing and ice fishing.
Hiking near Red Rock Lake is always popular. The Trans-Canada Trail is complete north of Rennie to Brereton Lake and from White Lake on north. The incomplete section of this multi-use trail is under construction and will run along the east shoreline of Red Rock Lake. Available portions may be traveled before it is all complete. Cabin Lake Hiking Trail begins at the western end of the cottage road on the north side of Red Rock Lake and provides the only access to Cabin Lake nearly three miles away. A number of trails dedicated to hiking and cross-country skiing are located near White Lake. Crown lands are open for wildlife viewing and trekking, although back-country camping is permitted in only a few areas. Off-road vehicles are strictly limited to certain areas, and all vehicles entering the park must carry a Provincial Park access permit.
This area of the Whiteshell is still a favored wild rice gathering area for First Nations tribes. Small creeks form a maze among bogs and tiny lakes, home to a wide variety of native fauna. Deer, black bear, fox, coyote, raccoon, muskrat and beaver are common in the area as are birds of prey such as owls, hawks and eagles, osprey, herons, numerous species of ducks, geese and shorebirds. The many lakes are home to the shy and mysterious loons. And the Whiteshell is a favored hunting area for black bear, usually under the guidance of a licensed outfitter.
Red Rock Lake is definitely a lake for nature lovers. This is the kind of place where you stretch out on a sandy beach in the sun, flick a lazy line into a promising fishing hole, and listen keenly for the call of native songbirds or waterfowl. A campfire at night, a sky full of stars, and a sturdy canoe or kayak for exploring the shoreline are the activities to fill the hours at Red Rock Lake.
*Detailed statistics for this lake are not available.
Things to do at Red Rock Lake
Vacation Rentals
Fishing
Ice Fishing
Boating
Sailing
Swimming
Beach
Canoeing
Kayaking
Water Skiing
Wakeboarding
Tubing
Camping
Campground
Cabin Rentals
Hiking
Biking
Cross-Country Skiing
Snowmobiling
Hunting
Wildlife Viewing
Birding
Provincial Park
Fish species found at Red Rock Lake
Bass
Black Bass
Crappie
Northern Pike
Perch
Pike
Smallmouth Bass
Sturgeon
Walleye
Yellow Perch
---
Red Rock Lake Photo Gallery
Red Rock Lake Statistics & Helpful Links
Spread the word! Share our Red Rock Lake article with your fellow Lake Lubbers!