Star Lake, Manitoba, Canada
Lake Locations: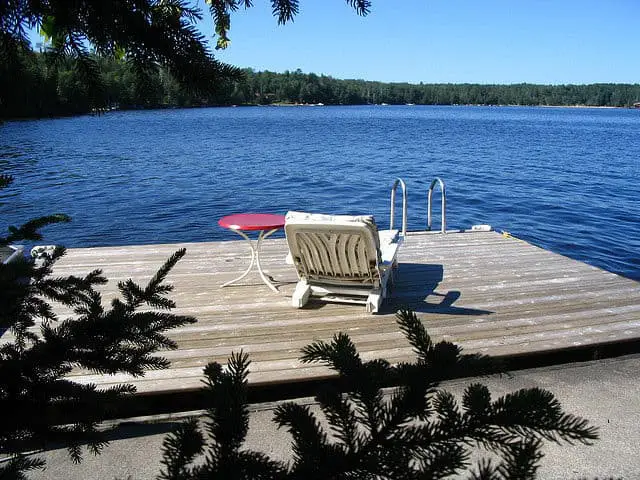 One of the choice residential lakes within Whiteshell Provincial Park is beautiful Star Lake. Located just west of much larger West Hawk Lake, Star Lake is one which Manitoba planning officials have allowed to develop cottage communities. Most of the cottages are on leased Crown lands, with many being owned by the same families for generations. Water flows out of Star Lake to West Hawk Lake, and water levels are controlled by a small dam owned by Manitoba Water Stewardship.
As is common in many parts of Whiteshell Provincial Park, there are few commercial facilities. Most services and supplies are obtained in the West Hawk Lake settlement nearby. An area of private development on the road between Star Lake and West Hawk Lake holds some convenience services and is home to a marine repair facility. The lodge at Star Lake provides a sandy beach with swimming area, picnic grounds, and playground equipment. The lodge also rents a few camping spaces and more modern cabins, primarily for religious retreats. Canoes are available for rent at the nearby boat launch. Although Star Lake is open to all water sports, it does not appear that there is a commercial marina where visitors can launch large power boats.
Most cottages are clustered along the eastern shores of irregularly-shaped Star Lake. The Trans Canada Trail crosses the access roads along the east side and is perfect for cycling, hiking and nature walks. The wooded countryside belies its once-busy history as the site of gold mining. Most mines are long gone, and fallow farm fields have once again been claimed by trees, raspberry bushes and native flora. This section of Whiteshell Park is considered a game bird refuge, so conditions are ideal for a variety of waterfowl and birds. Deer, black bear, beaver, osprey, bald eagles, hawks and owls are common in the area.
The newest section of the cross-Canada trail extends from Star Lake to Caddy Lake. A new warming shelter is located along this section at Zubec Lake for cross-country skiers, snowshoe enthusiasts and snowmobile riders. With a projected completion date of 2017, the multi-use Trans Canada Trail will eventually meander coast-to-coast to serve the recreational needs of millions of outdoor fans. Manitoba recently earmarked $800,000 toward finishing the trail within the province and maintaining the trail that exists.
Star Lake is noted for fishing in all seasons. Walleye have been stocked regularly. The lake also holds northern pike, yellow perch and crappie, along with several more limited species. Many bays, secluded coves and islands allow for a variety of fishing opportunities. A Manitoba fishing license and provincial park permit are required. All vehicles entering the park must have a park sticker. Anglers will want to check current Park regulations to make sure that no restrictions have been placed on specific fish in any Whiteshell Park lake. Recently, water users have been surprised to discover freshwater jellyfish in Star Lake. Although harmless to humans, residents are now concerned for the possible future damage to Star Lake's natural ecology and are alert to dangers from invasive species.
Star lake is in the southernmost portion of Whiteshell Park near the Ontario and United States borders. The nearby area holds a wide variety of recreational activities and sports facilities. Falcon Lake (a few miles south along the Trail) is a recreational hotspot, with golf courses, horseback riding, a ski hill, restaurants, cottage resorts, bed & breakfasts, commercial and private lodgings and a hub for connected snowmobile trails. West Hawk Lake holds most of the same types of amenities, although on a somewhat smaller scale. The many trails in the area are popular for cross-country skiing. All of these make Star Lake the perfect home base for a week or a season of outdoor fun.
Although statistics about Star Lake's size and depth are not publicly available, a conservative estimate is that the lake is well over 500 acres, providing plenty of space for water sports and solitude. The scenery is rustic boreal forest, with beautiful sunsets and starry night skies. Several private cottage owners regularly rent their cabins by the week to vacationers. Many times these cottages have expansive decks, fire rings, sandy beach and a canoe, kayak or row boat. Lake real estate is available, with many of the existing cottages winterized for year-round use. With Winnipeg only two hours west along the Trans-Canada Highway, Star Lake has become increasingly popular for weekend residency to many city dwellers.
Typical of the geology of this most-western portion of the Canadian Shield, large granite outcroppings exposed by glaciers past left large barren patches amid the wooded landscape. Some of the more interesting of these are the patches of 'pillow lava' found south of Star Lake, named for their pillow-like shapes. Other areas of Whiteshell Provincial Park hold petroforms left by ancient native tribes that constructed the outline of snakes and other animals hundreds of years ago. Some of these petroforms are still the site of sacred native ceremonies, and all are protected by law. Not all are mapped or accurately , so it is not unusual to discover a previously-unknown effigy while wandering the large expanse of Crown land.
A week or two at Star Lake allows visitors to relax, recharge their need for solitude and nature, and generally recuperate from the stresses inherent in a city lifestyle. So, make a reservation for a lakefront cottage today and start planning your trip. Before you know it, you'll be looking to put down roots here, too.
*Detailed statistics for this lake are not available.
Things to do at Star Lake MB
Vacation Rentals
Fishing
Boating
Swimming
Beach
Canoeing
Kayaking
Golf
Camping
Picnicking
Cabin Rentals
Hiking
Biking
Cross-Country Skiing
Snowmobiling
Snowshoeing
Horseback Riding
Wildlife Viewing
Birding
Provincial Park
Playground
Fish species found at Star Lake MB
Crappie
Northern Pike
Perch
Pike
Walleye
Yellow Perch
---
Star Lake MB Photo Gallery
Star Lake MB Statistics & Helpful Links
Spread the word! Share our Star Lake MB article with your fellow Lake Lubbers!