Lake Williams, Connecticut, USA
Also known as:  Williams Pond
Welcome to the ultimate guide for history, statistics, local fun facts and the best things to do at Lake Williams.
If you're considering Lake Williams vacation rentals, we've made it super easy to explore accommodations and nearby hotels using the interactive map below. Simply click on a listing to compare similar properties, best rates and availability for your dates. Or keep scrolling to read our Lake Williams guide!
Lake Williams visitor and community guide
One of the lesser known water destinations in Connecticut's Mystic Country is beautiful Lake Williams. Although the lake is mostly private, a hand-carry boat launch near the dam provides public access. The launch is owned by the Town of Lebanon, and visitors can fish along the shore. Residents and their guests have plenty of water access for swimming, fishing, boating, sailing and wildlife watching,
Lake Williams is not a natural lake. It first became a temporary pond about 1816, when a succession of settlers built temporary dams across Bartlett Brook to provide water power for mills. Water was usually held only during the fall and winter months, while the adjoining fields were dried out and used to plant hay in spring and summer. It wasn't a full-time lake until 1865 when a permanent dam created the year-round pond. Officially called Williams Pond, the lake was named after local settler Elias Williams who operated a sawmill at the dam. Although the sawmill is long gone and the water power no longer as vital to downstream business, Lake Williams has become a tightly-knit community of seasonal and year-round residents who thoroughly enjoy waterfront living. Swimming, water skiing, tubing, jet-skiing, sailing, paddling and fishing are some of their favorite summer activities.
The homes are clustered on a small portion of the Lake Williams shoreline, primarily on the east side. Much of the western bank is semi-marshland and undeveloped. A few of the older lots were grandfathered into the zoning plan as year-round residential, while the rest are zoned as seasonal. Seven islands dot the lake's surface, with cottages on several of them. The Lake Williams Beach Association has existed as a property owners association for many years. The group works to engender community spirit and provide community access to the water with three separate beach sites and a large pavilion which can be reserved by members for large gatherings. The beaches, all located toward the northeastern end of the lake, are available to cottage owners and their guests. One of these holds the only actual boat ramp on Lake Williams. A second group, named Friends of Lake Williams, was formed in the late 1990s in response to the threat of invasive plant species found in the lake. This group worked to eradicate the imminent threat and continues to warn against invasive species, monitor water quality, arrange for local lake clean-up events, and produce a well-attended boat parade.
Because the lake is uncrowded and has much undeveloped shoreline, the area is a haven for wildlife. Beaver, otter, heron and cormorants join the more common ducks, geese, and other pond familiars such as turtles, frogs, salamanders and the like along the shoreline. The quiet backwaters are particularly attractive to such wildlife, and canoeing or kayaking these bays is a popular activity. Fishing is always a favorite way to enjoy the lake. Lake Williams holds largemouth bass, chain pickerel, yellow perch, bluegill, sunfish and bullheads. The bass grow to good size and are one of the main fishing draws. The perch are especially favored as a target of ice anglers. All fishermen must hold the appropriate fishing license and adhere to state fishing regulations.
A commercial campground occupies a portion of the southwest shore. This popular business has spaces for tents and RVs and even advertises a 'doggy beach' for campers' four-footed family members. The campground rents canoes, kayaks and rowboats and allows private boat launching from their boat ramp during regular business hours. Boats over 20 feet, jet skis and wave runners are not permitted to launch here. A few property owners rent their cottages or homes on a short-term basis. Real estate for sale becomes available occasionally. Since Lake Williams is only about 20 miles from the City of Hartford, such properties tend to sell quickly.
Most of Lake Williams is located in either the Town of Lebanon or the Town of Hebron. Both are old, historic towns, with Lebanon recognized as one of the oldest in the former colony of Connecticut. Chartered in 1700, Lebanon was always a patriotic stronghold, with a full 50% of its adult male residents participating in the Revolutionary War. The home of colonial Governor Trumbull is open for regular tours, and opportunities for a history lesson avail visitors in several locations. Lebanon is also a great place for outdoor activities such as bike riding and walking; many dirt roads wind through farmlands and forest plots. Well-attended attractions include the Farmers Market, Memorial Day Parade, Summer Dancefest, Lebanon Country Fair, and Antique Show on The Green. Air Line State Park Trail passes just north of Lake Williams. This 22-mile long trail is based on the famed Air Line Railroad route that once provided fast service between cities along the east coast. The trail is free to walk and is open to non-motorized traffic, including biking and horseback riding. Some portions are wheelchair accessible.
Located only a few miles from the Rhode Island state line, Lake Williams is within a few miles of Mystic Seaport and Waterford Speedway. The entire area is filled with historic markers and the locations of famous battles and events of the Revolution. Lake Williams offers the perfect home base for visiting the countryside and exploring this part of New England. Activities are not limited to the summer months; downhill skiing, cross-country skiing, and snowshoeing are favored pastimes in winter. Autumn is particularly beautiful, as the glorious golds, reds and yellows of the forested hills rise majestically between giant granite boulders and rock outcroppings. Here and there, an ancient stone wall snakes mysteriously through the forest, leading one to wonder at the long-gone settler who built it. Small inns and quaint cafes join artisan shops on country crossroads, and the rural atmosphere allows one to forget that busy 21st century life exists just over the next hill.
A visit to Lake Williams is great any time of year. Come join the locals in enjoying this hidden piece of paradise for an afternoon or a weekend. You'll be surprised you've never heard of Williams Pond before.
Custom Lake Williams house decor
Read our full review of these personalized lake house signs.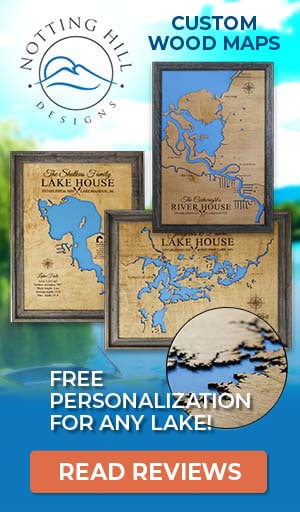 Things to do at Lake Williams
Vacation Rentals
Fishing
Boating
Sailing
Swimming
Beach
Canoeing
Kayaking
Jet Skiing
Water Skiing
Tubing
Camping
Campground
Hiking
Biking
Downhill Skiing
Cross-Country Skiing
Snowshoeing
Horseback Riding
Wildlife Viewing
State Park
Antiquing
Fish species found at Lake Williams
Bass
Black Bass
Bluegill
Chain Pickerel
Largemouth Bass
Perch
Pickerel
Pike
Sunfish
Yellow Perch
---
Best hotels and vacation rentals at Lake Williams
The Lake Williams map shown above is a simple and stress-free way to search for trip accommodations. But if you want to take a deeper dive to find the ideal waterfront home, cabin, condo, hotel or resort, visit our favorite lodging partners by clicking the buttons below.
Note: These are affiliate links so we may earn a small commission if you book through them. While there is no extra cost to you, it helps provide resources to keep our site running (thank you)! You can read our full disclosure policy here.
---
Lake Williams photo gallery
New photos coming soon!
Lake Williams statistics & helpful links
We strive to keep the information on LakeLubbers as accurate as possible. However, if you've found something in this article that needs updating, we'd certainly love to hear from you! Please fill out our Content Correction form.
Advertise your Lake Williams vacation rental
LakeLubbers will soon offer homeowners and property managers the opportunity to to showcase their vacation rentals to the thousands of lake lovers searching our site daily for accommodations. If you'd like additional details, please contact our advertising team here.
Looking for the Lake Williams forum?
LakeLubbers previously offered visitors the ability to create accounts and participate in lake forums. When we overhauled the site's content management system in 2021 we had to disable those features. We're evaluating options and welcome your comments and feedback here.
We also encourage you to join our lake-lovin' community on Facebook and Instagram!
Spread the word! Share our Lake Williams article with your fellow Lake Lubbers!