Prineville Reservoir, Oregon, USA
Lake Locations:
USA - West - Oregon - Central -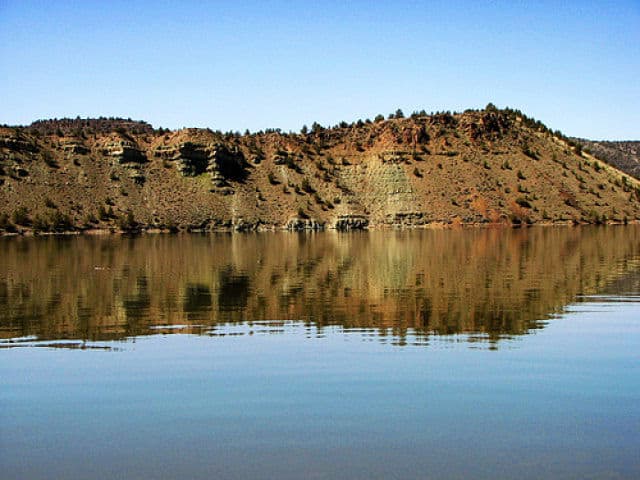 The 3,030-acre Prineville Reservoir is one of Central Oregon's prolific fishing and outdoor recreation water bodies. The lake's well-developed public recreation areas provide many opportunities for a fine mix of water-related outdoor activities. Boating, camping, fishing, birding, hunting and wildlife viewing are the highlights for any visitor. The nearby scenic drive along the Crooked River and over Bowman Dam is particularly worthwhile. Prineville Reservoir is located 15 miles south of the town of Prineville and about two hours from Bend, Oregon.
The US Bureau of Reclamation, as part of its Crooked River project, built the Arthur R Bowman Dam across the Crooked River in 1961. The new Prineville Reservoir was created by flooding a sagebrush and juniper-filled canyon along 18 miles of the Crooked River upstream from Prineville, Oregon. With the ability to hold up to 150,000 acre-feet of water, the new man-made lake serves to store irrigation water, alleviate flooding, and provide welcome recreational opportunities to the public. At its deepest points, Prineville Reservoir reaches 130 feet.
Prineville Reservoir's 43-mile shoreline offers a wealth of opportunities for anglers who come to seek the rainbow trout that proliferate in the lake. Stocked annually with as many as 170,000 trout, optimal conditions allow for many of the trout to reach 10 inches, with 14-inch fish often caught. The many inlets and coves shelter large populations of catfish, smallmouth bass and black crappie, nearly guaranteeing some form of success for every visiting fisherman. Excellent fishing can be anticipated January through June, and ice fishing is often productive for trout. Fishing from shore is often successful at Jasper Point, Prineville State Park, and the dam.
A 3,800-acre wildlife management area encompasses the northeastern part of the lake. The area of protected land and water provides a refuge for a variety of wildlife including mule deer and many different species of waterfowl. Camping is available in Prineville State Park, including tent sites, cabin rentals, and sites with electrical hookup or full hookup. Jasper Point sites have electric hookup. Both sites are open May through September, and both have boat ramps and campground activities. For geocachers, there are many caches in a five mile area.
Pack your rods and head out to Prineville Reservoir. A visit of days can easily stretch into weeks as the peace and serenity of the reservoir, coupled with vast star-filled night skies, make visitors loathe to leave.
Things to do at Prineville Reservoir
Vacation Rentals
Fishing
Ice Fishing
Boating
Camping
Campground
Cabin Rentals
Hunting
Wildlife Viewing
Birding
State Park
Fish species found at Prineville Reservoir
Bass
Black Bass
Black Crappie
Catfish
Crappie
Rainbow Trout
Smallmouth Bass
Trout
---
Prineville Reservoir Photo Gallery
Prineville Reservoir Statistics & Helpful Links
Spread the word! Share our Prineville Reservoir article with your fellow Lake Lubbers!