Pine Mountain Lake, California, USA
Lake Locations:
USA - West - California - Gold Country -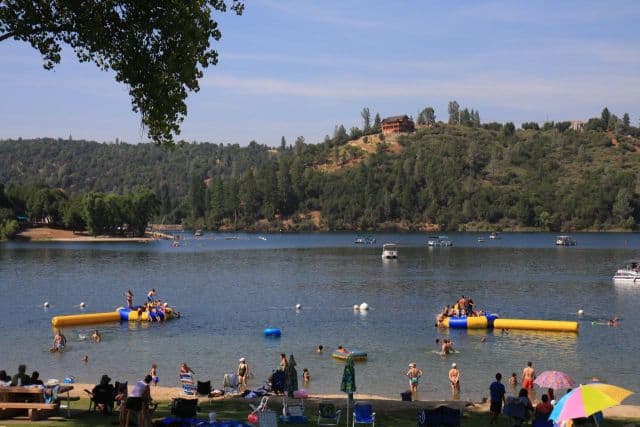 Pine Mountain Lake is a private lake and community in Tuolomne County California. With amenities that include a golf course, restaurant and stables open to the public, however, it is obvious that Pine Mountain Lake welcomes visitors.
The lake was created by the Pine Mountain Dam which falls under the jurisdiction of the Division of Safety of Dams and the Department of Water Resources in the State of California. The earth dam with a clay core was completed on November 20, 1969, and water ran over the spillway on March 1, 1970.
Pine Mountain Lake is stocked with trout, and there are healthy populations of largemouth bass, crappie, bluegill, redear perch, and catfish. There is a marina and several good fishing spots including Fisherman's Cove with fishing by boat or from the shore. There are also swimming beaches and picnic areas. In season a water taxi travels between some of the sites. Boating includes power boats, kayaks, sail boats and jet skis,and there are rentals available at the marina.
The 18 hole championship golf course at Pine Mountain Lake is open to the public as are the stables. There are trails for horseback riding and also for hiking and walking. Ammenities include a swimming pool and tennis courts, and the Lake Lodge is available to rent for family reunions, weddings or group picnics. In addition to residential rentals, some with floating docks, there is also camping available. Wildlife includes deer, mountain lions, and bear. There are also bald eagles, and the lake has crayfish, frogs, fresh water jellyfish, and turtles.
There is a restaurant and lounge on site, and Pine Mountain Lake is just a few miles from Groveland, California. Groveland started in 1875 as a mining camp and was originally called Garrote. Its named was changed in an attempt to improve the town's image. Today Groveland has restaurants, shopping and various accommodations, and there are plenty of things to explore in the Gold Country Region.
Pine Mountain Lake is just 26 miles west of Yosemite National Park. One of the first national parks, it is 747,956 acres or about 1,200 square miles. The park is best known for its waterfalls including Yosemite Falls. At 2,425 feet they are the tallest falls in North America. About 95 percent of Yosemtie Naitonal Park is designated as wilderness. There are granite cliffs and giant sequoia groves along with the instantly recognizable half dome. Visitors can explore the park on foot, hiking and backpacking, or by bike. There is plenty to see from the car as well. The park draws rock climbers from all over. The bird watching is exceptional, and the wildlife is plentiful. Seven contemporary tribes are descended from the native peoples that first inhabited Yosemite. In the 1800's European settlers arrived. Today there are still remains of mining sites to explore.
Pine Mountain Lake is very accessible. It is 30 miles south of Sonora, and there is an airport at Pine Mountain Lake that is owned and operated by Tuolumne County. Pine Mountain Lake maintains all the charm of a private lake, but with all its public amenities, it is a vacation destination for the entire family.
Things to do at Pine Mountain Lake
Vacation Rentals
Fishing
Boating
Sailing
Swimming
Swimming Pool
Beach
Kayaking
Jet Skiing
Golf
Tennis
Camping
Picnicking
Hiking
Horseback Riding
Waterfall
Wildlife Viewing
Birding
National Park
Shopping
Fish species found at Pine Mountain Lake
Bass
Black Bass
Bluegill
Catfish
Crappie
Largemouth Bass
Perch
Redear Sunfish (Shellcracker)
Sunfish
Trout
---
Pine Mountain Lake Photo Gallery
Pine Mountain Lake Statistics & Helpful Links
At LakeLubbers.com, we strive to keep our information as accurate and up-to-date as possible, but if you've found something in this article that needs updating, we'd certainly love to hear from you!
Please let us know about it on our Content Correction form.
Spread the word! Share our Pine Mountain Lake article with your fellow Lake Lubbers!