Oxbow Lake, New York, USA
Lake Locations:
USA - Mid-Atlantic - New York - Adirondacks -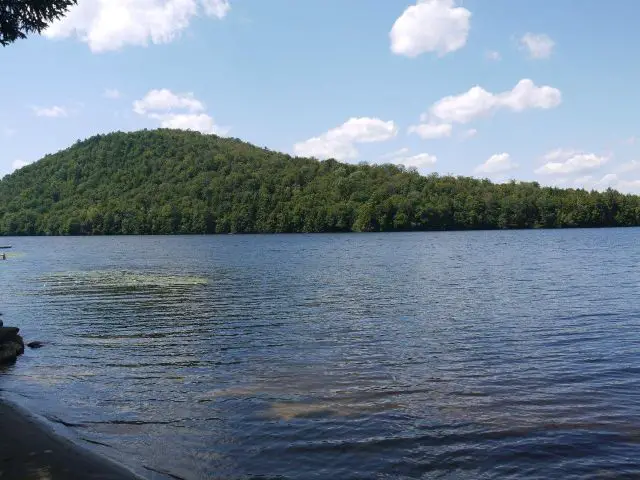 A perfect view over a perfect lake: that describes beautiful little Oxbow Lake in the Adirondack region of New York. Other lakes may be bigger than Oxbow's estimated 140 acres, but few are more picturesque and none are cleaner. Spring-fed Oxbow Lake has been adjudged the cleanest lake in the Adirondack Region by the State of New York. A mile long, the north shore is partially enclosed by Jessup River Wild Forest Area. A portion of the west end of the lake is wetland. The only development is concentrated along the south shore, assuring that every property owner has unspoiled vistas across the lake to the wooded expanse of Adirondack Park.
Oxbow Lake is an all-sports lake. Gasoline motors are allowed, but most visitors feel the narrow lake is more perfectly suited to canoeing and kayaking. Water skiing and tubing are possible but would likely be more enjoyable on a larger water body – the lake is only a quarter of a mile wide at its widest point. The south shore is sandy, allowing for ideal swimming beaches. A small resort rents boats and allows for paid boat access for visiting anglers. Most visitors are content to swim, paddle-boat, row and paddle the lovely lake. An evening around a campfire on the beach or a night view from the deck provides a perfect ending to a picture-perfect day at Oxbow Lake.
Most visitors come to Oxbow Lake for the fishing. The lake is an excellent fishery for largemouth bass and pickerel, particularly along the undeveloped north shore. The lake also holds smallmouth bass, bluegill, perch and sunfish. Relatively shallow, the lake is an ice fisherman's dream. Many of the vacation rentals are four-season, so anglers visit the lake in winter to enjoy the 'hard water' sport of ice fishing. Perch are the prey of choice for these hardy sportsmen, although several other species will do for a catch. A New York fishing license is required, and all fishing regulations must be obeyed.
The area around Oxbow Lake is filled with the sights and sounds of the Adirondacks. A number of trails and hiking paths in the Jessup River Wild Forest Area offer excellent opportunities for wildlife viewing, of which bird watching is a favorite. The Perkins Clearing area northeast of Oxbow Lake is a favorite of birders to view several species of warblers, while the nearby Northville/Lake Placid Trail meanders into wetland areas where Great Blue Heron, Common Loons and several duck species nest. Ospreys are often seen hunting above the area lakes-a good pair of binoculars is a must!
Oxbow Lake is a perfect spot for outdoor activities any time of the year. Hiking in the area is a favorite, with the Northville/Lake Placid Trail passing directly past the southern shoreline. The Village of Speculator offers access to over 650 miles of groomed snowmobile trails across area mountains and lakes. Trail maps are available online and at local Speculator businesses. The Adirondack Park itself offers myriad trails for mountain biking, horseback riding, cross-country skiing, snowshoeing, dog sledding and hiking. The park also provides areas for whitewater rafting, rock climbing, trout streams for fly fishing and rustic camping. Several excellent golf courses are located in the area, and a nearby ski center offers downhill skiing and snowboarding in winter.
Oxbow Lake area contains a variety of eating places varying from the casual to more formal. Some are located directly on the lake, while others in the area are located at nearby Piseco Lake, in the Villages of Piseco and Speculator and all along Route 30. All desired daily services can be found locally, and several artists and craftsmen have studios located in the area. The area is home to a number of antique shops and a few of the most picturesque country inns and bed-and-breakfasts in northern New York.
Oxbow Lake offers a variety of vacation rentals from family-owned motels and cottage resorts to private residences. Most offer lake frontage or lake access and often include canoes, kayaks, paddle-boats and rowboats as part of the rental. There is a small RV campground at Oxbow Lake plus camping at three state-maintained campgrounds at Piseco Lake a mile to the west and in Adirondack Park itself. For those wishing to own their own private Adirondacks camp, real estate is sometimes available on Oxbow Lake. Even when lake properties aren't available on Oxbow Lake, other waterfront properties can often be found in the immediate area. But one must experience Oxbow Lake before appreciating the true beauty of this outdoor paradise. So pack up the outdoor gear, the fishing rod, binoculars, mountain bike and spend a week at Oxbow Lake. But, a word of warning: the peace, serenity, beauty and slow-paced lifestyle are addictive. Once you visit, you'll find it necessary to come back again and again!
Things to do at Oxbow Lake
Vacation Rentals
Fishing
Ice Fishing
Boating
Swimming
Beach
Canoeing
Kayaking
Whitewater Rafting
Water Skiing
Tubing
Golf
Camping
Campground
Hiking
Rock Climbing
Biking
Downhill Skiing
Snowboarding
Cross-Country Skiing
Snowmobiling
Dog Sledding
Horseback Riding
Hunting
Wildlife Viewing
Birding
Antiquing
Fish species found at Oxbow Lake
Bass
Black Bass
Bluegill
Largemouth Bass
Perch
Pickerel
Pike
Smallmouth Bass
Sunfish
Trout
---
Oxbow Lake Statistics & Helpful Links
Spread the word! Share our Oxbow Lake article with your fellow Lake Lubbers!