Mirror Lake, New York, USA
Lake Locations:
USA - Mid-Atlantic - New York - Adirondacks -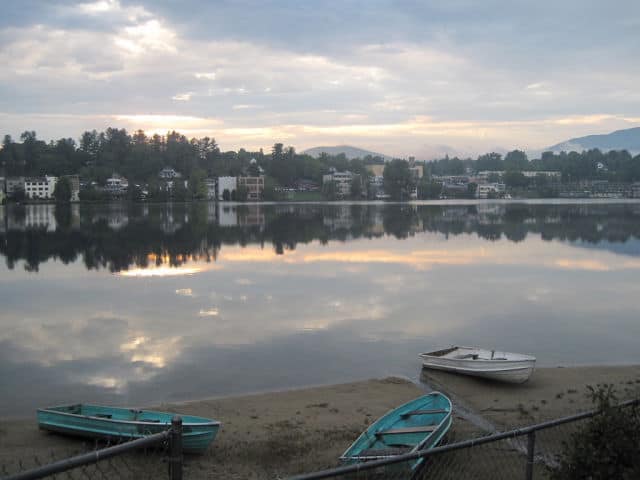 Mirror Lake is located in the High Peaks area of New York's Adirondacks, just south of the more famous Lake Placid. The Village of Lake Placid surrounds Mirror Lake, with the famed Lake Placid Olympic Center Complex a short distance from the shore. A vital part of the resort community, Mirror Lake's 128 acres of serene water serve as a backdrop for a number of exquisite lakefront properties and the majestic High Peaks for which the area is famous. The names and elevations of the 46 mountain peaks are emblazoned on the cobblestones of the pathway around the lake.
The area around Mirror Lake has been a resort playground of the well-to-do since the late 1800s. Lake Placid twice hosted the Winter Olympics, bringing the variety of winter sports venues in the area into the wider public eye. Now the world knows of the joys of the Lake Placid area and Mirror Lake. Visitors arrive in all seasons from the four corners of the world to enjoy everything Mirror Lake has to offer.
Part of the reason for Mirror Lake's serenity is that it is a 'no-motors' lake- no gasoline motors, that is. Electric boats are allowed and can be rented along the shore, as can paddle-boats, canoes, kayaks, rowboats, hydro-bikes, stand-up paddle-boards, and sailboats. Mirror Lake is deserving of its name, with the surrounding peaks mirrored on the surface. The lake is exceptionally clean and clear, with some of the highest-quality water in the Adirondacks. Water quality is carefully monitored and guarded by the Mirror Lake Watershed Association. Swimming is a favorite activity, whether enjoyed from the public beach, resorts, or private homes. In fact, the Annual Ford Ironman USA Lake Placid Triathlon uses Mirror Lake for its swimming course.
Mirror Lake is a favorite among fishermen. Here anglers can choose to fish for smallmouth bass, lake trout, rainbow trout, pumpkinseed, yellow perch and rock bass. A New York fishing license is required, and all fishing regulations must be observed. Because the lake holds lake trout, ice fishing isn't permitted. The ice-covered lake sees plenty of use for other activities, though. Skating is always a favorite, and dog sledding across the ice is a special treat. One area toboggan run actually extends out onto the ice. The nearby area is generously supplied with cross-country ski trails, hiking and mountain biking paths and winter sports destinations, including the famous Whiteface Ski Area. Winter sports are just as popular as the summer variety, with many sledding, snowboarding, snowmobiling and dog sledding areas nearby.
Although the shoreline of Mirror Lake is extensively developed, the lake itself never appears crowded. Visitors and residents also enjoy outdoor activities in the surrounding Adirondack Park. Over six million acres are preserved in the combined State Park, National Park, Forest Preserves and private lands under conservation agreement. The Park offers plenty of room for hiking, camping, canoeing, hunting, fishing, trapping, snowmobiling, skiing, mountain biking, and rock climbing. The wooded forest preserve is home to black bear, white tailed deer, common loons, mergansers, bald eagles, beavers, coyotes, fishers, bobcats and a variety of smaller mammals and birds. Nature lovers often plan a stay at Mirror Lake just to be near the wide range of wildlife watching opportunities.
All types of vacation rentals exist along Mirror Lake's sandy shore. Some private residences can be rented seasonally, while resorts offer accommodations ranging from somewhat rustic to luxurious. Some of the most delightful are built and decorated in the style of the Great Camps for which the Adirondacks are known. The heavy log beams, stone fireplaces and covered lakeside porches are the true trademark of Adirondack style. The Village of Lake Placid offers many quaint shops selling artisan crafts and specialty items. The local mall provides higher-end shopping, while grocery stores, movie theaters and necessary services are all within easy reach. Lake Placid offers the finest selection of restaurants and fine dining in the Adirondacks. Many resorts feature world-famous chefs and spa facilities.
Camping directly on Mirror Lake isn't available, but the nearby Adirondack Park offers any number of campsites, both rustic and with amenities.Those looking for available real estate can choose from lakefront or lakeview, small or large. Condos and townhouses are available in several nearby exclusive developments, providing just the right property to meet your needs. One visit will likely convince you that Mirror Lake is where you want to spend your vacations, your weekends and your future. The view of the High Peaks and the pristine lake will convince you that you've found home. Come home to Mirror Lake.
Things to do at Mirror Lake NY
Vacation Rentals
Fishing
Ice Fishing
Boating
Sailing
Swimming
Beach
Canoeing
Kayaking
Hiking
Rock Climbing
Biking
Snowboarding
Snowmobiling
Tobogganing
Dog Sledding
Hunting
Wildlife Viewing
Birding
State Park
National Park
Playground
Movie Theater
Shopping
Fish species found at Mirror Lake NY
Bass
Black Bass
Lake Trout
Perch
Pumpkinseed
Rainbow Trout
Smallmouth Bass
Sunfish
Trout
Yellow Perch
---
Mirror Lake NY Photo Gallery
Mirror Lake NY Statistics & Helpful Links
We strive to keep the information on LakeLubbers as accurate as possible. However, if you've found something in this article that needs updating, we'd certainly love to hear from you! Please fill out our Content Correction form.
Spread the word! Share our Mirror Lake NY article with your fellow Lake Lubbers!