Orange Lake, Maine, USA
Welcome to the ultimate guide for history, statistics, local fun facts and the best things to do at Orange Lake ME.
If you're considering Orange Lake ME vacation rentals, we've made it super easy to explore accommodations and nearby hotels using the interactive map below. Simply click on a listing to compare similar properties, best rates and availability for your dates. Or keep scrolling to read our Orange Lake ME guide!
Orange Lake ME visitor and community guide
For a truly unusual Maine vacation, give Orange Lake a try. Located in Maine's Down East and Acadia Region, Orange Lake is near US Route 1 and only ten miles from the Atlantic coast. A week at Orange Lake will keep you close to historic coastal attractions, yet serenely isolated when you want to be. Here you don't have to choose one or the other – you can have both.
Northern Maine has an abundance of freshwater inland lakes along the rivers that drain the inland heights. Most have been settled for centuries, but sparsely. Other than the heyday of lumbering, Maine's fortunes have been made on the bays and harbors of the Atlantic. The rocky soil makes farming a difficult and risky task, so lake living was inconvenient for most local residents. In recent years, summer homes have sprung up on lakes near the bigger commercial harbors and cities, yet Orange Lake has escaped the building boom that occurred farther south. Orange Lake is only 15 miles from Lubec – the northeastern-most town in the United States. The location guarantees warm summers and plenty of snow in winter, and uncrowded beaches, great fishing and plentiful wildlife.
Orange Lake is located along the Orange River. Just upstream, larger Rocky Lake once supported mills at the two dams across the outlet streams. One dam is breached – has been for many years. The other is tumbling down and the State of Maine feels it is not worth the cost of repair. All that remains of the former Halls Mills is a house or two and the Orange River gushing freely downstream into Orange Lake. Orange Lake itself has only a few houses and seasonal cottages, primarily along its southern shore. The lucky residents at Orange Lake have 235 acres of water in which to fish, swim and boat. The wooded shoreline assures lots of wildlife and pleasant paddle sports. There is no public boat launch so residents and vacation renters can pursue the brown, brook and rainbow trout, yellow perch, chain pickerel and pumpkinseed sunfish at their leisure. In winter, ice fishing becomes the main attraction. The scenic lake is a perfect spot to relax away from traffic and city lights and is a favorite of photographers and artists. Autumn foliage explodes in a riot of color, doubly reflected on the lake's surface. Seemingly, everyone here has a canoe or kayak and possibly a pontoon boat from which to enjoy the water. At the southeast end of the lake, the Orange River travels on in it's trek to Whiting Bay. Visitors enjoy paddling downstream at least as far as the Orange River Reservoir – water supply for the town of Whiting. Surrounding the reservoir, the Inland Fisheries and Wildlife Dept of the State of Maine maintains the Orange River Wildlife Management Area.
Wildlife around Orange Lake and along the Orange River includes deer, beaver, eagles, osprey, geese, many kinds of songbirds, ducks, water birds and blue heron. Some areas of the Wildlife Management Area are open for hunting in season and ice fishing in winter. Trails in the area are available for hiking, mountain biking, cross-country skiing, snowshoeing and snowmobiling.
The wise vacationer uses Orange Lake as a base from which to explore Maine's downeast coastal areas. Fifteen miles from Machias and 35 miles from Eastport, coastal Maine is available in all of its rocky splendor just a few minutes from Orange Lake. From Machias, the visitor can explore Machias Bay and take a guided tour of the ancient petroglyphs carved into the rocks at several sites. A must-see side trip is Jasper Beach, one of the few jasper beaches in the world. Here, glaciers and water have polished and smoothed multicolored stone into a beach of jewels glistening in the sun. Another stop must be historic Burnam Tavern, site of the first Naval battle fought in the Revolutionary War. Also near Machias, the Fort O'Brien State Historic Site tells the story of the fort that was rebuilt and utilized during three separate wars. The Machias area is resplendent with festivals to delight the visitor: the Blueberry Festival celebrates the harvest of the local blueberry fields that produce 90% of the nation's blueberry crop is not to be missed. And of course, fishing charters and the opportunity to dine on abundant Maine lobster provide even more reason to visit Machias.
Going east from Orange Lake, one can visit Eastport, the easternmost city in the continental United States – although nearby Lubec is the easternmost municipality. Built entirely on islands, the city can be reached by causeway. A border Port of Entry, Eastport was once the sardine capitol of the United States. Now, tourists come to fish, sail and play at such events as the Maine Salmon Festival and the light-hearted Pirate Festival. The tongue-in-cheek Pirate Festival features elaborately-costumed 'pirates' sailing to 'invade' neighboring Lubec, accompanied by a flotilla of pleasure boats and escorted by 'pirates' on Harleys along the shore. One of the highlights of the Pirate Festival is the deadly-serious Bed Races where contestants compete for prizes. The Salmon Festival celebrates the salmon farming industry locally where salmon are pen-raised in the cold waters of the bay.
No visit to downeast Maine would be complete without a visit to Quoddy Head, the most eastern point in the United States. And an enjoyable day can be spent taking the International ferry to Deer Island, skirting the second-largest whirlpool in the world. Called 'the Old Sow,' the whirlpool often spawns 'piglets' and is sometimes as much as six feet below the level of the surrounding water. A second ferry trip will take the visitor to Campobello Island, President Roosevelt's summer escape and an international park featuring his 34-room cottage. And make sure to plan a stop at Lubec with its views of four lighthouses and numerous small islands off-shore. Stay late and enjoy wandering through this authentic fishing village learning its history – it's less than 20 miles back to Orange Lake.
If the visitor intends to view the many wildlife preserves and explore the many back country roads, lakes and ponds near Orange Lake, it will probably take at least a week. Luckily there are vacation rentals available from private owners along the lakefront. Get your reservations in early as vacation lodgings on the lake are limited. The area is well-supplied with bed-and-breakfast facilities, cozy inns and hotels near the coast. Real estate may be available but is usually limited along the lakefront. So, come 'downeast' and start looking now. You'll fall in love with Orange Lake, the rocky Maine coast and its amazing history.
Custom Orange Lake ME house decor
Read our full review of these personalized lake house signs.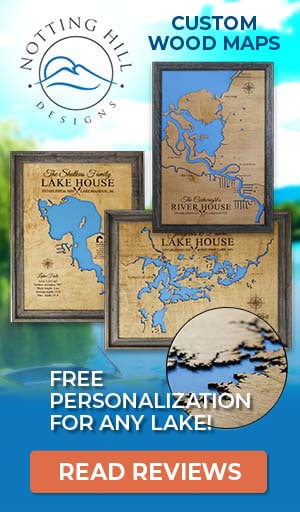 Things to do at Orange Lake ME
Vacation Rentals
Fishing
Ice Fishing
Boating
Sailing
Swimming
Beach
Canoeing
Kayaking
Hiking
Biking
Cross-Country Skiing
Snowmobiling
Hunting
Wildlife Viewing
Birding
Fish species found at Orange Lake ME
Chain Pickerel
Perch
Pickerel
Pike
Pumpkinseed
Rainbow Trout
Salmon
Sunfish
Trout
Yellow Perch
---
Best hotels and vacation rentals at Orange Lake ME
The Orange Lake ME map shown above is a simple and stress-free way to search for trip accommodations. But if you want to take a deeper dive to find the ideal waterfront home, cabin, condo, hotel or resort, visit our favorite lodging partners by clicking the buttons below.
Note: These are affiliate links so we may earn a small commission if you book through them. While there is no extra cost to you, it helps provide resources to keep our site running (thank you)! You can read our full disclosure policy here.
---
Orange Lake ME photo gallery
New photos coming soon!
Orange Lake ME statistics & helpful links
We strive to keep the information on LakeLubbers as accurate as possible. However, if you've found something in this article that needs updating, we'd certainly love to hear from you! Please fill out our Content Correction form.
Advertise your Orange Lake ME vacation rental
LakeLubbers will soon offer homeowners and property managers the opportunity to to showcase their vacation rentals to the thousands of lake lovers searching our site daily for accommodations. If you'd like additional details, please contact our advertising team here.
Looking for the Orange Lake ME forum?
LakeLubbers previously offered visitors the ability to create accounts and participate in lake forums. When we overhauled the site's content management system in 2021 we had to disable those features. We're evaluating options and welcome your comments and feedback here.
We also encourage you to join our lake-lovin' community on Facebook and Instagram!
Spread the word! Share our Orange Lake ME article with your fellow Lake Lubbers!