Eagle Lake, Maine, USA
Lake Locations:
USA - New England - Maine - Down East & Acadia -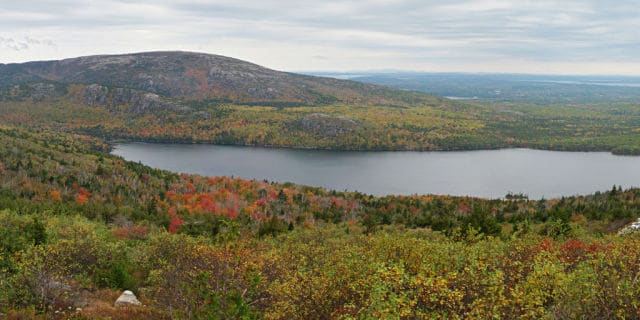 Scenic Eagle Lake is nestled within Maine's Acadia National Park. The lake has a surface area of 466 acres and a shoreline length of five miles. With an average depth of 44 feet and a 10 engine horsepower limit, it is ideal for peaceful water sports such as canoeing and kayaking.
Fishing is popular at Eagle Lake, with major species being landlocked salmon, rainbow smelt, and lake trout. White sucker, bullhead, pumpkinseed sunfish and American eel are also present. Anglers have the best luck around fish attractors and places where the shoreline is most craggy. Wild salmon can sometimes be caught here, and wild lake trout commonly weigh between four and six pounds. A fishing permit is required for residents aged 16 and over, and non-residents aged 12 and over.
Facilities at Eagle Lake include parking areas, picnic areas, and a public boat access point. The lake is best explored by kayaking or canoeing, along with hiking or biking the six-mile trail surrounding the shoreline. Boating with engines under 10 horsepower is also permitted.
Scenic flights on Cessna airplanes are offered over Eagle Lake, guided by local pilots out of Bar Harbor. Whale watching and nature cruises along Maine's picturesque coast are other activities unique to the area. From April to October, white water rafting trips are popular down three different channels: the Penobscot, Dead and Kennebec Rivers.
Acadia National Park comprises 30,000 acres of Mount Desert Island, 2,366 acres on the Schoodic Peninsula, and 2,728 acres on Isle au Haut. The reserve became an official part of the National Park Service in 1916, under President Woodrow Wilson. While it was originally called Lafayette Park, this name was short-lived. In 1929 it was changed to Acadia National Park, which it has been ever since. Over two million people visit Acadia National Park each year for bicycling, bird watching, and hiking over 125 miles of trails. One of the most strenuous is the 7.4-mile Cadillac Mountain South Ridge Trail. Both freshwater and saltwater fishing here is fantastic, with large populations of mackerel, striped bass and bluefish.
Early in the 20th century, John D. Rockefeller commissioned over 50 miles of trails, 17 bridges and 2 lodges at Eagle Lake and Acadia National Park. Home to at least 40 species of mammals, wildlife watching is top notch here; lucky and persistent spectators can expect to find wolves, mountain lions, bobcats, moose, chipmunks and bears throughout these lands. This stunning preserve encompasses Cadillac Mountain, a 1,530-foot peak that is the highest point on the United States' Atlantic coast.
There is no lakeside development on Eagle Lake because it is a part of a national park. Real estate properties and vacation rentals are available nearby in the Bar Harbor area. Cozy cottages are plentiful, many with fully equipped kitchens and beautiful ocean views.
The town of Bar Harbor is just a short distance from Eagle Lake on Mount Desert Island. Before Bar Harbor was settled by the Europeans, this area was originally inhabited by the Wabanaki people. They referred to it as "clam-gathering place" in their native tongue, presumably for its abundance of shellfish. In the 19th century it became the vacation hotspot for the country's most rich and famous. A line of houses known as Millionaire's Row held the summer homes for big names like Carnegie, Rockefeller, Ford and Astor. Today, the city is home to a number of attractions: golf clubs, an oceanarium, a zoo and a beer brewery. Rock climbing, shopping and bowling are other local and entertaining pastimes.
Especially for history buffs, it is hard not to lose oneself in the fascinating history of Bar Harbor and Acadia National Park. You may find yourself returning year after year to Mount Desert Island and Maine's rugged coast.
Things to do at Eagle Lake ME
Vacation Rentals
Fishing
Boating
Canoeing
Kayaking
Whitewater Rafting
Golf
Picnicking
Hiking
Rock Climbing
Biking
Wildlife Viewing
Birding
National Park
Shopping
Fish species found at Eagle Lake ME
Bass
Eel
Lake Trout
Mackerel
Pumpkinseed
Salmon
Smelt
Striped Bass
Sucker
Sunfish
Trout
---
Eagle Lake ME Photo Gallery
Eagle Lake ME Statistics & Helpful Links
Spread the word! Share our Eagle Lake ME article with your fellow Lake Lubbers!