Old Hickory Lake, Tennessee, USA
Welcome to the ultimate guide for history, statistics, local fun facts and the best things to do at Old Hickory Lake.
If you're considering Old Hickory Lake vacation rentals, we've made it super easy to explore accommodations and nearby hotels using the interactive map below. Simply click on a listing to compare similar properties, best rates and availability for your dates. Or keep scrolling to read our Old Hickory Lake guide!
Old Hickory Lake visitor and community guide
Only half an hour outside of Nashville, Old Hickory Lake offers outdoor recreational opportunities for millions of visitors to the middle region of Tennessee each year. The massive man-made lake is located upstream from the city along the Cumberland River. A vital transportation link, the 22,500-acre reservoir behind the Old Hickory Lock and Dam provides a full compliment of recreational activities, including water skiing, boating, hiking, picnicking, fishing, camping and hunting. Wading birds, waterfowl and other wildlife make Old Hickory Lake a favorite for photography and nature study. With four campgrounds, eight marinas and 41 boat launch locations, the long narrow reservoir extends across parts of Sumner and Davidson counties for 97.3 miles from the dam to the base of the Cordell Hull Dam upstream. The City of Henderson and the town of Old Hickory share the shoreline with over a dozen public parks, recreation areas, preserves and a state park. Although only in existence since 1957, residents in the area could not envision a time when the lake wasn't a large part of their daily lives.
Water sports play a major role in the plans of visitors to the lake: Eight commercial public marinas on Old Hickory Lake offer a number of services to boating visitors including fuel, restaurants, groceries, restrooms, bait and fishing supplies, boating equipment and mooring space for both long and short-term use. Sailboats pleasure boats, fishing boats, water skiers, commercial barges and personal watercraft all use the lake. Two public swimming beaches are maintained by the US Army Corps of Engineers and municipal parks also offer swim access. Three Corps-operated campgrounds offer electricity, water, showers, laundry facilities, picnic areas and playgrounds. The Bledsoe Creek State Park offers all of these amenities on the Bledsoe Creek embayment of the reservoir. All offer boat ramps for smaller boats. No dispersed camping is permitted at Old Hickory Lake and reservations are strongly recommended for the most popular campgrounds. An archery practice range is also provided.
Fishing is a big draw to Old Hickory Lake. The impoundment holds largemouth bass, smallmouth bass and spotted bass, striped bass (rockfish), white bass, sauger and crappie. With 41 boat launch locations there is always a boat ramp nearby that will accommodate smaller fishing boats. There are plenty of places for non-boaters to fish from shore: fishing piers are located at Sanders Ferry, Shutes Branch, Rockland and Bledsoe Creek State Park. All have nearby parking available. Fish attractors are located in the water near most of these fishing piers. The 18 fish attractors are marked with buoys and consist of cedar trees suspended to attract larger numbers of fish for anglers to enjoy. Maintained by the Tennessee Wildlife Resource Agency, the attractor sites have been very productive for bass and crappie anglers.
For nature lovers and those desiring a quiet country hike, a large number of walking trails are available to suit most needs. The U.S. Army Corps of Engineers provides a segment of the Nashville Greenways for public use. The three loops of the trail all return along an abandoned railroad bed. They include Woodland Loop, Willow Swamp Loop and Wildlife Loop Woodland Loop has a wildlife viewing blind. Here, behind this wood wall one can watch for wildlife without them being aware of human presence. Along this loop one sees signs of woodchucks, raccoons, squirrels, rabbits, meadow mice and other small animals living in this area. Willow Swamp Loop includes a boardwalk crossing an area where water drainage is poor. Here, nature lovers can stop for a time along the boardwalk, experience the feel of a swamp caused by high humidity and identify the pungent odor of decaying vegetation, which is characteristic of swamps. Wildlife Loop is a forest-in-progress: the Corps of Engineers planted a pine forest along this loop in 1967. The pines have grown large enough to provide protection from the weather. Near the dam, a portion of the Nashville Greenways system explores the tailwaters area below the dam. The City of Nashville offers a system of greenway trails downstream extending into the city parks system which is also available to visitors. Bledsoe Creek State Park also provides a variety of walking trails.
In addition to the well-known attractions in nearby Nashville, smaller Hendersonville offers a more home-town atmosphere with plenty of lodgings and an active real estate market. Bed & breakfasts and antique shops make the area especially attractive to those seeking a taste of yesterday. A few private guest rentals may be found overlooking Old Hickory Lake, although there are few locations with direct water frontage. A true piece of American heritage nearby shouldn't be missed: Andrew Jackson's estate, The Hermitage. The grounds lie just south of Old Hickory Lake and offer both group tours and a self-guided multi-media tour of the home of the lake's namesake.The 1,100-acre estate includes homes, gardens and preserved building along with introductory films and a museum at the visitors center.
The Rivers and Harbors Act of 1946 laid the legal groundwork for Old Hickory Lock and Dam. Construction was begin in early 1952, with the dam ready to hold water by June 1954 and the new Old Hickory Lake finished filling in late 1957. The United States Army Corps of Engineers planned the project and still operates and supervises the lake, dam, lock and powerhouse. Although the water is somewhat dark due to vegetation, studies show Old Hickory to be among the cleanest lakes in Tennessee. The shoreline holds several camp facilities for the Boy Scouts, Girl Scouts, Fraternal Order of Police camp for underprivileged children, Easter Seals and debilitation camps. In it's short existence, Old Hickory Lake has enriched the lives on many in the area and provides hydroelectric power and recreation to the many who live and visit here. Will you be one of them?
Custom Old Hickory Lake house decor
Read our full review of these personalized lake house signs.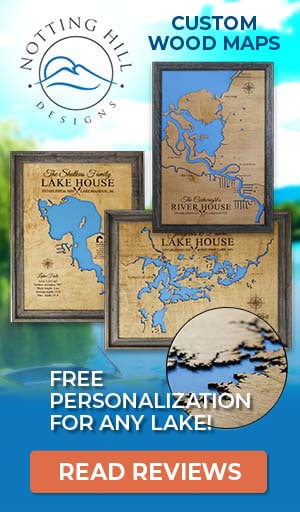 Things to do at Old Hickory Lake
Vacation Rentals
Fishing
Boating
Sailing
Swimming
Beach
Water Skiing
Camping
Campground
Picnicking
Hiking
Hunting
Wildlife Viewing
Birding
State Park
City Park
Museum
Playground
Antiquing
Fish species found at Old Hickory Lake
Bass
Black Bass
Crappie
Largemouth Bass
Perch
Sauger
Smallmouth Bass
Spotted Bass
Striped Bass
White Bass
---
Best hotels and vacation rentals at Old Hickory Lake
The Old Hickory Lake map shown above is a simple and stress-free way to search for trip accommodations. But if you want to take a deeper dive to find the ideal waterfront home, cabin, condo, hotel or resort, visit our favorite lodging partners by clicking the buttons below.
Note: These are affiliate links so we may earn a small commission if you book through them. While there is no extra cost to you, it helps provide resources to keep our site running (thank you)! You can read our full disclosure policy here.
---
Old Hickory Lake photo gallery
New photos coming soon!
Old Hickory Lake statistics & helpful links
We strive to keep the information on LakeLubbers as accurate as possible. However, if you've found something in this article that needs updating, we'd certainly love to hear from you! Please fill out our Content Correction form.
Advertise your Old Hickory Lake vacation rental
LakeLubbers will soon offer homeowners and property managers the opportunity to to showcase their vacation rentals to the thousands of lake lovers searching our site daily for accommodations. If you'd like additional details, please contact our advertising team here.
Looking for the Old Hickory Lake forum?
LakeLubbers previously offered visitors the ability to create accounts and participate in lake forums. When we overhauled the site's content management system in 2021 we had to disable those features. We're evaluating options and welcome your comments and feedback here.
We also encourage you to join our lake-lovin' community on Facebook and Instagram!
Spread the word! Share our Old Hickory Lake article with your fellow Lake Lubbers!