Dale Hollow Lake, Kentucky & Tennessee, USA
Lake Locations:
USA - South - Kentucky - Southern Lakes - Tennessee - Middle -
Also known as:  Dale Hollow Reservoir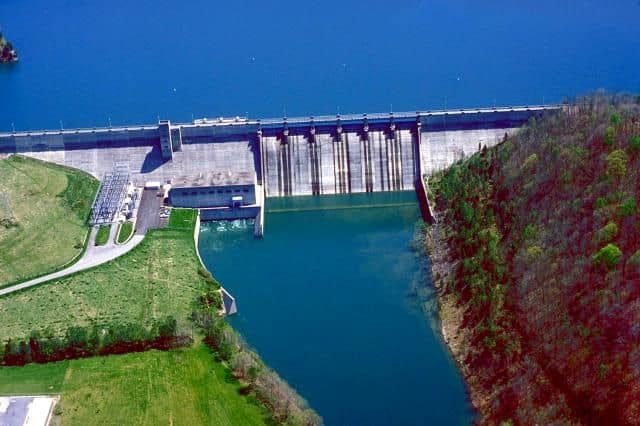 Dale Hollow Lake, straddling the Kentucky-Tennessee border, is an artificial lake that was formed by damming the Obey and Cumberland Rivers. As with many other lakes in this region of the United States, the U.S. Army Corps of Engineers took on the project in order to provide flood control for the surrounding area. However, Dale Hollow Dam was the first such project in Kentucky, authorized in 1938, giving it the title of the oldest artificial lake in the state. A decade later, hydroelectric power generators were added to supply power to the surrounding countryside.
Dale Hollow Reservoir is named after William Dale, an early 19th century owner of the lands that eventually became known as Willow Grove. When the town was flooded in 1942, everything was buried under the lake's waters, nicknaming Willow Grove "the town that drowned". Since then, the lake has become a Kentucky recreational mecca. Water lovers flock to the shores of this 27,700 acre lake each year, partaking in the varied offerings such as swimming, boating, and fishing. The average summer pool is 651 feet above sea level; winter pool averages 632 feet. The original river channel near the dam is the deepest part of Dale Hollow Lake at 130 feet; average depth is around 50 feet.
Dale Hollow is an angler's dream come true. Famous for its smallmouth bass fishing, the lake holds the world record for largest of this species ever caught (11 lbs., 15 oz.). Other species that proliferate here are catfish, crappie, gar, largemouth bass, muskellunge, trout, and walleye. At Dale Hollow, fishing season lasts 365 days a year, and the fish seem to be looking for a line to bite. If you'd like to try fishing of a different variety, Dale Hollow is an excellent location for underwater spear fishing of rough fish. Underwater spear fishing is restricted to hand-held or mechanically propelled spears; a fishing license is required.
Dale Hollow Lake State Resort Park borders the lake on the Kentucky (north) side, offering visitors some fantastic activity selections within its 3,400-acre boundaries. Nature lovers spend hours on the more than 15 miles of nature trail that the park offers, designed for beginner and advanced hiking, horseback riding, and mountain biking. The trails wind their way through the park, snaking past shoreline, leading to ridges with spectacular views, and introducing some of the unique sights and sounds of Kentucky.
Boaters love Dale Hollow Reservoir because of its large size and over 620 miles of shoreline (summer pool) to explore. Many small coves await adventurous boaters, and if you're quiet enough, you'll catch glimpses of the lake's diverse fauna, especially the graceful birds that swoop and fly above your head. After relaxing in the coves, open up your motor and enjoy a quick-paced ride across crystalline blue waters. And if you're a water skier or wake boarder, the wide open main channel will provide you with optimum opportunities.
For a more mellow mood, head to the shores of the lake and indulge in a little bit of swimming. Picnic tables dot the state park, so stop for a midday bite to eat in between rounds of swimming and splashing in the cool lake waters.
Swimming, boating, fishing, hiking, water-skiing: Dale Hollow Reservoir has something for every taste. Deep blue waters and a pristine shoreline invite you to indulge in all of these outdoor activities, so book your trip soon.
Things to do at Dale Hollow Lake
Vacation Rentals
Fishing
Boating
Swimming
Water Skiing
Picnicking
Hiking
Biking
Horseback Riding
Birding
State Park
Fish species found at Dale Hollow Lake
Bass
Black Bass
Catfish
Crappie
Gar
Largemouth Bass
Muskellunge
Perch
Pike
Smallmouth Bass
Trout
Walleye
---
Dale Hollow Lake Photo Gallery
Dale Hollow Lake Statistics & Helpful Links
Spread the word! Share our Dale Hollow Lake article with your fellow Lake Lubbers!