Nimrod Lake, Arkansas, USA
Lake Locations:
USA - South - Arkansas - Ouachitas -
Also known as:  Lake Nimrod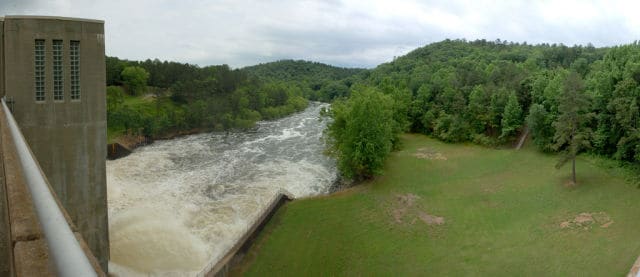 Arkansas's State Scenic 7 Byway travels from the timberlands in southern Arkansas at the old oil boom town of El Dorado, and ascends through the mountains of the Ouachita region, continuing north to the Ozark Mountains. It is somewhere between these two mountain ranges that the byway passes the east end of Nimrod Lake before descending into a valley.
Nimrod Lake is a definite stop for fishers and hunters who will find an abundance of game in and around the lake's 3,550 acres. Along with a popular slab crappie fishery, anglers will find catfish, bluegill, and bass for relaxed leisure or exciting sport. In-season hunting and trapping is generously permitted throughout thousands of acres of project land. White-tailed deer, eastern wild turkey, bobwhite quail, squirrel, rabbit, fox, mink, black bear, dove, and waterfowl abound. With such an abundance of game options, it is no wonder the lake is named after the mighty hunter and great-grandson of the Biblical Noah. Noteworthy are the Lloyd Millwood Waterfowl Management Area (a "green tree" public duck hunting area); a mobility impaired hunting area; and a 3,800-acre bobwhite quail management area.
Hunting and fishing are not the only amusements on Nimrod Lake. Families will indulge in hours, days and even weeks of fun and adventure-seeking while water skiing, jet skiing, swimming, pleasure boating, tubing, picnicking, sightseeing, hiking and camping. The Forest Hills Trail provides over an hour of hiking through woods, hills and valleys. Along the trail, you will find signs that pinpoint the significances of trees, surrounding plant life, or areas of historic value. Five fully-equipped campgrounds offer varied options for picnicking and camping among towering pine and hardwood trees. Swimming areas are located throughout the various recreation areas, and other substantial amenities include playgrounds, restrooms, hot showers, and fish-cleaning stations.
In total, the Nimrod Lake project encompasses 24,839 acres of land and water. The project is the oldest one in the state belonging to the industrious US Army Corps of Engineers; it is part of flood control and water resource planning for the lower Arkansas River Valleys and Fourche LaFave River. The Fourche La Fave, on which the dam was constructed in 1942 (in the midst of the second major World War), is a tributary of the Arkansas River, and drains a portion of the northern Ouachita Mountains. On the South Fourche La Fave, you will find a section for class I-II paddling among the beauty of wild surroundings.
Vacationing in Arkansas's temperate seasons, you will find Lake Nimrod to be a complete retreat for outdoor rejuvenation. With Ouachita National Forest bordering its south shore and wild project areas sprawled on surrounding land, the lake is surrounded by a gulf of green possibilities. With Scenic Byway 7 running right past the lake, you'll have access to a highway of intriguing mountain towns, historic cities and breathtaking experiences. Both Ozark and Ouachita National Forests, to the north and south of the lake, offer fulfilling wilderness adventures; mountain biking, horseback riding and off-highway vehicle sports, not to mention truly inspiring scenic and wildlife viewing. The Ouachita Mountains are popular for their quartz crystals, so don't leave the area without acquiring one of these striking minerals. To the south, also accessible via Scenic Highway 7, is Hot Springs National Park, which attracts throngs of visitors to its famous thermal baths.
Whichever highways or byways you take to get to Nimrod Lake, your stay here will be undoubtedly satisfying. And however you choose to spend your time, whether bobbing the minutes away on the water, chatting under canopies of bird songs at a family picnic, or stealing through the woods for unsuspecting game, you will gain a heart full of content.
Things to do at Nimrod Lake
Vacation Rentals
Fishing
Boating
Swimming
Canoeing
Kayaking
Jet Skiing
Water Skiing
Tubing
Camping
Campground
Picnicking
Hiking
Biking
Horseback Riding
Hunting
Wildlife Viewing
Birding
National Park
National Forest
Playground
Fish species found at Nimrod Lake
Bass
Bluegill
Catfish
Crappie
Sunfish
---
Nimrod Lake Photo Gallery
Nimrod Lake Statistics & Helpful Links
Spread the word! Share our Nimrod Lake article with your fellow Lake Lubbers!