Millwood Lake, Arkansas, USA
Lake Locations:
USA - South - Arkansas - Timberlands -
Also known as:  Lake Millwood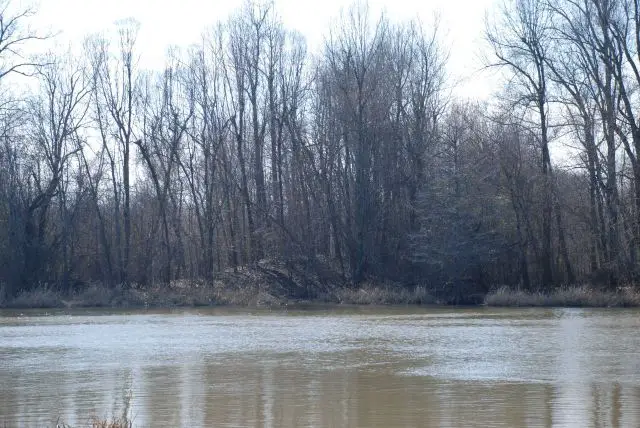 Millwood Lake is massive. It boasts 29,500 shallow surface acres, waters in which multitudes of fish thrive, giving the lake its glorious reputation as a prime fishery. An image of serene perfection, it is surrounded by thousands of acres of hills and woods of southwest Arkansas's Timberlands region. The plentiful wildlife that live in and around the lake are testament to its diverse and beautiful habitats. Millwood Lake attracts hundreds of species of birds, making the lake one of the most popular birding spots in Arkansas. A flock of white pelicans live on the lake, bald eagles winter here, and garblers, gulls, ducks, hummingbirds — the list goes on endlessly — can be sighted on or around the lake, nesting, feeding, and preening.
Wildlife viewing at Millwood Lake is made convenient by the nature trails that ramble through hundreds of acres of wildlife sanctuary and land. Natural areas, such as White Cliffs or Millwood State Park, provide opportunities to watch waterfowl, whitetail deer, squirrel, rabbit, mourning dove, wild turkey, quail, otter, muskrat, mink, raccoon, armadillo, opossum, fox, beaver and so many other animals. Many of these are target game for hunters who will have a ball here. Hunting is not allowed within 300 yards of any recreation area or structure, so hunters are encouraged to be mindful of their location while hunting.
The Millwood Lake Project was completed by the US Army Corps of Engineers in 1966. The project was built as a flood control system and, along with other lakes in the region, largely reduces whopping flood costs. The lake also provides water supply, invites substantial recreation, and improves fish and wildlife. The dam, magnificently large, is located on Little River, which, in turn, is fed by the Cossatot and Saline Rivers. Both the Cossatot and Saline are very popular for white-water canoeing and kayaking.
Ample recreation areas around the Millwood Lake provide boat ramps, campgrounds, picnic shelters and a swim area facilitating boating, swimming, picnicking, hiking and fishing excursions. Enjoy the calm waters and set out on the lake, ready for an unpredictable adventure. Boating "lanes," crafted by pilings, give direction to boaters and meander through the lake's marshes, oxbows and 20,000 acres of submerged timber. Posted signs provide further guidance and direction to specific areas of the lake.
Fish love Lake Millwood's diverse environment. Thriving populations of bass make the lake a "lunker bass" lake, attracting anglers to well-established bass tournaments. Largemouth bass, white striped bass, spotted bass, channel catfish, flathead catfish, bluegill, sunfish, buffalo carp and drum fish fill the waters and make their home among the sheltering timbers.
While fishing or conducting any other activity on the lake, be aware that alligators live in Millwood Lake. And also, due to dangers that might arise as a result of strong winds, stumps and floating debris, the Army Corps encourages boaters to carry with them handheld two-way radios. Channel 9 and sub-channel 1 are monitored by park rangers, park attendants, other boaters and some local fishing shops, so keep your radio on those channels for the best communication in times of need.
The Millwood Lake Project is an ongoing project for the Army Corps, who intends to improve the lake and surrounding acres to the most pristine state possible, while enhancing native plants and wildlife populations. The 65-mile shoreline, therefore, is heavily protected. Because government and private boundaries are sometimes unclear, those interested in acquiring a shoreline permit or purchasing real estate on the lake should consult with someone at the Millwood Project Office.
Tread carefully on this prized habitat while you hike through miles of forest or fish its treasured waters. Lake Millwood is one of Arkansas's most prized possessions.
Things to do at Millwood Lake
Vacation Rentals
Fishing
Fishing Tournaments
Boating
Swimming
Canoeing
Kayaking
Camping
Campground
Picnicking
Hiking
Hunting
Wildlife Viewing
Birding
State Park
Fish species found at Millwood Lake
Bass
Black Bass
Bluegill
Carp
Catfish
Channel Catfish
Flathead Catfish
Largemouth Bass
Spotted Bass
Striped Bass
Sunfish
---
Millwood Lake Photo Gallery
Millwood Lake Statistics & Helpful Links
Spread the word! Share our Millwood Lake article with your fellow Lake Lubbers!