Lakes of Hot Springs Village, Arkansas, USA
Also known as:  Lake DeSoto, Lake Coronado, Lake Balboa, Lake Cortez, Lake Estrella, Lake Grenada, Lake Isabella, Lake Maria, Lake Pineda, Lake Segova, Lake Sophia
Welcome to the ultimate guide for history, statistics, local fun facts and the best things to do at Lakes of Hot Springs Village.
If you're considering Lakes of Hot Springs Village vacation rentals, we've made it super easy to explore accommodations and nearby hotels using the interactive map below. Simply click on a listing to compare similar properties, best rates and availability for your dates. Or keep scrolling to read our Lakes of Hot Springs Village guide!
Lakes of Hot Springs Village visitor and community guide
In one of the nation's largest gated communities, the eleven man-made lakes of Hot Springs Village provide scenic recreational lakeside living. Begun in the 1970's, 26,000-acre Hot Springs Village is 16 miles north of Hot Spring and has a wealth of amenities that make living and relaxing here a desirable option. Set along the slopes of the Ouachita Mountains, the lakes of Hot Springs Village provide a delightful combination of nature's pleasures and the conveniences of a resort community within scenic Garland County.
Four of the lakes are 200 acres or larger: Lake Balboa is 944 acres with a maximum depth of 83 feet; Lake Coronado is 380 acres with a maximum depth of 70 feet; Lake Cortez is 245 acres with a maximum depth of 65 feet; and Lake DeSoto is 200 acres with a maximum depth of 70 feet. In 1972 the Middle Fork of the Saline River was dammed, creating the first lakes within the development. Other lakes were created by damming smaller creeks. Lake Estrella is 22 acres, Lake Grenada-54 acres, Lake Isabella-25 acres, Lake Maria-27 acres, Lake Pineda-62 acres and 63 feet deep, Lake Segova-11 acres and 30 feet deep, and Lake Sophia-26 acres. A twelfth lake, Lake Lago, serves as a drinking water reservoir and is off-limits to recreational activities.
All of the recreation lakes allow fishing and swimming, with the larger lakes available for water skiing. All but Lake Segova have boat ramps, but the smaller lakes are no-wake. Balboa Beach, Cortez Beach and DeSoto Beach all offer sandy swim beaches, picnic shelters and grills. Lake Balboa and Lake DeSoto both have marinas with rental slips and fishing supplies. Canoes, paddleboats, pontoon boats and fishing boats are available to rent. To preserve the tranquil environment of the community, jet skis, power racing boats and boats without mufflers are prohibited. The boating speed limit is set at 30 mph on several lakes, 20 mph on others, with no-wake zones running within 100 feet of the shoreline. Towing sports are limited to specially-marked areas on the designated lakes. Regular boating and fishing regulations apply to all of the lakes in Hot Springs Village.
Fishing is a popular pastime at Hot Springs Village. Whether you choose to fish from your own backyard or sail into the open waters on one of the lakes, anglers won't have to compete for space as they test their fishing skills. The beautiful tree-lined coves and inlets are often the best place to cast your line in hopes of catching black bass, spotted bass, channel catfish, blue catfish, black crappie, white crappie, bluegill, green sunfish or bream. The Arkansas Game and Fish Department stocks the lakes regularly. Any regulations on fish limits and size will be posted by the Property Owners Association.
No matter where you are in Hot Springs Village, you're not far from a facility geared toward outdoor exercise. There are 26 miles of nature trails, bike trails, tennis courts, lawn bowling, bocce ball, pickleball and ball fields. Indoor exercise is available at the Coronado Natatorium and Fitness Center where you will also find a heated indoor pool perfect for water aerobics and winter swimming. A wide variety of popular exercise equipment is available to residents with a fitness instructor on staff to help you get the most from your workout. The DeSoto Games Area includes a playground, swimming pool, diving pool and children's pool. Nine 18-hole golf courses, miniature golf and disk golf courses are also provided. There's even a dog park for everyone's 'best friend'.
All facilities are semi-private in that one must be a property owner or member to enjoy them. Property owners need not build on their properties but will still have full access to facilities. A few activities are open to the public, such as the Performing Arts Center located in Woodlands Auditorium. The venue is popular for weddings, art shows and specialty events. A small RV Park is available to members and their invited guests. A number of restaurants within the community offer a variety of food choices and dining atmospheres. Centrally-located Grove Park offers enjoyable pastimes and services such as regularly-scheduled 'Rhythm Jams' featuring non-amplified instruments, "Rock Porch" sessions, an Artisan Market and Green Market. Medical facilities on-site can handle day-to-day health needs, and most services and supplies can be purchased locally. And, luckily for those who wish to visit rather than purchase a membership, there are several lodging options available on a rental basis, including condo rentals and an extended-stay hotel. Many of the 13,500 full-time residents are retirees, so Hot Springs Village offers senior apartments, nursing facilities and a full range of activities and clubs suited to the less active older adult.
When lakelubbers from Hot Springs Village want to enjoy the benefits of Arkansas' famous hot springs, they are a quick 12-minute drive from the 143-degree thermal waters of Hot Springs National Park. Set aside as the nation's first federal reservation in 1832, the area became a national park in 1921. Hot Springs is the only national park found within a city. Bathouse Row, set within the resort community of Hot Springs, provides a selection of clean beautiful spa facilities waiting for visitors to walk in and unwind. With a population exceeding 96,000, Hot Springs is home to intriguing shops, a wonderful selection of cozy restaurants, art galleries and gardens. Surrounded by beautiful Victorian architecture, historic neighborhoods invite an afternoon of exploration and fun for residents of Hot Springs Village.
If 11 lakes are not enough for Village residents, Lake Ouachita lies immediately west within Ouachita State Park. Ouachita Lake covers 40,000 acres with 200 islands to explore and 900 miles of undeveloped shoreline. Often called the "Striped Bass Capital of the World," anglers will find largemouth bass, smallmouth bass, spotted bass, bream, crappie, catfish and walleye within the depths of the lake. In addition to boating, swimming and water skiing, aquatic activities include scuba diving and the unique Geo Float Trail, a 16-mile water-based trail leading boaters to geologic features around Lake Ouachita.
Hot Springs Village is located within Arkansas' scenic Ouachita Region. The gently rolling hills of the Ouachita Mountains cradle Hot Springs Village and shelter the homes along the tree-lined shores. Timeshares, vacation rentals and real estate properties spread across the mountain landscape where views change from a blaze of color in the fall to a dusting of snow in the winter and deep shades of green in the summer. Come discover the natural beauty and endless recreation of the 11 lakes of Hot Springs Village.
*Surface area of 1,996 acres is for all 11 lakes.
Custom Lakes of Hot Springs Village house decor
Read our full review of these personalized lake house signs.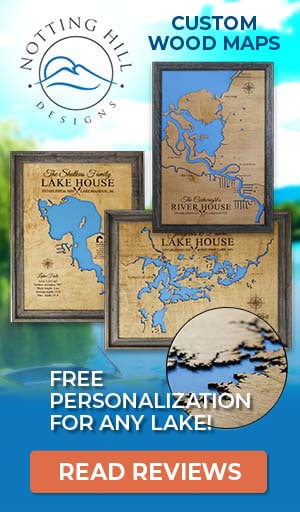 Things to do at Lakes of Hot Springs Village
Vacation Rentals
Fishing
Boating
Sailing
Swimming
Swimming Pool
Beach
Canoeing
Jet Skiing
Water Skiing
Scuba Diving
Golf
Tennis
Picnicking
Hiking
State Park
National Park
Playground
Miniature Golf
Fish species found at Lakes of Hot Springs Village
Bass
Black Bass
Black Crappie
Blue Catfish
Bluegill
Catfish
Channel Catfish
Crappie
Largemouth Bass
Perch
Smallmouth Bass
Spotted Bass
Striped Bass
Sunfish
Walleye
White Crappie
---
Best hotels and vacation rentals at Lakes of Hot Springs Village
The Lakes of Hot Springs Village map shown above is a simple and stress-free way to search for trip accommodations. But if you want to take a deeper dive to find the ideal waterfront home, cabin, condo, hotel or resort, visit our favorite lodging partners by clicking the buttons below.
Note: These are affiliate links so we may earn a small commission if you book through them. While there is no extra cost to you, it helps provide resources to keep our site running (thank you)! You can read our full disclosure policy here.
---
Lakes of Hot Springs Village photo gallery
New photos coming soon!
Lakes of Hot Springs Village statistics & helpful links
We strive to keep the information on LakeLubbers as accurate as possible. However, if you've found something in this article that needs updating, we'd certainly love to hear from you! Please fill out our Content Correction form.
Advertise your Lakes of Hot Springs Village vacation rental
LakeLubbers will soon offer homeowners and property managers the opportunity to to showcase their vacation rentals to the thousands of lake lovers searching our site daily for accommodations. If you'd like additional details, please contact our advertising team here.
Looking for the Lakes of Hot Springs Village forum?
LakeLubbers previously offered visitors the ability to create accounts and participate in lake forums. When we overhauled the site's content management system in 2021 we had to disable those features. We're evaluating options and welcome your comments and feedback here.
We also encourage you to join our lake-lovin' community on Facebook and Instagram!
Spread the word! Share our Lakes of Hot Springs Village article with your fellow Lake Lubbers!