Navajo Lake, New Mexico & Colorado, USA
Also known as:  Navajo Reservoir
Welcome to the ultimate guide for history, statistics, local fun facts and the best things to do at Navajo Lake NM.
If you're considering Navajo Lake NM vacation rentals, we've made it super easy to explore accommodations and nearby hotels using the interactive map below. Simply click on a listing to compare similar properties, best rates and availability for your dates. Or keep scrolling to read our Navajo Lake NM guide!
Navajo Lake NM visitor and community guide
Navajo Lake offers a surprising and welcome expanse of water in northwestern New Mexico. The 15,600-acre reservoir stretches north into southwest Colorado, offering recreational opportunities to a large number of visitors and local residents. Two large state parks grace its banks, one in each state. Yet the original purpose of the reservoir was not for recreation; the reservoir was created for water storage for the Colorado River and irrigation on the surrounding Navajo Reservation. The Colorado River Storage Project incorporated several dams and reservoirs along watercourses to conserve and strategically release badly needed water for the lower Colorado River. The Navajo Dam across the San Juan River helps to provide a reliable water source for downstream areas during times of drought. Although it was difficult for local tribes to agree to give up a part of their beloved homeland for the reservoir, the resulting irrigation water has provided a better life for native farmers and electric power to Farmington, New Mexico.
Because the dam was not completed until 1962, both Colorado and New Mexico had an opportunity to plan recreational facilities. New Mexico's Navajo Lake State Park along the southern reaches of the lake near the dam provides seven campground units, two marinas, fishing docks, boat launch ramps, hiking trails, and restroom and shower facilities. Two Visitor Centers provide information on the ecology, geology and archeology treasures of the region. Navajo State Park on the north end in Colorado offers another Visitor Center, more trails, a third marina, 70+ campsites, cabins for rent, fishing licenses, and information on area attractions. With three marinas, guests can find seasonal and overnight rental slips, dry dock facilities, RV storage, pontoon and bass boat rentals, boat fuel, restaurants, boating and fishing supplies, snacks, repairs and even fishing guide service. The lake's surface doesn't freeze, so some marina facilities are open year-round, as are some campsites. A few rental cabins in the Colorado park are heated for winter use.
Fishing is ever-popular at Navajo Lake. The lake is deep, reaching nearly 400 feet in depth in some areas and allowing for such cold water species as kokanee salmon, brown trout and rainbow trout. The many incoming streams and the San Juan River offer plenty of spawning and feeding areas for a variety of fish. Northern pike, largemouth bass, smallmouth bass, channel catfish, crappie and several kinds of sunfish can all be caught. Fishing tournaments are held here regularly. There is no reciprocal agreement for fishing across the state line, so those desiring to fish the entire lake must be sure to obtain both licenses.
The San Juan River downstream from the Navajo Dam is considered some of the finest trout fishing in the Southwest. Cold water released from the bottom of the dam keeps the water at an ideal temperature for the trout. New Mexico's Department of Game and Fish stocks rainbow trout in the river, with brown trout reproducing naturally. Both grow to large size, providing exciting fly fishing. Because there are no private lodgings on Navajo Lake, it is on the San Juan River where visitors will find luxurious resort camps offering everything from fishing to fine dining. Most of the fishing guides from these lodges also offer guided fishing on Navajo Lake. A favorite, but unusual, game fish some guides offer as prey is fly fishing for huge carp on Navajo Lake.
All type of boating are welcome here. The length of the lake makes it ideal for sailing and wind-surfing. Pontooning is a favorite, and many houseboats ply the arms and coves of the reservoir for weeks at a time. Water skiing, jet skiing, tubing, power boating and just plain cruising the waterway is a favored activity on warm summer days. Some swimming is available, with posted rules, although there are no designated swimming beaches.
The surrounding area is a high desert environment, surrounded by pines, cactus, cottonwood and willow trees. Day-use areas contain picnic areas, and marked walking trails allow nature lovers to observe deer, elk, beaver, muskrat, raccoon, water fowl, sea gulls, bald eagles and mountain goats. A great many birds are attracted to the water, making the surrounding pinion growth ideal for bird watching. Migrating waterfowl stop at Navajo Lake on their trip north or south every year, allowing for the rare glimpse of non-native ducks and white pelicans. Hot summer days in New Mexico and southwestern Colorado make camping along the shoreline of the large reservoir most inviting for a cool weekend of lake breezes. Only 40 miles from Farmington, many visitors are local, but more visitors are arriving from a distance each year.
Owned by the Bureau of Reclamation, the dam was built with the assistance of the US Army Corps of Engineers. The hydroelectric generation project is owned and operated by the City of Farmington. Most vacationers who arrive at Navajo Lake make the reservoir a part of a larger exploration of the area. The Four Corners Area is famous for the many ruins of the ancient Anasazi who left behind numerous pueblo complexes made from the native sandstone. Both northern New Mexico and southern Colorado are rich in archeological treasures, many of which are open to visitors. Within a hundred mile radius of Navajo Lake, curious visitors can explore multiple villages of these mysterious people who built in the most inaccessible places and disappeared silently in a short time, leaving little clue as to where they went. It is thought that a period of drought drove them from the areas where they grew their crops and worshiped their gods.
Remnants of a similar cultural building style can be seen in the older Hopi pueblos, a second tribe that shares this region. Visitors must be culturally sensitive to the locals' desire for privacy; this is their home and they claim many of the ruins as those of their ancestors. Guided tours are usually the best way to visit the more picturesque areas without the danger of trespassing. Many are extremely delicate, and others have already been damaged by illegal pot-hunters.
The north end of Navajo Lake in Colorado is near several famed ski resorts and still more ruins. Several small towns provide supplies, activities and festivals to amuse visitors and encourage their return. Allison and Arboles are very small communities near Navajo State Park, while Pagosa Springs and Durango are between a half hour and an hour away. Both of the latter are well-known tourism centers with much to offer visitors in the way of lodgings, guest ranches, spas and nearby ski resorts. There is no shortage of rental cabins, small motels and larger chain hotels in these larger communities. Real estate is more likely available on the Colorado side of the reservoir as there is more area that is neither public land nor Reservation. There is something for everyone at Navajo Lake, whether it is fishing, boating, house-boating or exploring the ancient past.
Custom Navajo Lake NM house decor
Read our full review of these personalized lake house signs.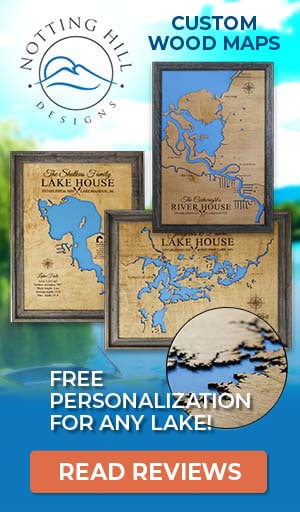 Things to do at Navajo Lake NM
Vacation Rentals
Fishing
Fishing Tournaments
Boating
Sailing
Swimming
Beach
Jet Skiing
Water Skiing
Wind Surfing
Tubing
Camping
Campground
Picnicking
Cabin Rentals
Hiking
Hunting
Wildlife Viewing
Birding
State Park
Ruins
Fish species found at Navajo Lake NM
Bass
Black Bass
Brown Trout
Carp
Catfish
Channel Catfish
Crappie
Kokanee Salmon
Largemouth Bass
Northern Pike
Pike
Rainbow Trout
Salmon
Smallmouth Bass
Sunfish
Trout
---
Best hotels and vacation rentals at Navajo Lake NM
The Navajo Lake NM map shown above is a simple and stress-free way to search for trip accommodations. But if you want to take a deeper dive to find the ideal waterfront home, cabin, condo, hotel or resort, visit our favorite lodging partners by clicking the buttons below.
Note: These are affiliate links so we may earn a small commission if you book through them. While there is no extra cost to you, it helps provide resources to keep our site running (thank you)! You can read our full disclosure policy here.
---
Navajo Lake NM photo gallery
New photos coming soon!
Navajo Lake NM statistics & helpful links
We strive to keep the information on LakeLubbers as accurate as possible. However, if you've found something in this article that needs updating, we'd certainly love to hear from you! Please fill out our Content Correction form.
Advertise your Navajo Lake NM vacation rental
LakeLubbers will soon offer homeowners and property managers the opportunity to to showcase their vacation rentals to the thousands of lake lovers searching our site daily for accommodations. If you'd like additional details, please contact our advertising team here.
Looking for the Navajo Lake NM forum?
LakeLubbers previously offered visitors the ability to create accounts and participate in lake forums. When we overhauled the site's content management system in 2021 we had to disable those features. We're evaluating options and welcome your comments and feedback here.
We also encourage you to join our lake-lovin' community on Facebook and Instagram!
Spread the word! Share our Navajo Lake NM article with your fellow Lake Lubbers!